MarketingLand's #Hashtag Bowl Sponsored by HootSuite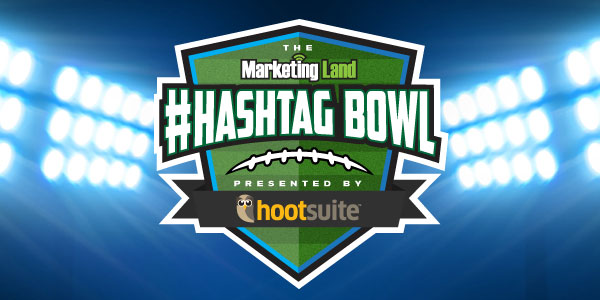 It's a battle of the social media networks at this year's Super Bowl; are you ready? HootSuite has partnered up with MarketingLand to bring you the Third Annual #Hashtag Bowl.
As Super Bowl XLVIII is quickly approaching we are getting ready to see some killer advertising and are giving you an inside view of how the social networks compare to each other in Super Bowl ad mentions. Last year we saw Twitter come out on top, with ~50% of the social mentions, despite Facebook remaining the most popular network with over a billion users. Last year, Instagram saw a 23% jump in active users; could it be the dark horse of the 2014 #Hashtag Bowl?
How Does it Work?
A team of MarketingLand experts will be watching those in-game advertisements and doing play-by-play analysis to bring digital marketers all the best insights. Keep an eye on the #Hashtag Bowl scoreboard to track social mentions on all major social networks on game day. Our experts will be live tweeting and blogging out results on game day.
Which social media platforms are advertisers steering fans towards? Through analysis of ad-specific hashtags, we'll be able to see viewers being directed to specific networks. We'll find out which social network scores the most mentions from the brands who have reportedly spent up to $4 million for a 30-second commercial spot.
Pre-Game ~ How do we know who to watch?
There will be plenty of teaser ads leading up to the big game, and MarketingLand editors will be on the lookout for those clips that didn't quite make the cut. Keep checking in on the pre-game conversation for insight on whether brands will be changing up their strategies this year.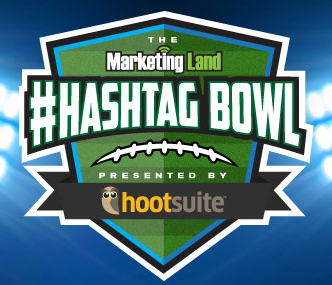 This year, we'll be keeping score on our real-time ticker (and counting down to kick off). Luckily for you, this ticker is available to embed on your own site or blog. Get your friends in on the conversation!
#Hashtag Bowl Kick Off
Experts will be live blogging and tweeting all of the action during Super Bowl XLVIII on Sunday, February 2, 2014. MarketingLand Live Blog Kick Off will begin at 6pm ET (3pm PT) and #SB48 kickoff starts at 6:25pm ET. Don't miss out on the action! You can also follow along on Twitter by following @hashtagbowl or #hashtagbowl.
Post-Game Analysis
MarketingLand will crown the the social network with the most mentions as the winner of the 2014 #Hashtag Bowl immediately after the game. In the days to follow, experts will also be naming the MVB (Most Valuable Brand) to the top advertiser through analysis of social media scores, search visibility, viral activity and more.