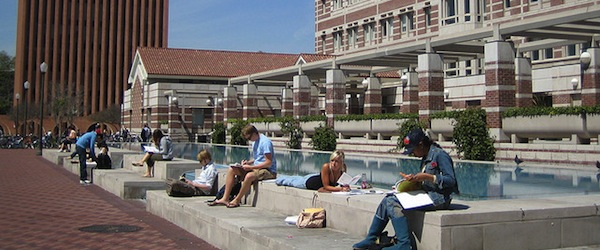 In our webinar, Making the Grade: Tapping into the Student Life Cycle through Social Media, we heard higher education success stories that spanned the entire student life cycle. Guests from three leading universities shared how they use social media to strengthen relationships with students before, during, and after their time on campus. To learn how your organization can implement a unified social strategy across multiple departments and create a better student experience, watch the full webinar—available now on demand.
During the webinar, many of our audience members asked how they can use Hootsuite to socially connect with prospects, current students and alumni. We listened, and have prepared a tailored demonstration of Hootsuite's capabilities for higher education professionals. Join webinar moderator Jordan Mara for the exclusive live demo, Thursday, June 26th, 8am PT, 11am ET, 4pm GMT.
Here are some of the highlights from the webinar:
Recruiting prospective students with social listening
Juntae DeLane, the Digital Brand Manager at the University of Southern California, shared how USC uses social media to reach out to and attract prospective students. As a relatively new member of USC's Enrollment Services department, Juntae set out to develop a strategy to recruit and engage with potential students on social channels. Rather than addressing social media in a vacuum, he made it an integral part of his overall effort to enhance digital communications for recruitment.
Juntae described social media best practices for each stage of the digital marketing funnel: acquiring potential students, engaging with them, driving them to submit inquiries and applications, and finally converting them into enrollments.
USC cribs featured student dorm submissions on YouTube – great idea. #highered #HESM

— Tonja Deegan (@tvdeegan) June 18, 2014
A campaign that resonated with our webinar audience was USC Dorms, a YouTube series inspired by MTV's Cribs. Each video in the series profiled a distinctive dorm room at USC, giving prospective students a glimpse of campus living. Prospective students were able to vote on their favorite dorm, spurring additional social sharing and engagement. So where did USC Admissions get the idea for such compelling and useful content?
"It was created based on social listening," said Juntae. His team recognized that housing on campus was a recurring theme in questions from prospective students, so they created a resource to meet that need. Discover more student recruitment tactics for Facebook, Twitter, Instagram, and other social platforms by tuning in to the complete webinar, available now.
Making the hand-off from Admissions to Student Services
Kareem Rahaman, a Digital/Social Media Specialist at Ryerson University in Toronto, shared how his team makes the "digital hand off" between departments as students transition from admissions to campus life.
To improve Ryerson's social media strategy for welcoming new students, Kareem looked at the university's social activity from the outside-in. By taking a student's point of view, Kareem realized that Ryerson was inadvertently "spamming" incoming students before they even arrived on campus. Three different Ryerson accounts were tweeting new students to welcome them to the university, creating a fragmented student experience.
Complicating matters further, the admissions-related accounts were not equipped to provide effective service. When students replied to their welcome tweets with service-related questions, they were liable to receive inaccurate information or no response at all. Ryerson's teams were trying to be proactive, but collectively they were creating noise and confusing students.
Kareem and his team recognized an opportunity to streamline the university's welcoming process on social media and to move students forward into the next stage of their life cycle. Their goal was to seamlessly hand off students to the Student Services department, so that the university could speak with a consistent service voice.
Together with a steering committee of social media practitioners from multiple university departments, Kareem created a hand-off process that is as simple as it is effective. His team now uses uberVU via Hootsuite to tag social media profiles and consistently track students through the admissions funnel. When students are admitted, they get personalized Tweets that advise them which university accounts they should follow as current students. This digital hand-off ensures that enrolled students Tweet questions to @RUStudentLife and @AskMeRU, two accounts that are properly staffed to handle them.
Both channels are overseen by a full-time staff member who provides guidance and support, but the day-to-day operations are fully handled by students. "Approve the student, don't approve the Tweet," Kareem advises. Ryerson vets students heavily, then empowers them to communicate authentically with their peers.
Strengthening alumni relationships through social engagement
Kristen Convery, Director, Multimedia Content for The Ohio State University, shared how her team uses social media to improve alumni relationships and surpass advancement goals. A driver of their success has been their attitude of "always being in beta"; their alumni engagement strategy has improved over time in a constant cycle of listening and learning.
When The Ohio State University launched their Facebook page in 2007, their primary goal was to connect with current students. However, they quickly saw that alumni were the most interactive and engaged members of their Facebook audience. More than just liking photos, they were commenting on  and sharing stories from their days as students, without any direct solicitation from OSU's social media team.
Kristen and her colleagues began to experiment with new ways to engage alumni further, looking to build upon the emotional ties that bound them to the university. They identified Welcome Week 2012 as a potent time for alumni nostalgia—after all, everyone who attended university can remember moving into their first dorm room, meeting their first roommate, and waving mom and dad goodbye. To harness this sentimentality, they posted photos of OSU's residence halls to Facebook and invited alumni to share stories and tag themselves in the images to mark which building they had lived in. The response was overwhelming.  
With its Welcome Week campaign, OSU discovered a creative way to spark a social conversation. However, their next great social success came from joining an existing conversation and helping it grow into something much bigger. "One of the things we really do at The University of Ohio State is to listen to our audiences and learn, and try to use that to form our relationships," says Kristen.
I LOVE OHIO STATE #buckeyeforlife

— Amanda Furrer (@Amanda_Furrer) May 9, 2012
In the spring of 2012, current OSU students began using the #buckeyeforlife hashtag on Twitter to express their aspirations for their future life as OSU alumni. Finding inspiration in their audience, Kristen's team saw a chance to leverage the popular hashtag for engagement with another audience: alumni.
In November, 2013 they asked former students to share why they were a #buckeyeforlife, and expanded the conversation beyond Twitter to include other social platforms. The cooperation of other departments across campus was critical to amplifying the reach of the hashtag and to bringing together future, current, and former students in a shared social experience.
To learn more about how your higher education institution can use social media to build stronger connections throughout the student life cycle, watch the complete webinar today.