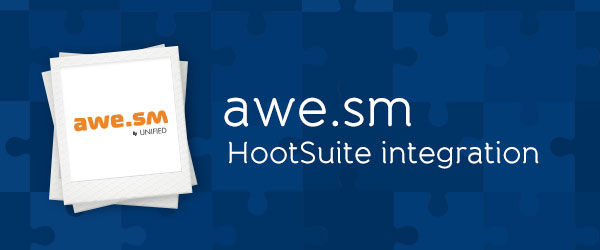 Track Which Social Media Posts Lead to Conversions: The HootSuite Awe.sm Integration
Dig deeper into your social analytics and campaign effectiveness in HootSuite with the awe.sm integration. awe.sm is a social analytics tool brought to us by Unified that includes a unique URL shortener service. awe.sm's URL shortener measures how each of your social posts lead to on-site conversions such as signups, purchases, and other real business goals. The tool optimizes measurement of analytics around impressions, visitors, page views, or conversions.
awe.sm is now available as a customized service for HootSuite Enterprise customers. The integration allows users to expand their social marketing activity by providing a holistic view of their social funnel, tracking analytics from the post to the on-site conversion. With the awe.sm integration, customers can optimize the return of their social media marketing investments by attributing real business results to their social activity.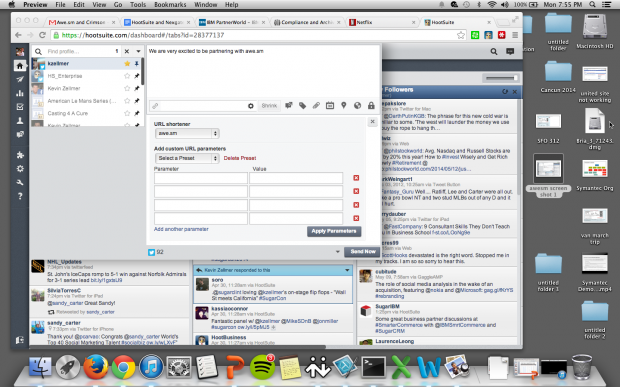 Awe.sm enables customers to evaluate their social media presence based on analyzing their real return on investment. Customers can acquire insights, track social media activity, and measure accurate results of social sharing for large campaigns. Awe.sm gives you visibility into the activity of posts on each of your social networks (including Twitter, Facebook, LinkedIn, email and more) and helps you find patterns of success across groups of similar posts.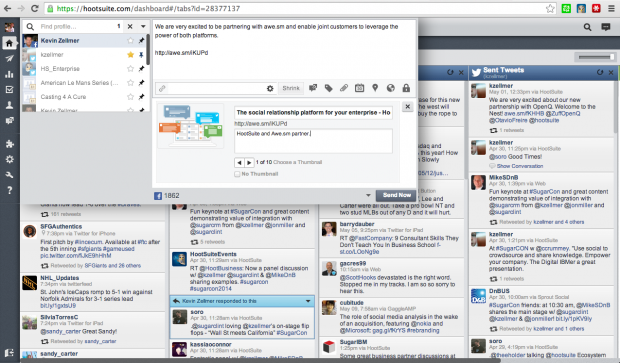 Through the awe.sm integration in HootSuite, you can:
Create awe.sm links: Shorten, customize, and track social activity on the links you share across your social media channels.
Track conversions: Bridge the gap between social engagement and web analytics with awe.sm's closed-looped system.
Identify content that resonates: Determine which of your posts make the most impact, what drives the most traffic and engagement, and what messaging starts the most conversations.
Discover top performers: Find out who is amplifying your message and sharing it with their followers. Gain visibility on what content they share, measure the impact they create, and connect with them directly.
To help you better understand how to attribute your social marketing to real business results — and to give you an inside look at the awe.sm integration — we're bringing in the social marketing experts at Unified for a live webinar.
Join Hootsuite's Business Development Manager, Andrew Sorokovsky and Associate Director of Marketing at Unified, Ginevra Figg, for "The $65,000 Tweet: how to track your social media marketing to offline and digital sales."  We go live Tuesday, June 10th at 2pm ET. Seats are limited.