HootSuite in the Public Service ~ Approved for US Federal Agencies
Ready for Service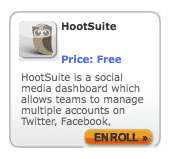 Here at the HQ, we are proud to be the first and only social media dashboard in the Apps.Gov catalog and are pleased to announce that HootSuite is officially approved* has released "federal friendly terms of service" and is now listed as a social media dashboard application for United States government agencies. {Note: See clarification/update below}
This designation means that we've worked with the GSA New Media team to amend the HootSuite Terms of Service to address a few specific requirements specific for US federal agencies. Now these agencies can use HootSuite without jumping through extra hoops, approval queues, or application processes.
The official GSA New Media Twitter account published the announcement to alert the various agencies:
Social for the People
Today, people are reaching out in all sorts of different ways through multiple social channels including Twitter, Facebook, and more. And governments are no different.
Smart agencies, task forces and departments are effectively utilizing the same efficient and inexpensive communications tools which "regular folks" use for socializing with friends. Who'd have predicted that one day tools like Twitter would play a role in international diplomacy as well as delivering basic services and information?
Gov Watch
Here are some of the innovative USA government agencies, authorities and organizations who chose HootSuite as their social media dashboard — and you'll find many others on the @hootwatch/gov-ngo list.
Any other US Gov agencies flying with HootSuite yet? Send us a note @hootwatch to say hello. Of course, we're also watching municipal, regional and international governments and enjoy seeing the unique ways you are using HootSuite.
Has your organization conducted a successful social media-powered campaign using HootSuite? We enjoy hearing about these and making case studies. Let us know your ideas.
* UPDATE FROM APPS.GOV
Point of clarification regarding what it means for applications to be on the free social media page on apps.gov.
First, no application is "officially approved as a web application for United States government agencies." Being listed on the apps.gov social media page means that the provider has amended their standard TOS to not comply with federal law.
While these TOS amendments resolve the major legal issues of the sign-up process, clarify expectations, and set the stage for productive use of these services, agencies must still comply with laws and regulations on security, privacy, accessibility, records retention, ethical use, and other specific agency policies and requirements when they use the tools. Agencies are advised to seek the advice of their counsel on whether the TOS is legally appropriate for their use.
See http://apps.gov and click on the Social Media Apps section in the top navigation for more information.