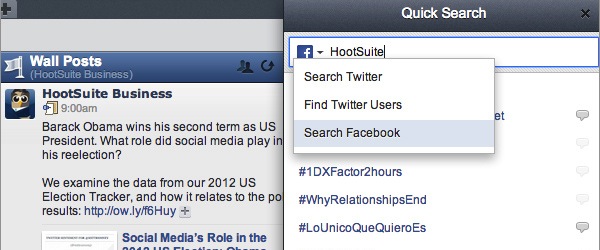 HootSuite Users Unaffected By Facebook Changes to Third-Party Sharing
Earlier this week, Facebook announced changes that will affect how content shared to your profile through third-party apps is treated in the News Feed. The social network has distinguished between "implicitly" shared stories, which refer to an app posting on your `behalf without you necessarily prompting it, and "explicitly" shared stories, posts that you directly prompt an app to share to your profile.
According to Facebook, the number of implicitly shared stories is already on the decline because people are marking those posts as "spam," and they are now making a concerted effort to prioritize explicitly shared stories within your News Feed. In other words, automatic posts to Facebook from third-party apps will be getting a lot less reach in the near future. No more friends making fun of you after Rdio or Netflix posts about what you're listening to or watching.
Since this announcement, we at HootSuite have been getting a lot of questions about whether Facebook posts sent through our dashboard will be affected by the change. When people use HootSuite to post to Facebook, they are fully in control of each post they send. For that reason, HootSuite posts are explicitly shared stories and their reach will remain unaffected by these changes.
HootSuite is a Facebook Preferred Marketing Developer and as such we have a very close relationship with their team. We're confident in our ongoing collaboration, and that HootSuite users will continue to effectively manage their presence on Facebook through our dashboard.