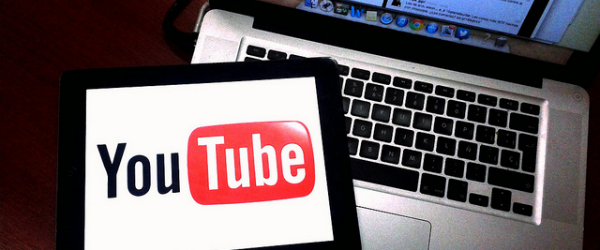 Hootsuite Tip: Adding YouTube to your Dashboard
Whether you are a small business or a large organization, it's in your best interest to take advantage of the benefits of social video. Adding videos to your marketing strategy can not only add brand awareness, they also help your brand connect with your audience in a different way than regular written content. Videos can tell a story and connect in an emotional way that is different and, arguably, more effective than the same story written out. As there are many different ways to fit social video into your marketing strategy, today we will focus on the benefits of YouTube, and how you can add YouTube to your Hootsuite dashboard. Because YouTube is the second biggest search engine in the world, if a potential customer searches your business or product, there is a big opportunity to connect through video.
Experience the benefits of connecting  YouTube to your Hootsuite dashboard. The Hootsuite app directory offers the following YouTube apps:  Free, Paid and YouTube Analytics (Free + Paid). Within the Free YouTube app, you will be able to access valuable insights into your videos and channels including insight like number of views, comments, likes, dislikes and favorites.
"Through Hootsuite we are able to upload videos to our YouTube account; add titles, descriptions, tags, categories and set privacy levels. We also use our dashboard to monitor engagement – number of views, comments, likes, dislikes and favorites. It is a useful tool for getting a high-level overview of interaction and engagement, without having to conduct in-depth analysis. We are also monitoring who is watching our channel and their details – number of channel views, subscribers and total upload views." –  Lauren Howard, National Marketing Manager, Contiki Canada
How To Install YouTube App
If you don't have a YouTube account, sign up here: https://www.youtube.com/
From the launch menu on the left of your dashboard, click "App Directory."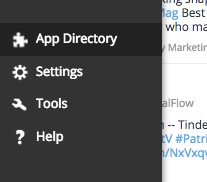 A pop-up menu will appear with all of Hootsuite's available apps. Go to Free Apps, find YouTube Free. Click "Install App."

Next, choose what streams you would like to be installed. Add streams to a new tab or add streams to an existing tab, then press Finish.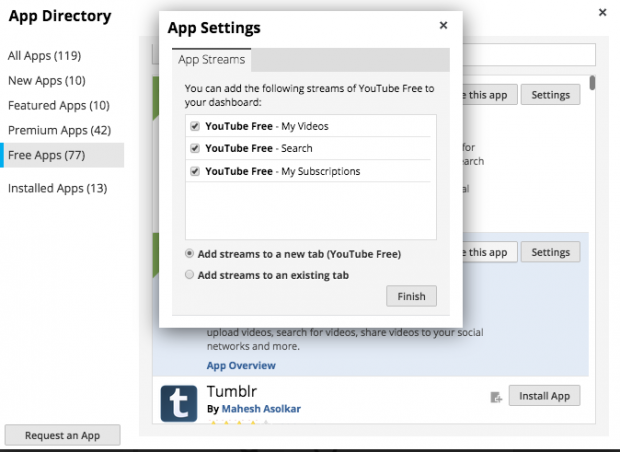 Next, connect each of your new streams to your YouTube channel by clicking "Connect with YouTube."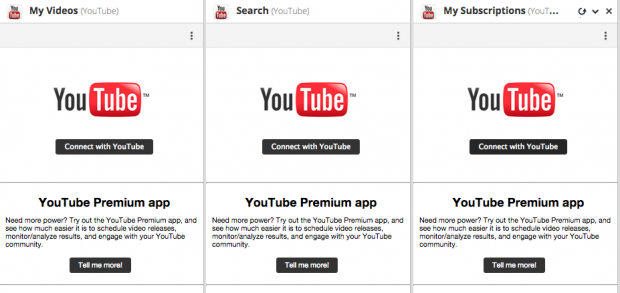 Follow the authorization prompts and click "Accept."
To start monitoring videos in Hootsuite, download the YouTube app now.