#HootTip: Geo-Located Search
The HootSuite dashboard is packed with features and tools designed to simplify your social media management. To help you get acquainted with the functionality (or just give you a refresher), here's a #HootTip highlighting a handy way to use the dashboard.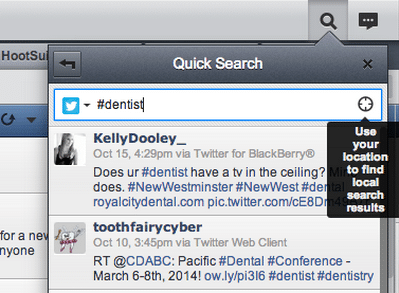 Geo-Locate Your Searches
For many businesses, connecting with a local audience is key to creating awareness and expanding their customer base. But as millions of social messages are sent daily, how do businesses find the messages near them? With geo-located searches, that's how.
HootSuite feature geo-located searches allows businesses to filter searches according to distance to view only the social messages sent from potential customers close by. Refine your search to industry related terms or brand mentions based on your location.

Here's How it Works:
Social media is a great place to start looking for new customers or begin spreading local awareness for your business' services. Here's how it works:
In your dashboard, locate the search icon (magnifying glass) in the upper righthand corner.

Enter your search term in the Twitter search field. For example, someone looking for more dental patients could type "#dentist."

Click the crosshairs icon on the right side of the search field to find local search results.

The Twitter search stream will automatically refresh showing local search results within a 25 km radius from your current dashboard location.
Try it out and see just how many people are talking about your business or industry. Tap into the conversation to start getting your brand noticed and build trust with potential customers. By filtering your results you'll save time and get the most from your outreach efforts.
Keep an eye out for a new #HootTip each week – they're short and sweet so that you, your friends and your followers, will be HootSuite experts in no time.