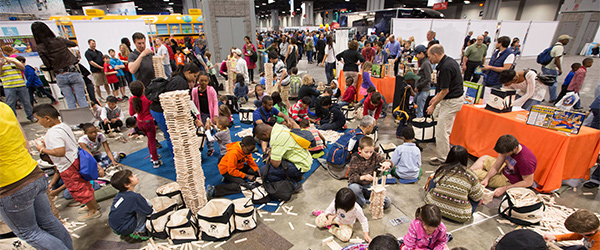 How the USA Science & Engineering Festival Increased Attendance by 63% using Hootsuite
The USA Science and Engineering Festival is the nation's largest and only national celebration of science, technology, engineering, and math (STEM) aimed to inspire youth. This biennial festival spans one weekend and draws some 325,000 attendees to Washington D.C., effectively filling the city's entire convention center. With over two years of preparation, the festival organizers feature nationwide contests, symposiums, and school programs to build momentum for the grand finale Expo event—the next scheduled for April 16 and 17, 2016.
The Festival's mission is to stimulate and sustain the interest of our nation's youth in science, technology, engineering, and math (STEM) by producing and presenting the most compelling, exciting, and educational festival in the world. The USA Science and Engineering Festival serves as an open forum to showcase all facets of STEM.
They accomplish their mission by meeting the following goals:
Gain recognition as the nation's STEM festival
Celebrate and address the importance of STEM
Appeal to diverse audiences
Engage industry influencers, sponsors, and ambassadors
Spread their message nationwide
Carly O'Brien, the festival's Director of Marketing and Communications, is constantly challenged to meet these goals. As a nonprofit venture, limited resources and a shortage of time are typical constraints. Likewise, her small team finds it equally as difficult to connect with and share content to a diverse community of STEM enthusiasts, sponsors, speakers, influencers, teachers, parents, youth, and exhibitors.
Turning to Hootsuite to manage and grow their online communications, the USA Science and Engineering Festival's team has exceeded their goals and increased festival attendance by 63%—growing from 200,000 attendees in 2012 to 325,000 in 2014.
Adding Social Media to the Marketing Mix
While the festival organizers use traditional media promotions, such as newspaper, magazine ads, and radio, they recognize that by combining both traditional and social media, they can effectively communicate with and reach broader audiences. "Adding social media into the mix has been incredibly rewarding," says O'Brien. "We're reaching new and existing audiences more effectively and we wouldn't have been able to do so otherwise on our budget." Social media is key in supporting their goals; Hootsuite helps them stay organized and manage their social media efforts, on channels like Facebook and Twitter, as they grow their festival audience. 
Attracting a Broader Audience
Instead of being overwhelmed by the broadness of the entire STEM topic and huge audience it attracts, the festival organizers embrace the variety and breadth of content to pick from and audience to share with. For example, whether they're speaking to youth, teachers, professionals, scientists, or parents, by sharing accessible and educational content, they can celebrate the importance of STEM with their entire audience.
Together by sharing great content and hosting promotional events, they're boosting festival awareness and building momentum leading up to the big event. These smaller-scale events, such as school presentations and symposiums, keep the festival fresh in the audiences' minds and provide ample educational content for social media. For example, they host and share X-STEM interactive video presentations featuring STEM leaders, such as renowned Oceanographer Sylvia Earle, to inspire youth and showcase over 150 performances and 3,000 hands-on activities that attendees can expect to see at the Expo.
Building Relationships and Growing Festival Awareness
Maintaining an active social presence allows the festival to maintain relationships with hundreds of sponsors who have supported them over the years, while sourcing new sponsors for continued growth. In this same vein, they use social media to attract festival volunteers and ambassadors or source industry influencers, or "Science Celebrities" such as Bill Nye The Science Guy or Sylvia Earle, to participate in events or help promote the festival.
Organize your social media and stay connected
The challenge with having a social strategy that embraces all of STEM—with its sheer abundance of content, ambassadors, volunteers, and audience—is staying organized, coordinated, and actively engaged. O'Brien's team manages it all with Hootsuite.
O'Brien's favorite Hootsuite dashboard features:
Having lists and streams set up to monitor sponsors, ambassadors, speakers, and exhibitors across different facets of STEM helps them stay organized and easily share relevant content.
Monitoring keyword search streams, such as #STEM or more specifically #space, helps them source and follow active and influential brands or people in the science community.
Setting up hashtag search streams, such as their branded hashtag #SciFest, allows them to stay on top of who's discussing the festival and jump into the conversations.
Tabs:
The tabs feature in the Hootsuite dashboard allows them to monitor all engagement across multiple social networks, while keeping their streams organized.
O'Brien's team allocates time to source great content and schedules it out into the near future to help stay actively engaged. This frees up time for her to join online conversations and respond in real time.
Finding Success by Increasing Festival Attendance 
The USA Science and Engineering Festival added social media into their marketing mix in order to connect with a diverse audience over a wide range of topics—and on a tight budget.
The festival organizers have had huge success in boosting awareness, engagement, and attendee numbers thanks to social media. Over the last year, they've managed social media with Hootsuite to promote the festival and engage with their ever-growing audience. Since then, festival attendance increased by 63%. In fact, over the Festival weekend, over 44 million people were exposed to their #SciFest hashtag. 
"Social media has given life to our mission of reinvigorating a nationwide interest in STEM," says O'Brien in closing.
Use Hootsuite to Increase Attendance at Your Next Event
This story is also available for download