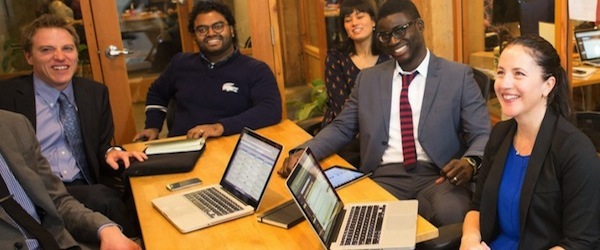 How to be a Killer Marketer in the Digital Era
This post is the second of a 3-part series in which I show how businesses must re-invent their marketing strategies for today's digital world. The series expands on some of the ideas I touched on at my ad:tech talk earlier this year: Hootsuite Secret Files: How a Social Media Company Markets Via Social. You can read the first post, on content marketing, here.
Earlier this year, during the 2014 Super Bowl, a series of sloppy, nearly incoherent tweets about the game started appearing from the official Twitter account of well-known retail chain JCPenney. They included messages like, "Toughdown Seadawks!! Is sSeattle going toa runaway wit h this???" and "Who kkmew theis was ghiong tob e a baweball ghamle.#lowsscorinh 5_0."
The tweets quickly went viral, getting retweeted in the tens of thousands and generating a lot of speculation around a possible hacking or out-of-control, drunken employees on the job. But then, about an hour after the first tweet, JCPenney revealed that the messages were in fact part of an entirely intentional campaign to promote a line of special edition mittens:
Meanwhile, other major consumer brands had already found a way to cleverly inject themselves into the drama, responding to JCPenney's tweets with responses, like:
Despite some criticism, the whole thing was a significant PR win for all 'teams' involved, especially when you consider how notoriously expensive and competitive advertising is at an event like the Super Bowl. (A 30-second TV commercial aired during the popular event costs approximately $4 million.) Finding ways to leverage alternate channels like Twitter, JCPenney (and Kia, Doritos and Coors Light) got tens of thousands of extra eyes on their brands for a fraction of a fraction of the price. In fact, it turns out JCPenney was the second-most mentioned brand on social media at the Super Bowl, with an impressive 120,334 mentions.
Of course, it'll still be a long time before Twitter coverage is valued as highly as a TV commercial. But the reality is, the kind of real-time marketing we saw big brands doing at the World Cup and the Super Bowl this year (and last), is simply a sign of the times. More brands than ever are shaking up their traditional marketing and advertising strategies in big ways—and that's a good thing. As people increasingly spend time on their digital and mobile devices, on social media sites like Facebook, Twitter and Instagram, companies must follow them there, or lose their competitive edge.
So here are a few key things businesses will need to know as we head further into the new era of 'social' marketing:
Invest in social channels. If you haven't already, make sure your business has a Facebook, Twitter, Instagram, Google+, LinkedIn, and YouTube account and is investing in building unique audiences on those forums. If resources are an issue, the good news is you don't need to do this all at once. Simply choose one channel that best suits your brand and and start building an audience on that.
The key to attracting fans is to share with them important and valuable information relevant to them. It's content marketing 101.
Leverage your social channels. Once you've taken the time to build your core social channels, it's time to start leveraging them for brand awareness and promoting special company news and announcements.
At my company, in the last couple of years we've discovered enormous, unexpected returns from having literally millions of loyal, engaged fans on all social media channels likeFacebookand Twitter. Recently, for instance, my team put together a creative tribute video to the TV show Game of Thrones. We released it on YouTube on the day of the season-three premiere, and put out the word via all of our company Facebook, Twitter, LinkedIn, Google+, Instagram channels. By the end of the week, the video clip had became our most popular piece of content of all time, with over half a million views. It went so viral that Ad Week picked up on it, calling the video a "work of art," while TIME magazine published an entire piece on it. We're absolutely certain this kind of coverage never would have happened without our audiences on social media, who helped spread the word.
See every comment on social media as a golden opportunity. Another major advantage to having engaged fans on your social media channels is that you get a constant and steady stream of real-time feedback from people about your brand and your product, whether it's on the company Facebook page or Twitter profile.
The intel you can gain from this kind of commentary is simply invaluable. In fact, some of Hootsuite's best-performing new products and services are the direct result of listening to our fans and customers on social media forums.
Meanwhile, as we saw from Kia, Doritos and Coors Light at the Super Bowl, engaging in these conversations alone can be a quick and highly effective form of PR. You never know when your public response is going to be shared far and wide.
Get your whole company on social media. Bear with me for a moment. It might seem obvious that a CEO of a social media company would encourage everyone to be trained up on the technology.
But it's precisely because Hootsuite specializes in social media that I've seen firsthand how much value there is to be gained from it. For half a decade we've made sure our new employees knows how to use Facebook, Twitter and LinkedIn—from the receptionist to the CRO. We always anticipated that 'eating our own dogfood' would be integral to success. We even developed a formalized online training program to support this, Hootsuite University, and made sure every new person got certified.
As time went on, we realized that there are huge, huge business gains to having digitally-savvy employees on company front lines, whether in the sales, community, or customer support department. We've actually seen our sales people landing major clients through social media and had better customer support scores as a result. In short, we are seeing tangible business results from using social media throughout our entire organization.
And we aren't the only ones who've discovered this. A 2012 McKinsey report revealed that social technologies stand to unlock a whopping $900 billion to $1.3 trillion in value potential for businesses. Two-thirds of that value, the study concluded, would come from social media through "improved communications and collaboration within and across enterprises."
Stay tuned for another post on this topic, in which I'll write about another key trend: social advertising (or paid social media) and what businesses need to know about it.
For more social media insight, follow Hootsuite on LinkedIn.