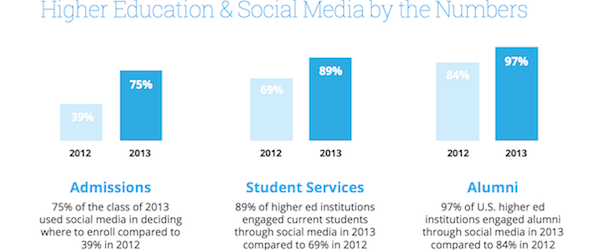 Social media has changed the relationship between higher education institutions and their audiences—for the better. Schools that have broadened the scope of their communication with social media are seeing the results of these efforts through increased engagement, measurable upward trends in sentiment and loyalty, and successful fundraising activity.
Here at Hootsuite, we've been compiling a resource library of useful social media strategy information for post-secondary institutions. We recently hosted the webinar, Making the Grade: Tapping into the Student Life Cycle through Social Media, where guests from three leading universities shared tips on using social media to strengthen relationships with students before, during, and after their time on campus. In the accompanying eBook, Social Media and the Student Lifecycle: 9 Tips on Increasing Engagement, you can see first-hand how these digital media professionals make connections and maintain relationships through social efforts.
The eBook highlights key takeaways from the webinar, including:
Maintaining audience interest and participation by publishing good content, consistently;
Inviting student participation through peer-run social accounts;
Aggregating best practices for optimizing social media platforms;
And more, including proven examples of innovative and successful social initiatives.
Download the eBook today and learn how the tips from these University digital media and communications professionals can help you optimize your institution's work on the Hootsuite platform.