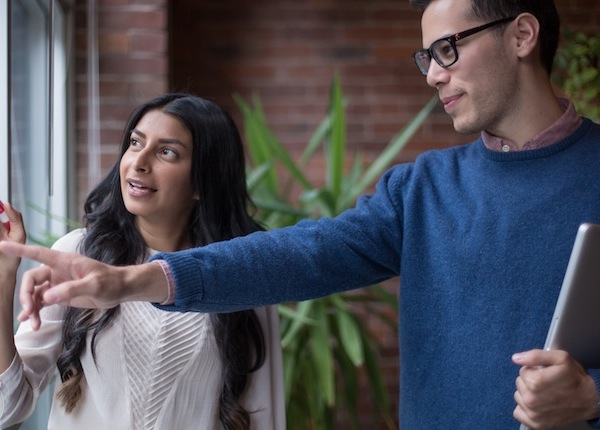 Prepare for a Lifetime of Careers, Instead of the Career of a Lifetime
Yahoo! CEO Marissa Mayer's first job was as a grocery clerk. Amazon's Jeff Bezos started his career path as a summer camp leader. As so many business leaders now demonstrate, the path to success today is no longer clear or linear.
Entrepreneur once looked at the career paths of 1426 of the world's top entrepreneurs and billionaires and found that 67 percent of them are self-made. Even more, 86% of them, earned their wealth from more than one business. Today, the career of a lifetime no longer lasts a lifetime.
Career paths meander and evolve, giving people many chances to reinvent themselves—even within their current organization. Skill sets are now highly-transferable assets that accumulate from one career to the next, and we have more knowledge, education, and skills available to drive and inform our decisions. Whether you're learning on the job, through your own curiosity, or formal education, expanding your knowledge is what drives success today.
Take Joel Trethowan, founder and Business Director at Sydney Australia's Alchemy One Media agency, for example. Like so many of us today, he's jumped from career to career, but his yearning to be a lifelong learner has fueled the biggest moves of his life.
2008: Graduated Swinburne University of Technology
2009: Account Manager at UM Worldwide
2011: Family Product Manager at Universal Sony Pictures Home Entertainment (works with Barbie and LEGO)
2012: Partner Marketing Manager at Microsoft (helps launch Windows 8 in Australia)
2013: Back to Universal Sony Pictures Home Entertainment (loves the culture)
2013: Assists a contact with executing a media campaign for an agricultural company
2013: Founded Alchemy One Media agency
2014: Enrolls in Newhouse-Hootsuite Advanced Social Media Strategy Certification
2014: Alchemy One grows rapidly from 1 to 5 ambitious and hungry clients
The moment that fast-tracked Joel's career trajectory
Let's get right to the juicy part of Joel's story. In 2013, a contact of his was working as a marketing manager within an agricultural company in Australia. The company became increasingly frustrated by the cookie cutter campaigns being produced by the agencies they were hiring. Craving a new approach, they turned to Joel who took on the campaign. Once he started to organize a media and marketing strategy, he realized just how complex the project was. After troubleshooting many challenges, the end result was a huge success: the campaign took off, everyone was happy, and Alchemy One was born.
Joel had found his calling. In 2013 he founded Alchemy One Media, a media agency focused on partnering with small to medium-sized businesses to help them find their own wins, even with small budgets. "Working within the agriculture vertical made me realize that some industries are still in the very early stages when it comes to digital and social media maturity," says Joel. "There's a huge market that's still using solely traditional marketing methods and there is a world of opportunities that they are not tapping into. I wanted to help."
"The agency was growing fast, but with the pace of the digital and social world I needed more confidence to pitch digital and social media opportunities to new clients. I was craving a more holistic view of social and digital marketing in order to find new ways to tackle challenges. I felt like I just knew the tip of the iceberg in the sense that there was a whole world of deeper knowledge that i craved, if I only dove deeper."
Advanced digital skills build confidence and competitive knowledge
In 2014, Joel enrolled in Hootsuite and Syracuse University's Advanced Social Media Strategy Certification (ASMS). "During early conversations with a major client, I recognized the benefits associated with advancing my skills and knowledge in social media," he says. "That's when I turned to ASMS."
Hootsuite partnered with Syracuse University's Newhouse School to deliver the digital skills and strategy expected of today's workforce. With enrolled participants from the likes of Sony, Wiley, Safeway, Coors Light, and the US Small Business Administration, this certification is supporting today's leading professionals in advancing their careers and their business success through social media.
How the ASMS Certification has helped Joel:
Well-versed in Hootsuite, Joel could then add more value by training clients to use the platform for listening, engaging, and pushing out content.
Gained superior knowledge of new concepts like organic advertising and paid social for clients
Has a stronger client value proposition on LinkedIn with reputable certification and University behind him
Gained confidence, pitching high level social and digital strategy to clients
Brought him up to speed in the growing social media market
Understanding of the business challenges, solutions, and values of social media holistically
"Social media is a huge market in Australia, everyone is very active and is rushing to fill the space," he says. "This academic certification is so important to ensure I am ahead of the curve."
For Joel, the certification helped him accomplish his goals of gaining a thorough understanding of social strategy and what people are wanting from brands on social as well as how to use those skills to help his clients grow from being good to great. It also helped cement things together. Collecting bits of knowledge and insights here and there over time, the course empowered him with a clear understanding of how to use social insights to build great strategies for clients.
"I knew the space really well, but I was still overwhelmed by the rate of change," he says. "I felt like I didn't have a profound understanding of all of the varied opportunities across every single channel —until now."
How social media education has helped Joel's agency grow
Today, Joel has the knowledge and skills to pinpoint common industry challenges and find innovative solutions and social strategies for clients looking to overcome that same hurdle. For example, businesses in traditional industries like agriculture are challenged just to enter the market and establish a social presence. Whereas businesses in highly social industries such as retail or travel, need to stand out in a competitive market. Likewise businesses in the nonprofit space need to make an emotional impact on customers, whether by telling a story or giving the audience a voice.
A lifelong learner at heart, Joel will continue to update his skills and knowledge to stay nimble, entrepreneurial, and competitive—forever opening doors to his career.
Learn how the Advanced Social Media Certification can help you succeed on social.