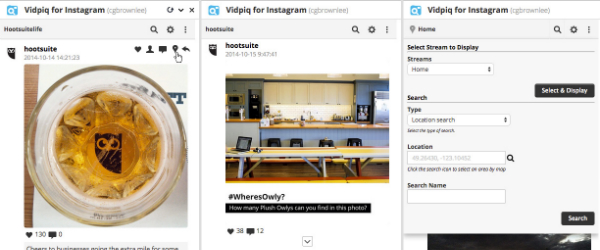 Perfect Your Brand's Instagram Strategy with Vidpiq and Hootsuite
Instagram has experienced an impressive spike in user growth since joining the Facebook family in 2012, now topping 100 million daily active users! It has been pegged as "the most important social network" among teens, and it's only expected to continue growing in popularity.
We have explored the subject of Instagram branding at length, including how-to guides for best practices, as well as examples of successful Instagram video and Hyperlapse by Instagram strategy execution. If you've mastered the basics of Instagram for business, it's time to consider integrating some valuable tools like Vidpiq, the newest addition to Hootsuite's app directory.
Here's how Vidpiq can help you perfect your Instagram strategy
Find users who engage with your brand on Instagram
Instagram is a great way to showcase how customers incorporate your brand's products and services into their everyday lives, and there's no better way to do that than featuring your customers' Instagram pictures! Vidpiq allows you to set up several search streams in your Hootsuite dashboard, where you can monitor pictures by location, tag, or username. While users can perform the latter two searches directly in their Instagram app, search by location is a great way to find out trending topics and top users in the area.
Find top performers in your area
One way to boost your social media following is by engaging influencers, or highly active users with a well-established follower base on Instagram. If you're a small business looking to boost awareness in your area, you can do so by creating a relationship with local users who post on Instagram several times a day. You can find these users by performing a location search with Vidpiq, limiting the search radius to the desired scope—your neighborhood, your municipality, your region, etc.—and seeing which users show up on your search feed most often. Find out the user's photo, follower and follows count, by clicking on their username directly in the browser. Once you have found the top performers in your area, invite them to check out your brand to see if they like it—if they do, there's a high chance they will post about it on their favorite social network.
Monitor your branded hashtag(s)
If your business has an official hashtag you monitor on Twitter and Facebook, Instagram users probably include it in relevant pictures. Hashtags on Instagram also allow your brand to easily track unique campaigns you develop for product releases or special occasions. You can use Vidpiq in Hootsuite to search by tag, and using the search function to monitor your own hashtags is a great place to start. Set up a stream to monitor your brand's tag; if you have more than one official hashtag (for example, in case of a promotional campaign), Hootsuite allows you to set up several streams, each dedicated to track a different hashtag.
Check out the competition
To be a leader in your field, you need to keep an eye on your competition. You can monitor neighboring businesses by setting up a Vidpiq search stream for your competitors' usernames. If your competitors share the neighborhood or the city with your business, you can compare how many Instagram engagement they have by performing a location search for your territory, and seeing how many photos show up with your brand's tag versus your competitor's.
Evaluate your promotional campaigns and expansion possibilities
If your business is looking to expand into a new neighborhood or a new region, you can use Vidpiq's location search to find potential brand ambassadors, as well as figure out the competition. For example, if you are a craft brewery looking to venture into new territory, Vidpiq location search allows you to view beer enthusiasts in the area who are active on Instagram, and see which brands they post about.
How to use Vidpiq for Hootsuite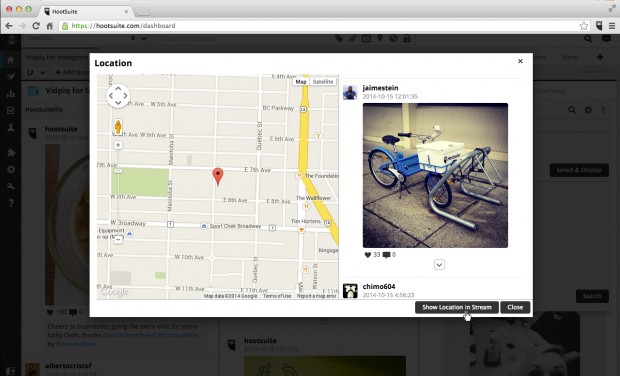 Similar to Hootlet's Tweets Near Here feature, Vidpiq's location-based search allows you to see Instagram photos posted in the selected area. After logging into your Instagram account, click on the looking glass icon to initiate a search and choose 'Location search' in Type field.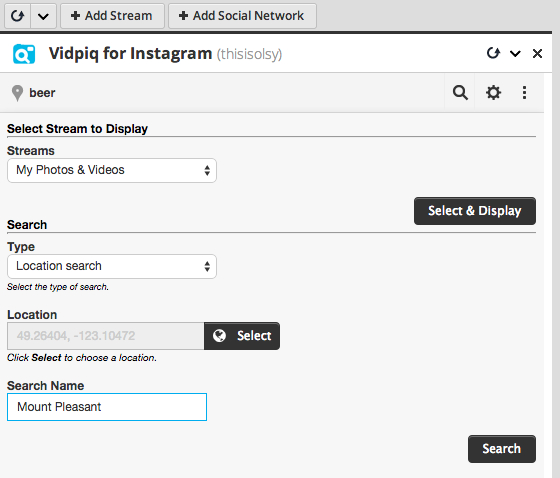 Next, you are prompted to select the area you want to explore on the map, and set the search radius.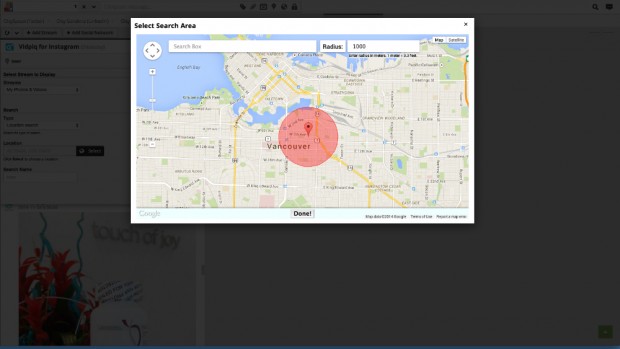 Voila! You can now see public Instagram photos shared by users in the area you have selected. Name the area you have selected, especially if you're performing several searches; for easy sorting, you can name your searches by neighborhood, or significance to your business.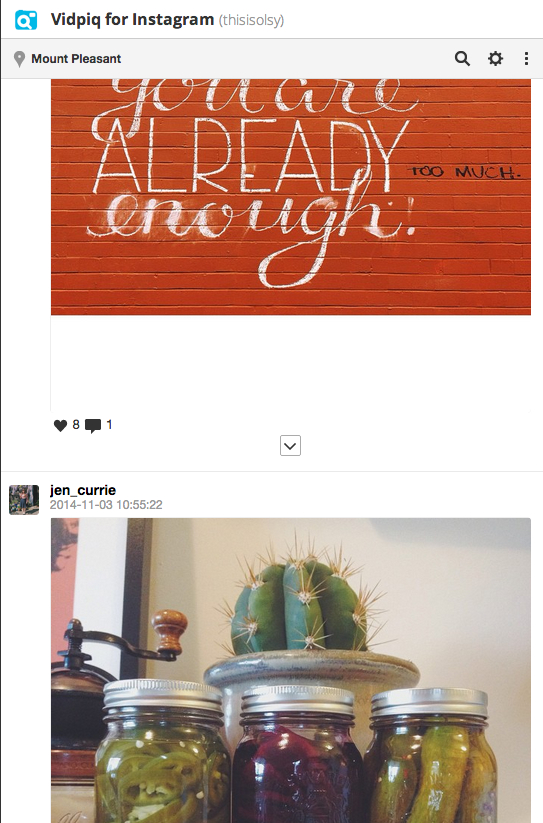 To monitor by tag or username, simply switch to the appropriate search in the Type field, and browse away! Hootsuite allows you to set up as many search streams as you need, allowing you to monitor your Instagram feeds quickly and easily.
In addition to monitoring, Vidpiq also helps you:
Engage with users by posting comments
Share your Instagram photos with other social networks through Hootsuite
View your photos and a feed of photos for the users you follow, popular photos and your 'likes', all in your dashboard
View and post comments and 'likes'
Perfect your Instagram strategy!