Social media can be a great space for boundary-pushing brands to experiment with innovative messaging. But there's a reason you haven't seen Family Guy's bong-toting Brian the dog pop up in your feeds in a sponsored weed-vertisement.
In highly regulated industries, like marijuana, alcohol, and others, marketers need to understand special rules apply to their campaigns. Though some may seem strange (like who wouldn't allow an ad featuring a canna-smoking canine?) platform operators have been known to crack down on users and brands who violate law or platform policies. In some cases, rule-breaking can mean getting banned, fined—and even sent to jail.
You'll want to become familiar with guidelines for what is currently acceptable on social media channels. Rules vary across industries, and those rules often change. Below are some examples of what you can and can't do, with highlights to help keep you out of trouble.

Bonus: Get the step-by-step social media strategy guide with pro tips on how to grow your social media presence.
1. Marijuana: Don't say what you're selling.
Perhaps unsurprisingly, advertising and marketing rules in the sin-dustries (tobacco, alcohol, and gambling) are strict—and the rules regarding marijuana marketing are as well.
In Canada, Bill C-45 the Cannabis Act includes strict proposed advertising rules that prohibit brands from promoting:
Information about cannabis price or distribution;
in a way that appeals to minors;
using celebrity testimonials or endorsements;
featuring cartoons or other real or fictional characters;
by associating the brand with "a positive or negative emotion;"
by associating the brand with "a way of life such as one that includes glamour, recreation, excitement, vitality, risk or daring."
In the U.S., where marijuana is legal in some form (medical, recreational, or both) in 30 states and in the District of Columbia, advertising regulations differ from state to state. Similarly, Canadian provinces have their own additional ad regulations.
A central difference between promoting beer and boosting bud relates to the use of imagery: marijuana marketers can use very little, despite the efforts of advocates who lobbied for laws regulating its promotion like those applying to alcohol instead of tobacco.  Penalties for breaking these laws are heavy, ranging between $1,000 to $5 million fines, and six month to three-year jail terms.
Taking their cue from regulators, operators banned ads on Google and Twitter. On Facebook and Instagram, marijuana advocacy is allowed (or so Facebook claims), but not the sale or use of the drug. There, guidelines state ads are prohibited:
that "promote the sale or use of illegal, prescription, or recreational drugs;"
that depict bongs, rolling papers, vapes and anything else implying recreational and medical marijuana use.
In response, crafty-preneurs are now busy perfecting the art of marketing their brand without actually showcasing their product.
Producer MedReleaf launched its own beer line to advertise its brand while cannabis rules were being finalized. Available in Ontario, their "cannabis-inspired" San Rafael '71 4:20 Pale Ale contains 4.20 percent alcohol content but no cannabis. The beer brand uses cheeky taglines including "grassfed" and "here today, bong tomorrow" that speaks to the company's roots and aims.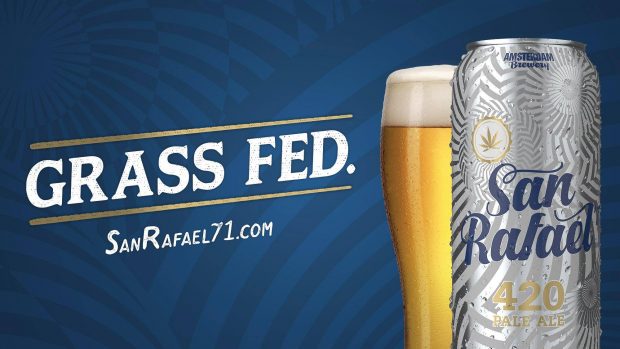 Similarly, you won't find any toking in Tweed's "Hi" campaign, which can be found online, on video and out-of-home. The company launched the tongue in cheek promotion to introduce and entice new audiences to its brand—and eventually, its product.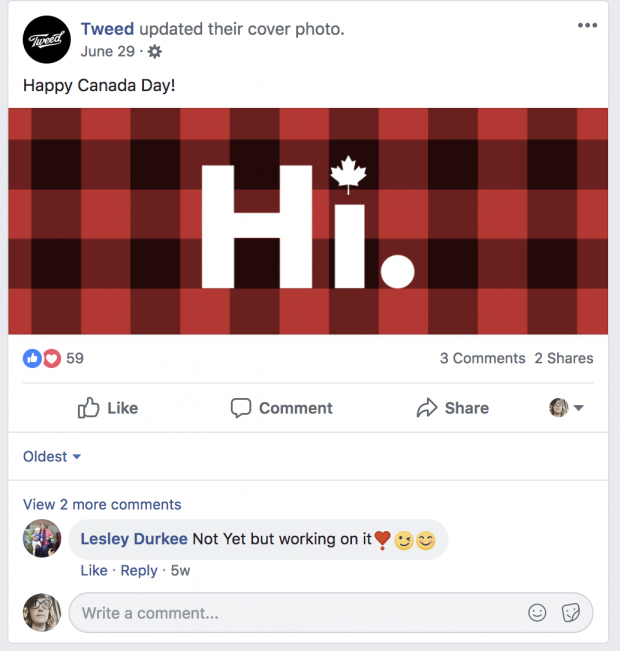 Some cannabis activists link Health Canada's regulations to a seeming shift in YouTube's approach to marijuana-related materials. The platform recently made headlines for clamping down on canna-content. Videos were removed and channels of prominent marijuana vloggers and content creators were shuttered—some of whom had spent years building up a loyal cadre of followers, millions of views, and hundreds of hours of video.
The platform's community guidelines have been less than helpful for those trying to figure out why content was flagged. The sections on "child safety" and "harmful and dangerous content" may have been the basis, particularly since the  latter guide against videos that depict "hard drug use, or other acts where serious injury may result." But the guidelines also state that videos may be allowed if videos are intended to be "educational, documentary, scientific, or artistic" and aren't "gratuitously graphic." – leaving some perplexed.
As a result of YouTube's enhanced policing, many cannabis content creators have moved their content to friendlier video-sharing platforms like Vimeo—and the recently launched WeedTube.
Puff, puff, press play.
2. Alcohol: All about age-gating
For many people, drinking and socializing go hand-in- hand. So, it makes sense alcohol brands are spending billions to engage their customers on their favorite social networks. And studies show that they're gaining traction.
The main issue with digital marketing for alcohol brands is ensuring it reaches the right age groups—industry oversight bodies have specified that at least 71.6 percent of the targeted audience should be of legal drinking age in the U.S. and at least 70 percent in Canada.
In the past, such  restrictions led alcohol brands away from marketing on digital platforms; now more sophisticated age-gating tools exist on social media platforms like Facebook, Instagram, Twitter and YouTube, allowing them a way in.
The gates work a little differently on each platform:
Twitter restricts access to content based on the birth date provided when a user signs up.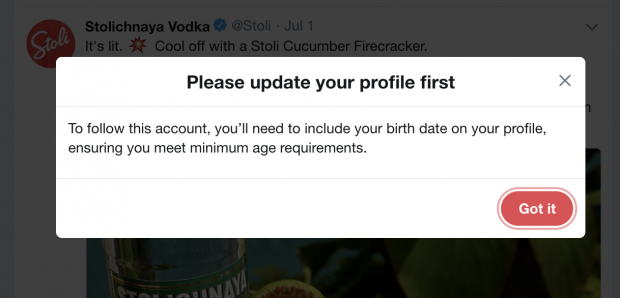 Similarly, Google bases its YouTube restrictions on the age users enter on their Google Plus profile.
On Instagram age-gating is optional. Brands can activate it by contacting platform representatives. Despite these permissive guidelines, beer and spirit brands still have legal obligations to follow, which means many do activate.
Owned by Facebook, Instagram users are able to connect their account with their Facebook account. Facebook requires a birth date when users first set up their accounts. If a user isn't logged in or connected to their Facebook account, an age gate will appear.

On Facebook you can add age restrictions to your Page so that only visitors that meet the requirements can view it.
In addition to age-gating features, most brands on social media include additional disclaimers in their profiles discouraging under aged users from following or viewing their content, even though this means using up precious few characters available for profile bios.

3. Cryptocurrency: Scammers beware
The frenzy around Bitcoin and blockchain-based currencies led to the creation of super strange coinage (RIP Fonziecoin and Pizzacoin) and a rush of advertising on social media designed to drive consumer interest in Initial Coin Offerings. Some suspect ICOs relied on celebrity endorsements (including by Floyd Mayfield, Evander Holyfield and Paris Hilton), and were later tagged by the U.S. Securities and Exchange Commission as scams.
Boxing legend and Hall of Famer Evander Holyfield has officially endorsed @AriseBank @BitShares Join the biggest fight in history. #arisebank $BTS #BTS pic.twitter.com/MFNCpZ5OJf

— Evander Holyfield (@holyfield) January 5, 2018
In an effort to curtail manipulative ads for fraudulent ICOs, Facebook, Twitter, and Google banned all cryptocurrency advertising. Twitter also cracked down on cryptocurrency scammers by banning bots and fake accounts.
For instance, using lookalike accounts (ex. @elonmuskik and @VitalikButerjm), scammers impersonating tech star Elon Musk and Ethereum co-founder Vitalik Buterin, attempted to deceive users by asking them to trade small amounts of Ether for larger amounts they would never receive—prompting Buterin to tweet out his real social media account links.
Here is a VCR (Vitalik Curated Registry) of all of my active social media accounts:https://t.co/oDWViPcy3hhttps://t.co/VRy3MjICIjhttps://t.co/owiClvuf42

There may be a few smaller ones but nothing mainstream. Everything else I either don't use or is a scam.

— Vitalik Non-giver of Ether (@VitalikButerin) July 5, 2018
Six months after it initially banned ads, crypto marketers rejoiced when Facebook (sort of) backpedalled on its initial ban. The company released a new policy. Potential advertisers would now have to fill out a "cryptocurrency products and services onboarding request" to get ads approved. Whether that'll be enough to discourage crypto scammers remains to be seen.
Otherwise, trying to generate legit buzz and attract positive press is a challenge in an increasingly crowded market of crypto startups. Some more credible ways startups are promoting projects include:
Sharing their stories on Medium and Steemit (a blogging platform for crypto enthusiasts)
Paying influencers on platforms like YouTube
Incentivizing users on Telegram (a messaging app for the crypto community).
4. Olympics: Avoid the "O" word
Not just anyone can launch a gold-winning social media campaign during the Olympic Games. Non-sponsoring businesses and brands have to tread carefully to avoid getting sued. Together with the International Olympic Committee, local organizing committees in each host country, control the Olympic brand in their jurisdictions.
The Olympic brand includes words, phrases, logos and designs related to the Olympic Movement. WIthout appropriate consent, don't even think of trying to use:
Olympic
Olympian/d
Paralympic
Paralympian/d
Pan-American
The symbol of five interlocking rings (no, not even with onion rings)
And in the run up to each Olympics, using turns of phrase that reference the Games, like "the big event," "let the games begin," or "go for the gold" can be problematic. Even cute coinings, like "Snow-lympics," are out too.
Non-sponsoring brands can't use related branded hashtags like:
#TeamCanada
#TeamUSA
#Tokyo2020
#Beijing2022
In fact, seemingly innocuous gestures like cheering on athletes, posting results, sharing photos from the Games or social media posts from official Olympics accounts (including retweeting) could also result in a first-place headache. Instead, you can leverage on timing—sharing posts and tweeting about an Olympic sporting event when it's happening is fine. Users can also share and engage with social media posts by Olympic sponsors.
The IOC is aggressive, keeping up with their guidelines is an Olympic-sized challenge—particularly for smaller brands with limited budgets who may be tempted to go rogue. But bending the rules and engaging in ambush marketing is not only frowned upon by IOC, it may also result in the wrong kind of publicity.
Vancouver yoga brand Lululemon Athletica quickly found that out when, ahead of the 2010 Vancouver Winter Olympics, it launched a limited clothing line called "Cool Sporting Event That Takes Place in British Columbia Between 2009 & 2011 Edition". The name not only upset the local organizing committee, but also generated bad press for Lululemon's allegedly unsportsmanlike marketing efforts.
But athletes themselves have also pushed back against the IOC's marketing restrictions. Following a Twitter campaign launched by frustrated athletes during the 2012 London Olympics, the IOC relaxed a rule which precluded them from being featured in any kind of advertising by non-official sponsors—including even simple "congratulatory" social media posts—during the Olympic window. Now, these brands can apply for an advance exception, permitting pre-approved advertising during that period.
Gatorade, for example, was able to produce videos featuring tennis star Serena Williams and sprinter Usain Bolt, even though it wasn't an official Olympic sponsor at the time.
5. Gambling: Know when to fold 'em
It's illegal for private companies to host or operate an online gambling business in the U.S. and Canada—and, don't even think of advertising one.
In 2007, Microsoft, Google and Yahoo, then the three largest Internet companies, settled with the U.S. Justice Department for a whopping $31.5 million for accepting illegal online gambling ads between 1997 and 2007.
Canada has similar regulations, but their enforcement is another matter. Though the Criminal Code includes sections prohibiting gambling promotion, enforcing gambling ad standards has largely been left up to provincial efforts. Yet, unlicensed online sports and poker sites reportedly contribute "significant" advertising revenues to Canadian sports broadcasts and online.
In an effort to curtail illegal gambling adverts, the B.C. government recently proposed filing a multi-province complaint against the industry's self-regulator, The Advertising Standards Council.
Platform rules for advertising on social media are not much clearer. Gambling-related advertising is treated as restricted content: ad policies outlined on Google, Facebook, Twitter and Instagram state they'll allow it on a case by case basis. Interested operators must obtain advanced "written permission" or be "certified." Authorized ads must then only target audiences of legal age residing in approved countries.
In short, it's a confusing landscape for gambling ad sales.
Still, there are plenty of ways for legal gambling operators to engage audiences on social media. Licensed casino operators are becoming savvier in attracting customers using traditional digital marketing techniques such as video marketing campaigns on YouTube, and providing customer service through Twitter.
Social games are also increasingly popular marketing vehicles. Found on social networking sites like Facebook, they do not involve the gambling of real money, but do allow in-game purchases of tokens and other playing benefits. For gambling operations, developing social games on Facebook not only helps bring in customers but also provides an alternate revenue stream. Worldwide revenues for the social casino market reportedly hit $4.2 billion in 2016.
International Game Technology (IGT) is a major investor in social games. If you've ever played a slot-based game or video poker in Canada or the U.S. it was likely created by IGT. It's app DoubleDown Casino is the world's largest free-to-play social casino and a top-ranking app on Facebook. The Vegas-style game operates with virtual chips, and provides players with loyalty rewards within the flow of the game; its associated fan page (currently, 7.6 million fans) helps create dialogue to engage customers.Conclusion
As laws and codes regulating regulated industries shift and evolve, social platform operators adapt their own policies in effort to keep up. Brands and social media managers should be prepared to consult guidelines—and in certain cases, legal counsel—before investing in significant campaigns, as rules can vary depending on the country, province or state. Incomplete, or altogether ignored due diligence efforts can be a high stakes gamble.
Easily manage all your social media in one place using Hootsuite. Schedule and publish posts, engage the audience, monitor conversations, run ads, measure performance, and much more. Try it for free today.