The positive relationship between an active online presence and brand loyalty is well-known to digital marketers. According to some reports, as many as 53 percent of Americans who follow a business on social media prefer that brand to their competitors. However, just being there isn't enough.
You probably don't need another reminder about the importance of audience engagement on social media. A timely response to a customer's question or feedback can help you improve that individual's customer experience, not to mention it can also benefit the performance of your services and products and avoid leaving your account in long periods of inactivity. But another, no less important advantage of engaging with customers on social media is that it helps nurture your relationship with each customer, and therefore inspire brand loyalty.
In the dynamic world of social media management, it's easy to get overwhelmed with important details like choosing the right platform for your content or tracking the necessary metrics. But for the sake of fostering brand loyalty, you have to evaluate what kind of experience you're creating for the customer. To help you zoom out and look at the big picture, we've created this social media checklist for best practices in inspiring brand loyalty.
How your brand can foster brand loyalty on social media
Leave a sufficient amount of time (it will depend on the number of social media accounts your business has to manage) and use the following questions to guide you through your evaluation of whether your online presence inspires brand loyalty.
❑ Are your social media accounts communicating the brand identity clearly (i.e. Is everything "on brand")?
Take a good look at your social media accounts through the lens of your brand guidelines. The basic question you should be asking is, "How does the customer know it's my business's official account?" Is the logo of your business prominently displayed? Are you using consistent colouring throughout? Are your images colour-corrected and high-quality? Does the language of your messages consistently adhere to an agreed-upon tone? If you don't have those rules set in stone, this may be a good time to get an idea for your the best-case scenario and adjust your social accounts accordingly.
A quick way to check your brand identity on social from time to time is what I call "the Twitter search test." Can your customers easily find and recognize you by typing your name into the Search bar on Twitter? (This applies to Facebook orLinkedIn, too—any platform that autofills matching accounts as one types the query into the Search bar.)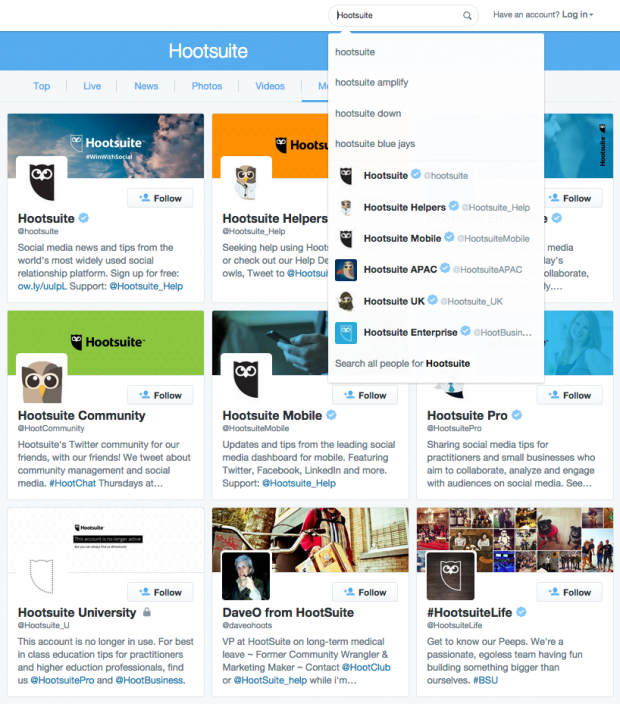 It's also an easy way to get a quick overview of multiple accounts on the network and check whether branding is consistent. In the example above, you can see that although @Hootsuite_U is inactive, it still sports a recognizable Owly logo. This evaluation also helps you be aware of any fraudulent or joke accounts that may be confusing your audience.
❑ Is your brand "human"?
You know and abide by the rule to avoid overwhelming your social media audience with promotional materials; you follow the best practices for composing messages on all the major networks; but somehow, your engagement numbers are still down. Why isn't your audience responding? The pitfall in the way of your social success may be excessive social media automation. Ask yourself: Is it possible that, in the great chase after the Perfect Instagram photo posted at the most appropriate time of the day, you have lost touch with your followers? Do you rely on scheduled messaging a little too much and forget to dedicate time to actually talk to your customers? If your audience thinks that your social account is too much about you, and not enough about them, they will choose someone who pays more attention. Always make sure individual personalities (as long as they are "on brand," of course) shine through your Tweets and Facebook posts; don't be afraid to use humour or show emotion. Our interaction on social platforms may be mediated through technology, but it shouldn't be consumed by automation.
Another possible cause for concern is if none of your team members are active on social media. After all, if you don't encourage the development of these skills and knowledge in the workplace, then you may not be getting very satisfactory results from your online platforms because they aren't being managed with people passionate about social. If that's the case, then your first step is to create employee advocates through social media education. If your coworkers are excited about your brand on social media, the chance of your customers feeling the same is much greater.
❑ Do your social channels offer any unique insights into your services or products?
Responding to your customers' questions and addressing concerns is a crucial element of a brand's presence on social media. But once those queries are resolved, it's perhaps even more important to give them a reason to stay among your followers. If you can accomplish this, then you would be among the lucky businesses that inspire brand loyalty with social media.
Similar to traditional advertising, social media marketing done right shows off why someone would choose your product over your competitor's. With today's variety of platforms to choose from, you have an opportunity to take advantage of video, photo and text formats to show off your craft and knowledge to the world. Show off your competitive advantage in the form of an infographic on an industry topic, a how-to video, or a behind-the-scenes look at the making of your product—as long as it has an obvious value add for your followers, your imagination can run wild.
❑ Do you have a dedicated mission for each social media channel?
You shouldn't join a new social media platform just to stay on top of the trends or because a blog post (no matter how convincing it may have been) told you so—your main reason should always be your audience and their needs. Each profile you create takes time and effort to maintain and neglected accounts can damage your online reputation, so make sure that the mission of each social profile is crystal clear when you set out to create it. Then, conduct social media audits to make sure your followers are also aware of this mission and that it is indeed valuable to them.
Brand loyalty won't be fostered through a channel that exclusively contains promotional material. To avoid this, find a way to add value to your products and services by showing off different aspects of your work: whether it's an educational YouTube video or an Instagram photo from a corporate retreat, your social media content should enrich your audience with knowledge about your brand.
❑ Do your customers get a chance to co-create brand identity through social media?
It's difficult not to feel attached to something you have helped develop. So while your social media audiences may not be involved in executive decisions around your business, they should be regular contributors to your online strategy. Use this checkpoint to see if you're taking full advantage of user-generated content on your social channels. These can come in form of social media contests, examples of use cases or success stories from your customers. Not only is this a great way to foster brand loyalty among your social media audience, it's also a great way to diversify content.
Wrap up your evaluation with one simple question: who am I tweeting/Instagramming/posting on Facebook for? If your audience thinks that your social account is too much about you and not enough about them, they will choose someone who pays more attention to their needs. The best way to earn your customers' loyalty is by paying it forward with great social media content.