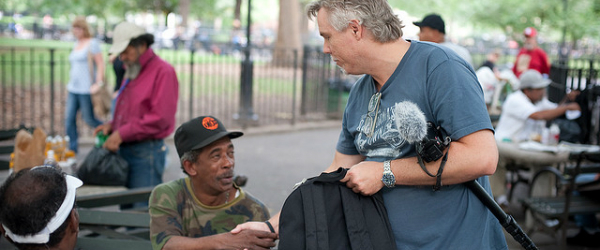 The Role Social Media Plays in Helping Curb Homelessness
From 1990 to 1994, Mark Horvath had a great job in television syndication, and yet by 1995 he was living homeless on Hollywood Blvd. He eventually rebuilt his life back to a 3-bedroom house with a new car and marketing job, only to have it all stripped away again in 2008's economic nosedive.
After 19 months of intermittent unemployment and almost facing homelessness a second time, Mark picked up a camera and started interviewing people living on the streets. With only $45 to set up a domain and server space, a small camera, an old laptop and social media, Mark found his mission in life and InvisiblePeople.tv was born.
But Mark had lost his computer workstation along with his house and his laptop's hard drive wasn't fast enough for video editing. Being a television producer by trade, his inability to edit the video footage almost stopped Mark from moving forward. Pushing this aside, he decided to upload the raw uncut footage directly to YouTube and it's this authentic look at homelessness that started everything.
Invisible People nonprofit launches
Mark's work with YouTube and social media to tell honest stories gave him a greater sense of purpose that helped pull him out of homelessness. By 2009, Invisible People was a registered nonprofit.
"I started using social media not because I wanted to be a social media guru, but because it's free," he says. "Now, people are being fed because I tweet."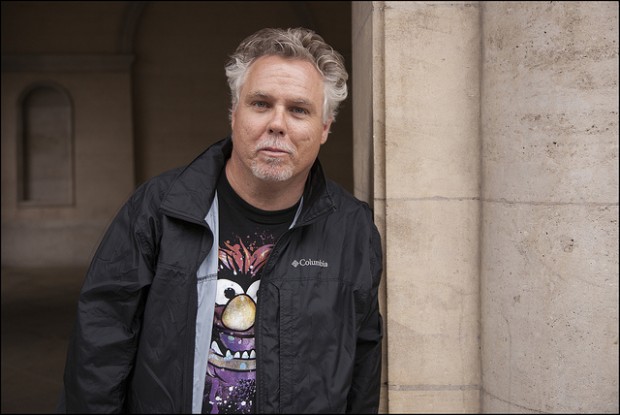 Today, both the nonprofit and Mark have received many accolades for their efforts in suppressing homelessness. For example, Mark's innovative use of social media has made him one of 10 winners of the South by Southwest's Dewey Winburne Community Service Awards, an award that recognizes people who use digital tech to help others. Mark has become internationally recognized as an activist and ambassador for the millions of homeless people and families across the US.
In 2010, YouTube even invited Invisible People to take over YouTube's home page for the day—drawing some 1.6M new viewers. Across other social platforms like Facebook and Twitter, the nonprofit often sees 15M impressions in a week. In 2013 alone, their presence on Facebook and Twitter generated more than 239M impressions. Across all social channels, Mark and the nonprofit have attracted nearly 110K active followers.
The challenge: Limited time and resources
Despite all of his prominence and success on social media, Mark remains a one-man volunteer enterprise. He has to keep up with the conversations, share quality content and videos, and build an online community for homeless people and their stories—all on limited to no resources. To tackle this challenge, he uses Hootsuite.
Hootsuite for listening and sharing content
His Hootsuite dashboard is set up with different searches on homeless news and related topics and keywords around the globe. For example, in the UK, he looks for conversations around the local term "rough sleepers." Having search streams set up to monitor related keywords helps him source great content and articles from HuffPost, NYT, bloggers, and even homeless bloggers, to share across his own channels. "Hootsuite helps me fill my content calendar and then bulk schedule it out," says Mark. "It might only save me an hour of work, but as a one-man show, this is so important."
Hootsuite for engaging and measuring results
"People are becoming detached from well-produced nonprofit stories and videos. We need to validate good works and captivate our audience, but also need to show social crises and capture the problem in reality."—Mark Horvath, founder of Invisible People
He uses Hootsuite Analytics to track the performance of his marketing content and YouTube videos. "The average nonprofit has 600 Facebook likes, but we have over 22,000," he says. "This is mostly because we source and share great content and videos that people can engage with."
But Invisible People wants to change from a storytelling organization to one of mobilization.
People need to be educated in order to effect change. For example, the most expensive solution to homelessness is criminalization, while the second is just leaving people on the streets. New programs like Canada's 20,000 Homes Campaign, which is based off the hugely successful 100,000 Homes Campaign, are saving taxpayers billions of dollars.
For Mark, the quality of engagement and ensuring that every message is clear on social is essential. "Everyone's an influencer, it's just a matter of connecting with them using the right message that inspires people to act," he says.
Making an impact despite resource challenges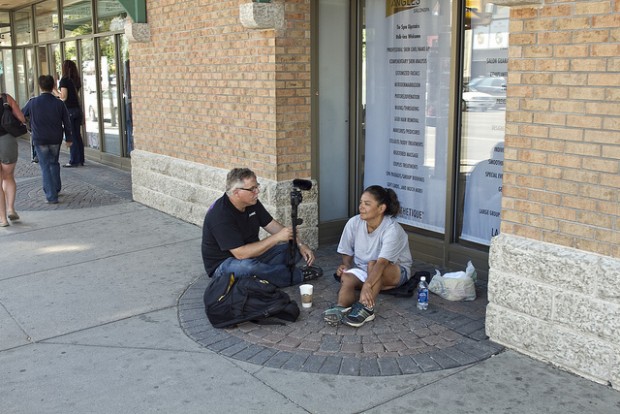 Hootsuite helps Mark save time and resources so that he can focus on telling great stories and mobilizing action. To him, social media is the human experience that happens online. He doesn't count how many people he says hello to on the street, but he does take note of the day's successes: a story shared, an influencer inspired, a homeless person no longer homeless, or a policy added. Mark has now traveled to over 300 cities in 7 different countries to work with stakeholders and change makers, government officials, and influential people in the media reach out to him.
"To make an impact on curbing homelessness means reaching beyond the nonprofit world," Mark tells The Chronicle of Philanthropy. "One of the things we do wrong is we're always speaking to ourselves. I speak to people that are just normal people. That's where the gold is. That's where we're going to see public policy change."
Learn more about our HootGiving program that supports nonprofit organizations.