How Do You Measure Your Social Media Performance? Question of the Week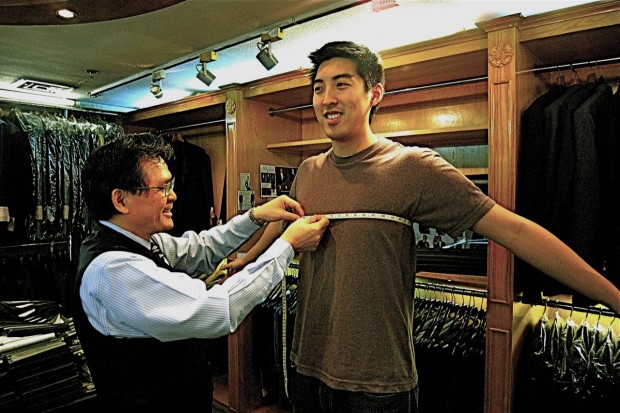 As social media has outgrown our personal lives and become a staple for work, measuring your success on Twitter, Google+ and other networks is now a core part of business strategy. This week we asked our social media followers "How do you measure your social media performance?" The majority of your answers all came back to one thing: engagement.
If You're Engaging, You're Performing
@hootsuite Engagement. Engagement. Engagement.

— Kimberly Joki (@kimberlydjoki) January 23, 2014
Engagement is a broad term that encompasses a number of different interactions on social media, both by you and by your followers. This could include comments, discussions, follow-ups, downloads, trials and more. Engagement boils down to interactions, between individuals and content.  It's telling that the most popular response among our followers when asked how they measure social media performance was engagement. This represents an important shift in the usage of social media for business — a shift away from the "broadcast" approach and towards the conversation approach. People are realizing that success comes when your followers don't just hear you, but actually hear from you.  
@hootsuite We are focusing on interactions with actual people. — goERPcloud (@goERPcloud) January 23, 2014


Moving Beyond Vanity Metrics
So engagement is how people measure their success, but what data points are they actually measuring? Everyone knows and likely pays attention to the number of Likes, retweets and +1s that they receive. Though these figures have some basic value, they are not nearly enough for you to effectively measure your social media performance.
While basic numbers like these offer a snapshot of whether your content is liked by followers, they don't offer you any idea of how your audience is interacting with your content, if and how they're sharing it, what aspects of the content make it perform better or worse than other posts, and where this content leads to sales or new clients. It's like counting the number of people who visit your store and ignoring how much they buy.
Google+ users Stephen Anfield and Lliam Scholtz see the need to move beyond vanity metrics and measure their success using far more complex data points.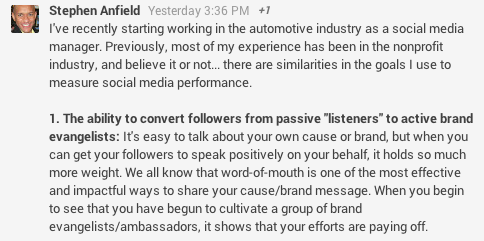 In the end, the best approach might differ from person to person or brand to brand. What's important is that you're measuring your success at all, and linking your social media success to larger business goals. The way to achieve those goals, for most of our followers, is clearly through engagement.
And if all else fails, there's always the fallback approach used by the Philadelphia branch of the American Red Cross:
We eat M & Ms for every notification. If we gain weight, we're doing well. RT @hootsuite: How do you measure your social media performance?

— Red Cross Philly (@RedCrossPhilly) January 23, 2014
Want to improve your own social media measurement? We just acquired social analytics leader uberVU to make it easier than ever!
And tell us how your measure your social media performance in the comments below.