You spoke, we listened. Publishing images using Twitter's native pic.twitter.com functionality was one of the most requested features in Hootsuite's feedback forum. That's why we recently made the option to use pic.twitter available to all Hootsuite users, in the dashboard, as well as on iOS, Android, and mobile web.
As we know, images in Tweets have been shown to increase engagement rates by three-to-four times over messages without photos. Meaning the more you can add visual content to your Tweets, the better.
With this change, instead of just ow.ly links, your followers will now see your images (up to 4) directly in their feeds. Your Twitter presence will be more visual, and more powerful.
Here's what it looks like in your Twitter feed: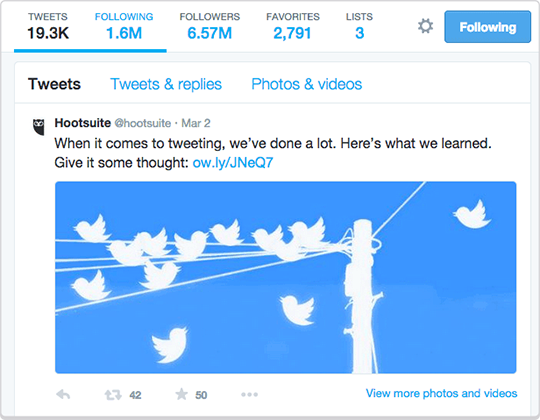 How to Use Pic.Twitter
To attach an image to a Twitter message within Hootsuite, enter the compose box and click the paperclip icon, then select your Twitter account and the image you want to use. When you choose the pic.twitter option for publishing Twitter images, the images will appear prominently in native Twitter feeds and also be added to your Twitter profile's photo gallery.
3 Tips to Increase Twitter Engagement
Choose relevant, appealing Twitter images that are shareable. Choosing the right image can make a huge difference to the performance of your messages, so don't just share an image for the sake of sharing. Make it meaningful.
Crowdsource your images. Run contests or ask for submissions from followers. This will not only increase engagement but also is an excellent way to keep your customers involved.
Optimize your images for Twitter streams. Keep in mind that Twitter users may be rapidly scrolling through hundreds of Tweets. You want them to stop when they get to yours.