If you're not already using Pinterest shopping tools, this is your sign to get started. 9 out of 10 Pinners use the platform for purchase inspiration. And, 98% of all Pinterest users say they've tried a new brand they found on the platform.
This post covers everything you need to know about Pinterest shopping, including the free and paid tools you should be using in 2023.
Bonus: Download your free pack of 5 customizable Pinterest templates now. Save time and easily promote your brand with professional designs.
Can you shop on Pinterest?
Yes… and also no. In most cases, you can't actually check out and pay for an item solely on Pinterest. You still need an e-commerce website to handle the actual purchase.
But this is likely to change soon. Pinterest is experimenting with in-app checkouts, so users wouldn't have to leave the site to buy. This feature is currently limited to specific Product Pins for iOS or Android users in the U.S. only, but expect it to roll out to more locations soon.
In the meantime, unique Product Pin formats, intelligent ads, and other shopping tools make it easy for people to search, discover, and buy your products from Pinterest.
How can brands benefit from Pinterest shopping?
Social commerce is exploding. In 2020, shoppers spent $560 billion USD directly on social media platforms. That's expected to grow almost exponentially, peaking at an estimated $2.9 trillion USD in 2026. Trillion!
48% of Americans purchased something on a social network in 2021. Not just online, but specifically from a social media platform.
Pinterest users, in particular, are wired to shop:
64% of Pinners say they go to Pinterest to shop
While people shop on other platforms, Pinterest is the one where shopping is the intent.
People are already saving the items they love on Pinterest. Now with Pinterest's new shopping tools, they're even more likely to buy what they find there.
Pinners spend twice as much as non-Pinners every month
Pinterest users love to shop. Compared to non-Pinners, weekly active Pinners spend twice as much shopping each month and have an 85% larger order size.
Pinterest shopping tools are worth investing in. Most of them are free, although paid shopping ads can boost your results even further with an average 300% conversion increase!
Pinterest shopping features explained
Product Pins
Formerly called Shoppable Pins, Product Pins look like regular Pins but have a unique format to highlight your product information, including a special title and description, price, and stock availability.
The little price tag in the corner makes it clear these items are available to buy.
Once clicked on, the Pin shows additional information only available on Product Pins:
Large product title
Brand name (and blue check if they're a Pinterest Verified Merchant)
Price, including sale markdowns
Multiple photos (if applicable)
Product description
Source: Pinterest
Sometimes, Product Pins have special labels, like "Best Seller" or "Popular," depending on their sales activity within their product category.
You can create Product Pins in two ways:
From a catalog. Uploading your product catalog to Pinterest will auto-magically convert all your products into Product Pins. The easiest method by far, and important if you plan to run paid ads, since only this type of Product Pin can become an ad.
From Rich Pins. Rich Product Pins are created from URLs and display all the same information as the website's product page, as long as the site has the Rich Pin code installed. These cannot be turned into ads.
We'll cover how to create Product Pins later in this post.
Shopping List
This allows users to find every Product Pin they've saved to their own boards in one place. It also encourages Pinners to revisit these products by notifying them when prices drop on any of them.
The Shopping List helps users make purchase decisions, compare products, and ultimately, convert your browsers into buyers.
For example, here's a peek at my Shopping List:
Seeing everything that I could buy grouped together is pretty handy. I can also filter the list by Board. So if I'm trying to find the perfect new wall art for my office, I could create a Board for it, save Product Pins I like to it, and revisit it later to compare them all side-by-side and decide what to get.
The Shopping List is on each user's profile, as the Board next to "All Pins."
Shop in search
While Product Pins have always shown up in search results for Pinners, the new Shop tab takes it a step further. After a user searches for a term, it shows Product Pins related to that term.
On mobile, Pinterest offers related search suggestions to help narrow down what users are looking for.
The best part about Shop in Search is that you don't need to do anything extra for your products to be here. Create Product Pins and they'll automatically pop up for related searches. *chef's kiss*
Shop with Lens
Okay, this is a wild one! When out at a brick and mortar store, users can take a photo of an item they like with the Pinterest app camera and see similar products from sellers on Pinterest.
It's kinda like a real-life Google reverse image search. Actually, it's exactly like that.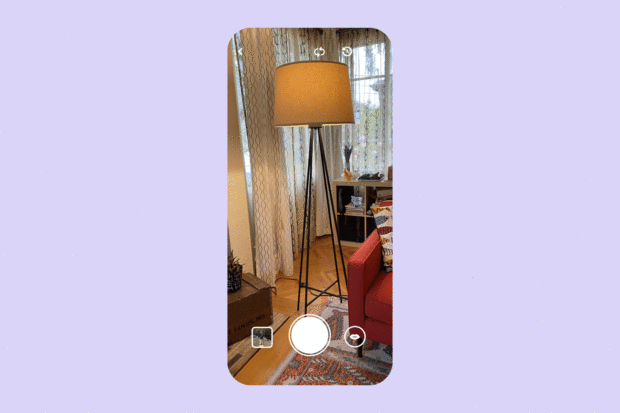 Source: Pinterest
While the majority of Pinners may not be using this feature yet, that will change as augmented reality (AR) tools become even more ingrained in our daily, techy lives. Right now, half of American adults have either already used AR while shopping, or are interested in doing so.
Plus, as Facebook continues to develop the metaverse, interest in AR and virtual reality (VR) tools will increase even more.
And once again, you don't need to do anything for your products to show up here, except have Product Pins set up. Nice.
Shop from Pins
Pinterest has invested heavily in their visual search capabilities and it shows. Now, users can find Product Pins to shop from static Pin images.
What that means is when a user clicks a Pin — any regular old Pin — they'll see products they can buy that are similar to what's in the image. Hovering over the Pin brings up categories Pinterest has automatically generated based on the image, and clicking one brings up products.
This is a powerful way your products can get in front of new audiences. Again, without you having to do anything other than create Product Pins.
Shop from Boards
This is basically the same as the Shopping List feature, but within each individual Board. If there are Product Pins saved to the Board, they'll show up here.
Importantly, Pinterest adds in related products here as well, using the same visual search as described above. It's seamless, so a user may think they've saved a Pin to buy that really, Pinterest just placed there a moment ago.
This is another free, easy way to get in front of customers using Product Pins. You can also run paid ads to increase your chances of showing up here, especially in competitive categories like clothing or home goods.
Shopping Spotlights
Every day, Pinterest selects Product Pins to feature in an editorial-style "favorite picks" section. It's influenced by trending searches and you can find it under the Today tab.
Clicking on a category brings up all the picks. Pinners can interact as normal with these Pins, either liking, saving, or clicking on them to shop. It's simple, free, and obviously, extremely lucky for you if your product gets featured.
Pinterest shopping ads
Okay, this is a huge section on its own, so check out our full Pinterest ads guide for more details. But essentially, you can promote your Product Pins in many ways, including:
"Boosting" existing Product Pins
Collections ads, which are similar to carousel-style ads and can include video
Dynamic retargeting ads
Each type of ad has many options within, including robust targeting and tracking.
There are also other ways to advertise on Pinterest, like partnering with influencers, especially in the popular Idea Pin format. This Pin type is only available to creators, not brands, so partnering with the right creators is essential for success.
Source: Pinterest
How to get started with Pinterest shopping
Step 1: Join the Verified Merchant Program
To create Product Pins or make use of any of the Pinterest shopping tools above, you need to become a Verified Merchant.
Don't panic: Applications are open to brands of all sizes and it's pretty easy to qualify. You just need to be, you know, legit and have a legit-looking website.
Plus follow a few other rules, like having:
Becoming a Verified Merchant allows you to:
Create Product Pins.
Get a Shop tab on your profile.
Display a blue "verified" badge to earn trust.
Have your Product Pins included in all the Pinterest shopping tools we just covered.
Access advanced conversion tracking analytics.
Step 2: Add your products as Pins
After you're approved as a Verified Merchant, the next step is to upload your products.
Many e-commerce platforms offer this as a one-click extension or automatic process, such as Shopify. If you're using Shopify, install the official Pinterest app and you're good to go.
Check Pinterest's Catalogs guide for the method you'll use to get your products uploaded. If your platform doesn't directly integrate, you can manually upload your products to turn them into Pins.
Step 3: Organize your Shop tab
Once your products are in, they'll show under your new Shop tab… all lumped together. That, and a few other reasons, is why you need about 10 minutes of work to organize your Shop tab.
First, organize your products into categories. Pinterest calls these "product groups."
This isn't required for your Pins to show up in any of the Pinterest shopping features above, but it's a nice user experience for Pinners browsing your profile. To create a group, go to your profile's Shop tab and click the "+" button at the top right, which will slide out a menu allowing you to create groups.
You can also create them in your account settings by going to Ads -> Catalogs and choosing View Product Groups.
You can feature up to 3 groups at the top of your Shop tab. Pinterest automatically suggests some, such as new arrivals or most popular. Those are great options, as well as including a seasonal or sale group.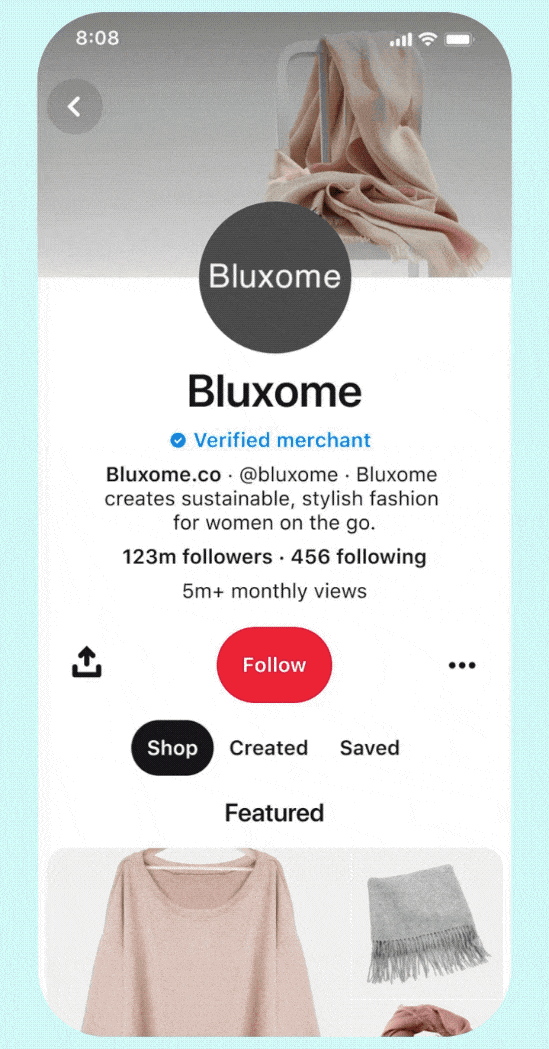 Source: Pinterest
Lastly, take a look at your new Product Pins and ensure all fields imported properly: title, description, pricing, URL, and multiple photos (if applicable).
Step 4: Add product tags to image Pins
In addition to having Product Pins, you can tag your products within regular image Pins, too. This is perfect for your lifestyle content. And, if you do influencer marketing, your partners can tag your products in their regular or Idea Pins to make it easier for their audience to shop your stuff.
You can do this when creating a new Pin, or edit your existing Pins.
Click on the Pin image and search your catalog to select up to 8 products.
Many brands aren't taking advantage of this feature yet but it's incredibly powerful. Pinners are 70% more likely to shop tagged lifestyle images, compared to Product Pins.
Is it because they feel more natural? Non-intrusive? Un-brandy? Who knows, just get taggin'!
Home Depot consistently posts great room tours with all the products in the photos tagged. Every time a user saves the Pin, those tags go along with it. Meaning, it's well worth your while to tag your products.
Source: Pinterest
Step 5: Install the Pinterest tracking tag
Last but not least, a quick bit of code for your website. This is especially important if you plan to run ads. If not, install it anyway to get the most useful analytics data.
You can set a custom attribution window for tracking conversions. Keep in mind many Pinners use the platform in the initial stages of their purchase journey and save ideas for later. You may want a longer window than the usual 30 or 60 days to capture accurate conversions.
You can install the Pinterest tag manually or automatically with many platforms, including Shopify, Squarespace, and more.
While you need the tag to use Pinterest shopping features, there's a better way to measure your results. With Hootsuite Advanced Analytics, you can see the ROI for all your social campaigns — organic and paid — across all platforms, including Pinterest (available to Hootsuite Business and Enterprise plan users as an add-on).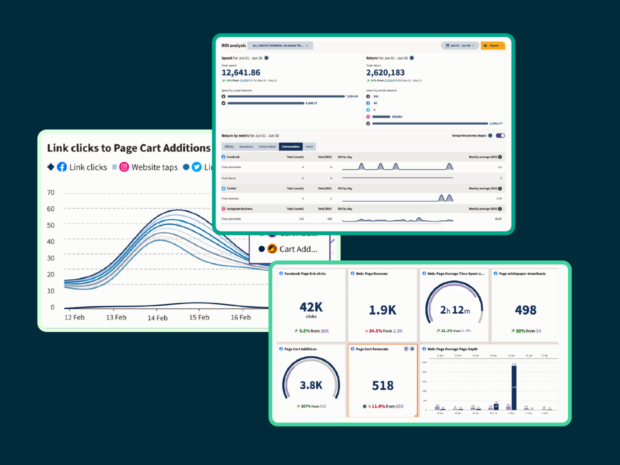 3 inspiring Pinterest shopping campaign examples
The true power of Pinterest's shopping experience isn't in each individual tool, but in how they all work together to form what amounts to an omnichannel campaign inside one platform.
1. Tripling in-store sales with Pinterest shopping ads
Pinterest shopping is effective for more than e-commerce. Floor & Decor, a brick-and-mortar home retailer, knew customers planned renovations long before they ever knocked down a wall.
Even though they don't sell online, they also knew their target market turned to Pinterest to get ideas for upcoming renovations. By uploading their products to Pinterest and running them as Shopping Ads, they were able to get in front of customers at the idea stage, earn their trust, and as a result, boost in-store sales by 300% within 9 months of starting the ad campaign.
The ads were simple, but that's the secret of this campaign: How easy it was to get started. Pinterest automatically created Pins for each uploaded product, saving hours of work. From there, creating ad campaigns was a snap.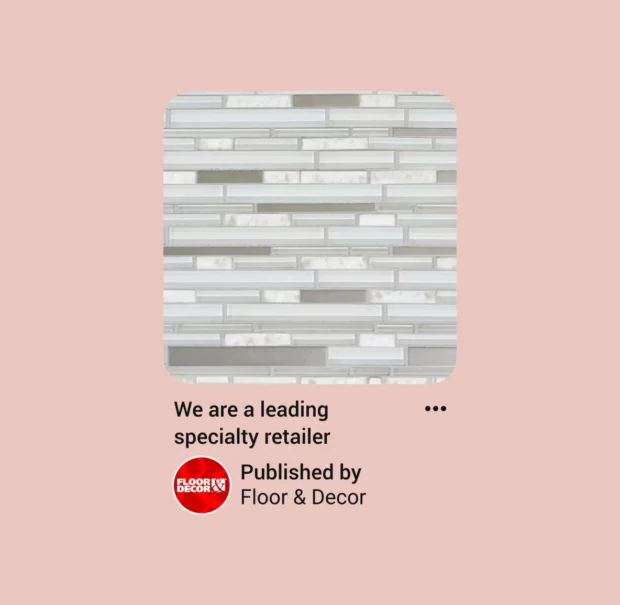 Source: Pinterest
Over time, Floor & Decor focused their ads on top-performing products and categories, further optimizing their ad spend and results.
2. Seamlessly mixing how-to and lifestyle content
Benefit Cosmetics has a distinct style to all their content, but what really makes their Pinterest ads stand out is the focus on function as much as design.
Pinterest is popular for tutorials in everything from DIY home decor to makeup tips. Benefit creates image and video Pins showing how to get specific looks with their products. These tutorial Pins are heavily shared by Pinners, further extending their reach and conversions.
They also post helpful content, like a shade comparison chart on real skin tone models, and fun content, like a cheeky office tour.
The consistent branding and mix of informative, creative content is a hit on Pinterest.
Source: Pinterest
3. An AI-powered personalized Pinterest Shopping experience
IKEA was already running successful Pinterest ads, but wanted to stand out even more from the competition. This campaign drove Pinners to a quiz about their home decor style. The quiz, powered by a chatbot, gave them a personalized Pinterest board at the end, complete with items to shop that matched their style.
Source: Pinterest
Manage your Pinterest shopping campaigns alongside all your social media marketing with Hootsuite. Schedule Pins, run ads, and measure the real ROI of all your organic and paid social media campaigns — in one place. Try it today.
Schedule Pins and track their performance alongside your other social networks—all in the same easy-to-use dashboard.
Free 30-Day Trial