Ryan Holmes in Inc. – Top Corporate Twitter Disasters of 2012

An article by HootSuite CEO Ryan Holmes was featured in Inc. earlier this week. Holmes looks at the worst corporate Twitter blunders of 2012 – from companies hoping to cash in on natural disasters to Twitter-challenged CEOs sharing confidential company info.
You can check out the story – and how to avoid repeating these Twitter faux pas – here.
In the article, Holmes notes that more than three-quarters of Fortune 500 companies now have Twitter accounts, and 80 percent of executives believe their brands get more sales using social media.
But as with any new tool, he says, social media requires the right combination of training and technology to be effective. Harnessed properly (with a robust social media management system . . . ahem, HootSuite), it's an invaluable means of connecting with clients and stakeholders. Used improperly, it becomes a liability.
Holmes looks at seven of the year's biggest Twitter blunders in the Inc. article. Among the  worst of the worst:
Supermarket cashes in on Hurricane Sandy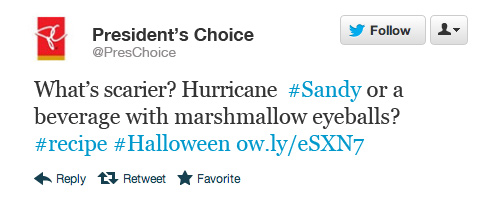 There were an appalling number of  insensitive tweets surrounding deadly Hurricane Sandy. Gap, for instance, encouraged followers to weather the storm by staying inside and shopping on the store's website. But the most spectacularly inappropriate tweet comes from Canadian supermarket chain President's Choice. The above message linked to a Halloween recipe for marshmallow bloodshot eyeballs, made by slicing marshmallows in half and placing a grape in the middle.
Analysis: This comes down more to a lack of common sense than a lack of Twitter savvy. Joking about death and tragedy – or using it as part of a sales pitch – isn't acceptable in normal conversation. It's certainly not acceptable on Twitter.
Retailer Riffs on Batman Shooting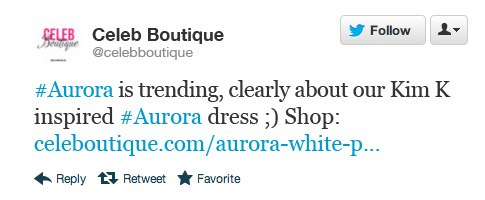 Hours after the deadly theater shooting in Aurora, Colo., during a Batman movie, UK-based CelebBoutique sent the above tweet. It was left up for an hour before being hastily deleted in a hail of angry comments. According to CelebBoutique, their PR people were totally unaware of the shooting when they sent the tweet. The Twitterverse, however, was not sympathetic.
Analysis: A better approach?  When delegating tweets to outside agencies, contractors or even junior employees, assign them limited permissions. The right social media management tool will let you designate which team members can draft and which can actually publish tweets. Drafts can be fed into an approval queue to be vetted by senior management before publishing, avoiding this kind of PR disaster.
The CEO Who Tweeted Too Much

Francesca's, a clothing retailer with stores in 44 states, started the year on the wrong foot when its CFO sent out this tweet after a confidential meeting on March 7. Problem is that Francesca's is a publicly traded company. The CFO disclosed company info to his followers before it went public, thus sharing inside information – a violation of long-held SEC regulations. He was promptly fired.
Analysis: Regulated industries – finance, healthcare, insurance and many others – face strict rules governing what they can and cannot communicate to the public. Social media is not exempt. Every firm should have a social media compliance policy and a social media management system that can archive all messages in the event of an audit.
Worst of all, each of these terrible tweets could have been avoided with a little social media 101 and the right social media management system. With proper tools like HootSuite and proper training like HootSuite University, companies can focus energies on the estimated $1.3 trillion in business value waiting be unlocked by social technolgies.
To see all of the year's worst tweets – including the one that provoked a diplomatic scandal – check out the full article on Inc.