Social media is now how we document our lives. We travel, build relationships, accomplish new goals, and discuss current events. For almost a decade now, it's been all happening in real time every day on social media—building quite an archive. We have created hashtags like #ThrowbackThursday and apps like Timehop to reminisce on all the past moments forever etched in the social web in form of status updates, photos, and 140-character phrases.
December is usually when we look back at the year, creating year-end summaries such as Facebook's Year in Review, and Twitter's #YearOnTwitter. But what if you want to look back a little further? Over the past month, three major social networks announced changes to their search functions, which made finding old posts as easy as a Google search. If you missed out on the news or need a refresher, here's everything you need to know.
Facebook Search
Last week, Facebook rolled out a new search tool that allows you to look for previously published posts using a keyword, or a combination of words and names. The new search function is available on web, as well as the mobile app.
This isn't Facebook's first attempt at building a search engine. The earlier version of Graph Search gave users search results in response to longer-form queries, such as "my friends who like Game of Thrones." However, the semantic search never made it to the mobile platforms; many supposed that using complex phrases as search queries was too confusing for an average user.
The new search allows you to browse the archive of your friends' posts for keywords instead of phrases. For example, you can see which ones of your friends shared the KONY video when it first came out in March of 2012, regardless of whether you added this person to your friend list before or after the day. You can also use the new search to look for combinations of words, names and locations—if you're trying to find photos from a vacation you took with your college roommates in early 2000s, for example, you can search by their first name and location, such as "Sarah Hawaii trip."
In addition to the ability to browse your friend's Facebook history, the search function can also target headlines or captions shared from external links. So, for example, if I look up "Victoria Secret show," I will see results of both my friends and people in my network (with mutual friends) talking about the fashion show, as well as Pages of various news outlets covering the event.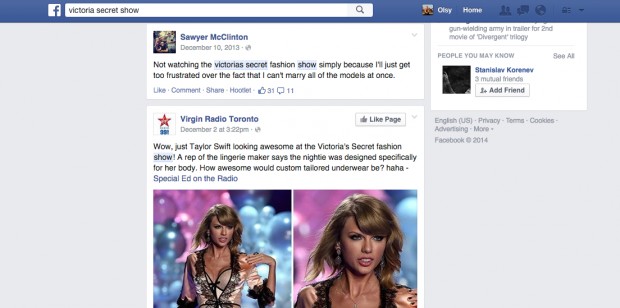 Results of the search are organized using such criteria as your Facebook relationship with the author, time of the posting, popularity of the external source, and engagement.
While the announcement of the improved search was met with numerous warnings about reviewing News Feeds for those embarrassing drunk pictures, Facebook developers emphasize that search results will only display posts which are set to "Public" in the privacy settings—or "Public" and "Friends only," if you're looking for posts from your network. Thus, if you haven't reviewed your posting history with the Timeline rollout in 2011, this might be a good time to clean up your Facebook archive (or at least set those party pics to "Only me").
Fun fact: when I tried to uncover the dark past of my Facebook friend list and searched for posts containing the keyword "drunk," Facebook search results included posts featuring the word "pissed" (a word which is sometimes used as a synonym for the state of extreme intoxication, most commonly in the UK). How inclusive!
Instagram Search
Before their parent company announced major changes to its search function, Instagram also made improvements to the way users can explore new photos in the network.
Recent changes make it easier not only to see the recommended photos on the network, but also see other users' accounts suggested for you. The Explore tab, previously signified by a compass needle icon, has been changed into a magnifying glass symbol to reflect the change. Now, once users tap on the magnifying glass, they can select either the Photos or People tab: the first will bring a familiar scroll of photos, while the latter will give a list of recommended users along with three of their most recent photos.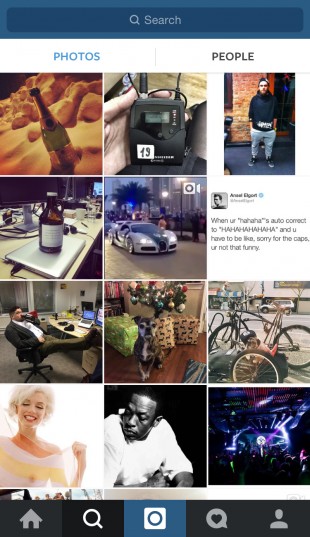 According to Instagram, almost half of Instagram users take advantage of the Explore feature every day, so it makes sense for the photo-sharing network to create new ways for its users to find content they like. Recommendations are chosen based on several factors, such as who you follow and what photos you like on Instagram.
Additionally, users searching for keywords or hashtags on Instagram now see a number of autocompleted options in their results, as they type in the desired word. According to TechTimes, this change was never officially announced, but it appears in the apps' recent change logs.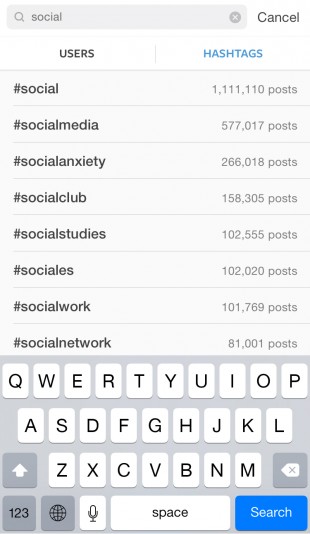 Twitter Search
Twitter has long established itself as the primary social source for breaking news and the go-to platform for real-time discussion of events. In order to track a conversation, you would only have to type in the keywords or a hashtag, and read the Tweets as they are posted. However, even if you were patient enough to scroll down far enough to read the oldest messages, it was impossible to read the archive past a certain date. The reason for that? While the microblogging platform has always stored every Tweet ever published, the search index was purged from older messages every few days.
In mid-November, Twitter has announced a more robust infrastructure, the full search index that now includes every Tweet sent from 2006. While users still have access to the familiar real-time inverted index (the results you see if you type a keyword into the Search field, with the most recent Tweets displayed first), the new search pulls up Tweets dating all the way back to the first mention of the keyword.
If you're looking for a particular Tweet, you can use the Advanced Search. It lets you refine your search by including or excluding certain words, search for Tweets from certain people, find Tweets sent from a specific location, within a given date range, and containing positive or negative sentiment.
If you're still not sure how the new Twitter search benefits your brand, read our post about 4 best practices for brands using Twitter search engine.
Find social media messages even faster by setting up search streams in your Hootsuite dashboard! Try it for free.