What the SEC's Social Media Decision Means for Enterprises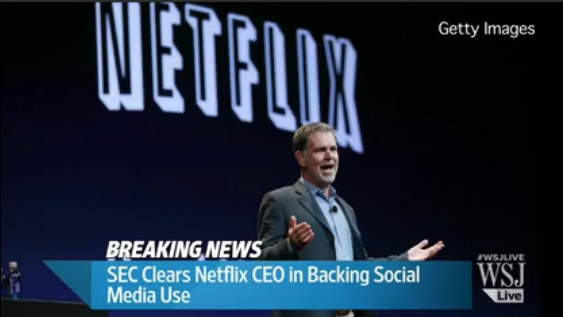 Tuesday, April 2 was a big day in the evolution of how enterprises can utilize social media. The U.S. Securities and Exchange Commission announced that American companies can now post important business information onto social networks like Facebook and Twitter, as long as investors are made aware of which sites they're going to be posting to.
The SEC's report stemmed from a probe into a post made by Netflix chief executive Reed Hastings on his personal Facebook account, which has 200,000 subscribers. Hastings wrote that Netflix's monthly online viewing had grown to over 1 billion hours, information not given to investors through the standard channels – a news release and an SEC filing. That post caused Netflix shares to jump 6.2 per cent that same day.
When it happened, the post raised questions about compliance and securities laws. But with this week's SEC decision, those questions were put to rest. As long as Hastings notifies Netflix investors that company information will be posted to his Facebook account, similar posts will no longer raise any eyebrows.
What Does This Mean For Your Enterprise?
More transparency, for one.
In the age of social media, businesses are more connected than ever to their customers and users. But the connection doesn't stop there. While businesses continue to utilize social media primarily for marketing and sales, the SEC's April 2nd decision is a prime example of how social media is becoming a tool for internal communications and investor relations.
Press releases and SEC filings may alert investors, but they don't come close to the reach and speed of a post on social media. Now that enterprises can post business information to social networks, developments can be provided with one click, and received by the people that matter to your company whether they are in the office, using their mobile phone while in transit or on vacation in Europe.
When a public company hits a significant business milestone, highlighting this accomplishment on social media quickly puts investors – and potential investors – in the know. As the Netflix Facebook post illustrated, the potential financial benefits of this kind of rapid information dissemination, reflected in stock prices and increased business, are significant. The ROI of social media has never been more obvious.
The SEC's decision also reinforces something that social media experts have been saying for years: social media use in businesses should start from the top down.
The use of social media within the C-Suite is growing, but it is still not as widespread as it should be. Many executives continue to maintain that social media is a tool for customer interaction and marketing, but not one for the more complex and serious aspects of business. Additionally, many executives are unfamiliar with social media and therefore reluctant to take the leap for fear of embarrassment or reprisal; there have been several instances in which executives have been fired for posting internal information to their personal social media accounts. Advancements in technology for social media management now lend themselves to safeguarding and approval queues to prevent such missteps.
The SEC's decision now further validates an executive's role in social media engagement. If your enterprise is going to be distributing key business information to investors and the wider public through social media channels, there is no better person to spread the news than your CEO or someone else at the top. As investors make the transition to social media as a primary source of business information, putting a chief executive as the face behind this information is an easy way to reassure investors that the information is accurate and important.
The SEC's regulators, through their decision, have affirmed that social media networks are legitimate outlets for business communications. Isn't it time your enterprise takes the same stance?
To learn more about using social media for the enterprise, visit Enterprise.HootSuite.com for more free resources, or to speak with a member of our team. Want to learn more about social media in regulated industries like financial services? Read our 8 Social Media Tips for Financial Services.