While marketing can definitely be an art (we see you, Wendy's Twitter), in this business, cold hard numbers matter, too. To optimize social media ad campaigns
and maximize success, social media marketers need to know their stats and understand the social media landscape on a quantitative level.
Social media statistics can inform your ads strategy, let you know if you should be using an ad platform, and teach you about communicating well with your target market. If you're building your social media ad game plan for 2023, here are the key numbers that will guide you to victory.
Bonus: Use our free Facebook Ads budget calculator to figure out exactly how much you need to spend to get the results you want. Let us do the math for you!
Social media advertising is a whole different beast from organic social media. Elsewhere on the blog, we've taken the time to compile a ton of social media stats, but if you're looking for specific statistics about social media advertising, you're in the right place.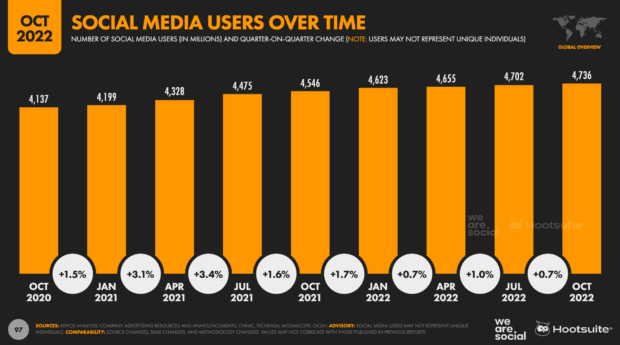 Dig deeper into social media advertising here, or delve into even more social media statistics here.
Instagram ad statistics
As the eighth most-visited website in the world, the fourth most popular social media platform in the world, and the number-one most-downloaded app in the world, Instagram has some obvious appeal. But before you kick off your Instagram ad campaign, get familiar with the demographics and market potential.
Instagram's ad revenue is predicted to be $50.58 billion in 2023. (For comparison, Facebook's $71.32 billion.)
Instagram ads' CPM increased by 17% in Q3 2022. In the last two years, they increased by 55%.
eMarketer predicts Instagram's ad revenue will grow 12.1% this year while Facebook's falls by 1.2%.
61% of Instagram's advertising audience is aged 18 to 34, making it the perfect avenue for advertisers looking to reach a Gen Z or Millennial audience.
Explore more Instagram statistics here. Ready to start your Instagram ad campaign? Check out our guide to Instagram advertising here.
Facebook ad statistics
With 2.93 billion monthly active users, Facebook remains a central part of most people's internet experience. In fact, 36.7% of the world's population uses the app each month. So despite a fairly tumultuous year, the fact is Facebook remains one of the world's most valuable brands. If you're interested in advertising on Facebook in 2023, here's what you need to know.
This, of course, is just scratching the surface. Click here for more Facebook statistics, and then learn everything you need to know about advertising on Facebook here.
Twitter ad statistics
After the public takeover of Twitter by billionaire Elon Musk in late 2022, the social networking platform is currently in a bit of a state of flux. But one thing we can assume is that it's going to continue to be an important part of the social media landscape. After all, it was the sixth-most visited website in the world as of October 2022, with more than 63.7 billion monthly visits from 1.6 billion unique users. That kind of love (or passionate habit?) isn't going anywhere. Read on for the key Twitter advertising stats marketers should know in 2023.
Find more fascinating Twitter statistics here. Or, check out our guide to advertising on Twitter to get started with your own Twitter ad campaign.
The regions with the largest eligible reach rate on Twitter are Singapore (65.1%), Japan (60%), and Saudi Arabia (55.5%).
Snapchat ad statistics
The messaging app's temporary stories have been copied by almost every other platform at this point, but Snapchat's appeal among teenagers and Gen Z is still going strong. As of October 2022, Snapchat has 576 million users total and an impressive 347 million daily active users. This is obviously still a place to see and be seen, so if you're interested in exploring Snapchat advertising options, get familiar with these Snapchat ad stats.
The country with the largest eligible ad reach on Snapchat is Saudi Arabia.
Some other impressive international numbers: India has the biggest Snapchat advertising audience of all, at 145 million, while the U.S. boasts 107 million.
Ads that are 5 to 6 seconds long have the best performance, according to Snapchat, and surprisingly, 64% of Snapchat ads are viewed with sound on.
Ad recall for Gen Z on Snapchat is higher than other generational cohorts… despite the fact these users spend less time watching each ad: 55% of Gen Z can recall an ad they watched for less than 2 seconds.
Explore more interesting Snapchat statistics here. Then, check out our guide to advertising on Snapchat.
LinkedIn ad statistics
LinkedIn turns 20 years old this year (note to self: send flowers!) and has collected more than 900 million members in 200 countries in the process. Sure, that's a drop in the bucket compared to Facebook or Instagram, but the career-oriented social network has its own unique strengths. If you're looking to reach LinkedIn's distinct audience with your social media advertising strategy, read on for the numbers you need to know.
LinkedIn's advertising audience is overwhelmingly in the 25- to 34-year-old range.
Just 2.9% of LinkedIn's advertising audience is older than 55.
The regions with the largest eligible ad reach are the U.A.E (80.6% of the population aged 18+) followed by the U.S. (71.8%) and Singapore (70.2%).
Despite that, the U.S. has the largest LinkedIn advertising audience by pure numbers, with 190 million users.
19% of marketers agree that LinkedIn is the most important social media platform for their business.
Read more about LinkedIn statistics here, and then get ready to tackle our Linkedin advertising guide.
YouTube ad statistics
Youtube is still the king of video-sharing sites (sorry, TikTok), so it's no surprise that the platform is a powerful option for advertisers, too.
YouTube's reach rate for audiences 18+ is highest in U.A.E., where it has a potential reach of 98.3%. The runner-up is the Netherlands, with 92.5% reach.
India has the largest YouTube reach, with an advertising audience 467 million.
Check out more statistics about Youtube here. And we've got everything you need to know about advertising on Youtube, too.
TikTok ad statistics
Since its launch in 2016, TikTok has been downloaded 3.3 billion times (and counting), with 672 million downloads in 2022 alone. The app is clearly no flash in the pan, and marketers who still see it as a depository for frivolous dance memes are missing some serious business opportunities. If you're curious about advertising on TikTok and reaching 50 million active daily users, it's time to dive into some numbers.
In the U.S., TikTok ads have a potential reach of 109,538,000. Brazil is the next biggest ad reach market (76 mill+), followed by Indonesia (69+).
Learn more about TikTok advertising here, or nerd out on even more TikTok statistics here.
We're really just scratching the surface with these social media advertising statistics — there's a whole world of social media stats to geek out over. And if you're feeling overwhelmed, just take a deep breath and binge-watch Fridgeworthy until you're cool, calm, collected, and ready to get back into the thrilling world of social media ads.
Save time managing your social media presence with Hootsuite. From a single dashboard, you can publish and schedule posts, find relevant conversions, engage the audience, measure results, and more. Try it free today.
Easily plan, manage and analyze organic and paid campaigns from one place with Hootsuite Social Advertising. See it in action.
Free Demo