YouTube is the second biggest internet search platform after Google, with an audience of 1.5 billion users logging in each month (and it's still growing). Ninety-six percent of U.S. online teens use the site, and more than one billion hours of YouTube content are viewed daily.
These numbers don't lie. YouTube is a global force, and the demand for video content is only increasing: by 2021, a mind-boggling 80 percent of all internet traffic will be video-related.
So, if you've made an account for business, but you're not advertising on YouTube yet, the time is now.
By the end of this guide to YouTube advertising, you'll be familiar with the six different types of YouTube ads, the advertising platform itself, and the specifications for each ad type. You'll also have a firm understanding of the best practices for marketing to a YouTube audience.
Bonus: Download a free guide that reveals the exact steps one entrepreneur took to gain more than 23,000,000 views on YouTube with no budget and no expensive gear.
Types of YouTube ads
There are six types of YouTube ads:
Skippable video ads (a.k.a. TrueView ads)
Non-skippable video ads
Bumper ads
Overlay ads
Display ads
Sponsored cards
TrueView ads
TrueView ads are the best way to drive brand engagement on YouTube. Brands who post TrueView ads often see engagement with their other YouTube content increase by up to 500 percent.
TrueView ads can be skipped after five seconds—so it's important make those first five count. Unless you're optimizing based on action or reach (more on that below), you only have to pay for these ads when the viewer watches 30 seconds or more, which makes them a pretty safe bet for advertising on a budget.
TrueView ads come in two formats, In-Stream ads and Discovery ads. Here's a quick rundown of the differences between the two:
In-stream
Ad location: YouTube videos, apps, games, videos in Google's Display Network
Video length: 3 minutes, max (> 30 seconds recommended)
Copy length: None
Clicks go to: Your website
Discovery
Ad location: YouTube videos & search results (including mobile), YouTube app homepage, "related videos," and video overlays
Video length: No limit!
Headline: 25 characters max
Body copy: 2 lines, each 35 characters max
Clicks go to: your website (overlay banner) or your video (video thumbnail)
TrueView ads are one of the top ways to advertise on YouTube for a few reasons:
They're low risk: With

standard TrueView ads

, your audience

opts into

 the type of

ad content

they're interested in and you only pay when they view 30 seconds or watch to the end of your ad. That means the majority of your budget is dedicated to an audience that's more likely to convert.
They're versatile: TrueView ads allow you to advertise with how-to videos, product demos, video testimonials and more. Grammarly uses testimonials to great effect in their TrueView ads, and YouTube is a huge source of engagement for the company in general. 54.4% of their social media traffic comes from the site.
They reach a wide audience: With TrueView ads, you're essentially combining the audiences of the two biggest search engines. While the main focus is YouTube, TrueView ads also appear on other publisher sites in the Display Network, depending on the type of TrueView ad you choose.
TrueView ads are pretty much a win-win, but they're not totally foolproof. In a 2017 survey, IPG Mediabrands' Magna and Media Lab units found that 76% of consumers reflexively skip ads if the option is presented, even if the ad might benefit them.
If you want people to pay attention to your skippable YouTube ads, keep the ads short and engage emotions with relatable moments.
For example, I'm a huge fan of this humble Chipsmore ad. It's cute, funny, and entertaining, but most importantly, it doesn't feel like an interruption. When you're coming up with your own skippable ads, you want to make your audience forget that the option to skip exists.
Optimizing your TrueView ads
TrueView for Action
TrueView for Action optimization lets you add a headline and call-to-action (CTA) button to your In-Stream ads. This makes your YouTube ads more actionable, whether the outcome is driving traffic to your website, building out your email list, or generating sales. As you might guess, this optimization is paid for on a cost-per-action (CPA) basis—you pay when someone clicks your CTA.
For information on how to set up TrueView for Action, check out Google's guide.
TrueView for Reach
Bonus: Download a free guide that reveals the exact steps one entrepreneur took to gain more than 23,000,000 views on YouTube with no budget and no expensive gear.
Get the free guide right now!
In April 2018, Google introduced TrueView for Reach, a new way of optimizing your TrueView ads based on your campaign goals. Rather than paying whenever a prospect watches your ad to completion, TrueView for Reach enables CPM (cost per 1,000) pricing for these shorter ads, meaning you'll pay per 1,000 views. To be eligible for this type of optimization, your ad must be between six and 30 seconds.
TrueView for Reach is a good option if you want to reach a wide audience quickly. On Google's blog, Samsung commented that they were able to reach 50% more people at half their normal CPM using the new format during Beta testing.
However, Samsung is a big company with a wide audience and range of products. If you're advertising a more niche product or service, TrueView for Reach might not be as useful, simply because your ad dollars might probably be better spent honing in on your specific audience.
Non-Skippable YouTube Ads
Non-skippable YouTube ads are paid for on a CPM basis. These longer ads are a powerful way to tell a deeper, more nuanced story. But as superheroes will tell you, "great power comes at a cost." The cost? People getting annoyed and closing your ad.
It's no secret that non-skippable ads are somewhat unpopular. They can be intrusive, and most viewers wish they weren't there at all.
YouTube knows this. This year, the company officially killed off the 30-second unskippable ad format. Non-skippable ads now have a more tolerable 15 to 20 second limit. This is great news for mobile users in particular: shorter ads use less data and are less of a time commitment.
Bumper Ads
Bumpers are technically non-skippable ads, but they're less maligned because they last six seconds, max. Like non-skippable ads, bumpers are paid for on a CPM basis. Their short length makes them ideal for mobile. A common approach is to use bumper ads to compliment your longer, non-skippable ads.
Making a six-second video might sound easy, but to be successful, the concept behind the ad has to be really strong. If you need inspiration, YouTube has a top 20 leaderboard featuring the best bumper ads:
Now, let's take a look at some other ad types: overlay ads, display ads, and sponsored cards. These are more traditional digital ad formats. Use these to add interactivity to YouTube videos with CTAs.
Overlay Ads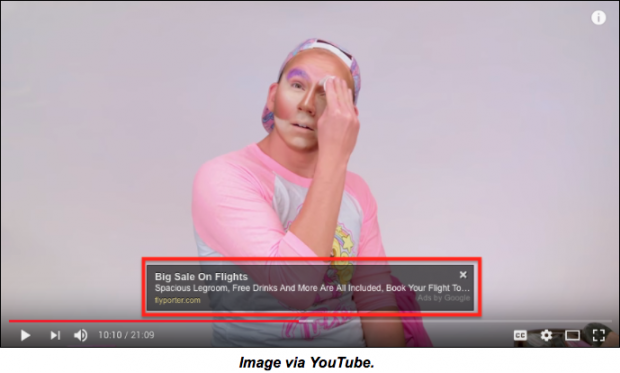 If you're running a reservation sponsorship campaign, you can set up overlay ads on partner videos. YouTube overlay ads are banner advertisements that you'll often see running along the bottom of a video. They can be simple text ads like the one above, or image-based banners like the one below.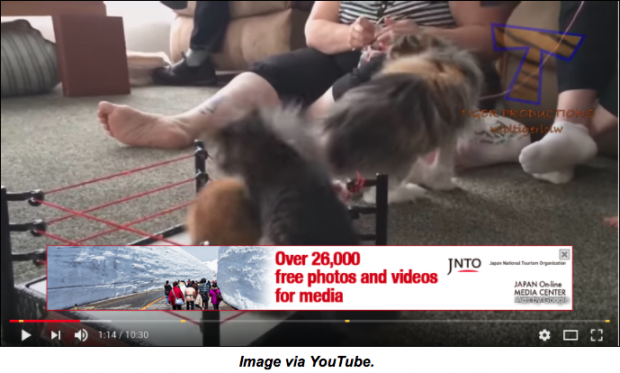 For information on how to set up an overlay ad on YouTube, see Google's helpful guide.
Display Ads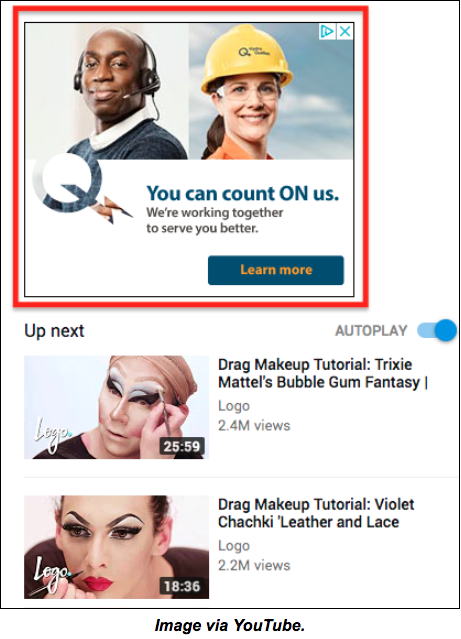 Display ads appear above the video suggestions list. Here, you'll see the Hydro Quebec ad (outlined in red) above the RuPaul's Drag Race makeup tutorials I've been watching way too much of lately. Display ads on YouTube can be managed from within AdWords, allowing you to double up with the Display Network for maximum reach.
Cards & Sponsored Cards
Cards are small CTA pop-ups you can set to appear within the YouTube player. You can use them to add interactivity to your videos on desktop or mobile.
Cards are effective because they're unobtrusive. They only expand to their full size when they're clicked (i.e., when the viewer is interested).
Here, you can see two cards on this Frank and Oak video. The card on the left is expanded, redirecting to their website, while the one on the right is a minimized subscribe button.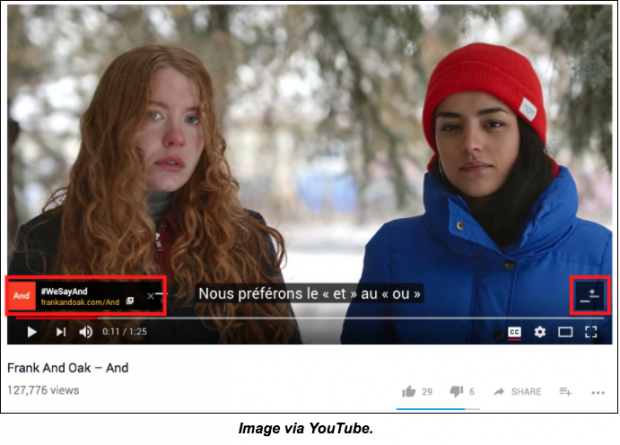 Sponsored cards appear as a small information icon (circled below), sometimes accompanied by a text CTA that appears upon mouseover.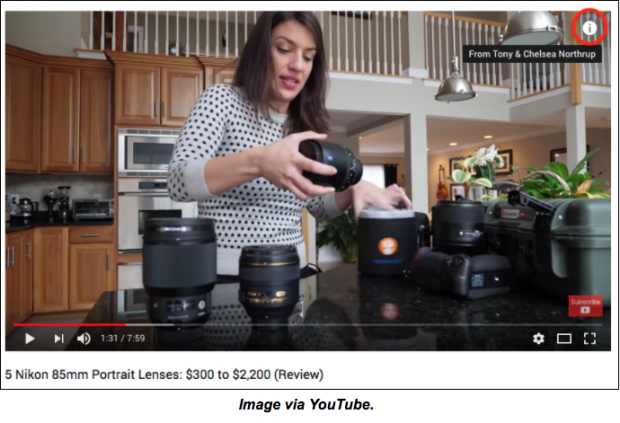 When clicked, the "i" expands to reveal ads that redirect to your sales pages: in this case, photography guides.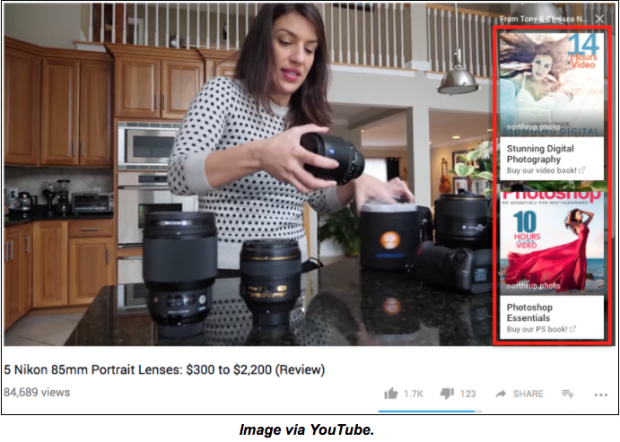 How to add cards to a YouTube video:
Navigate to the Creator Studio.
Click Video Manager and select a video to add a card to.
Click Edit.
Click Cards.
Click Add Card.
Select the type of card you want: Video or Playlist to promote other content on your channel, or Link to send the viewer to a sales page with a sponsored card.
Once you've created your card, you can choose where and when it appears on the video.
How to advertise on YouTube
Now that you know the six YouTube ad formats, you're probably wondering how to set all this up. Before setting up your YouTube ad campaign, you need to upload your ad footage to YouTube. Once you've done that, sign into your AdWords account to get started.
Creating your first video campaign in AdWords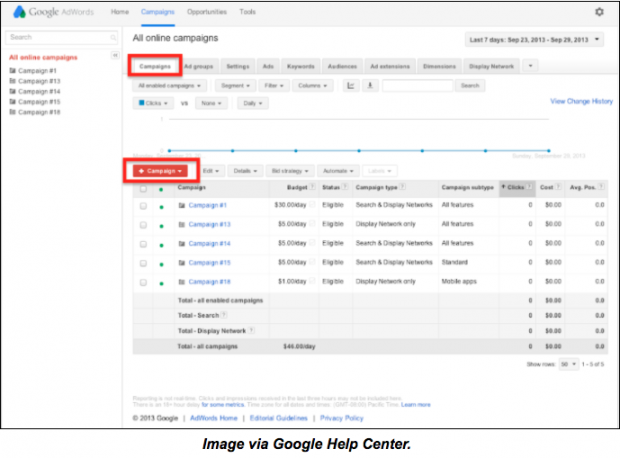 Click Campaigns on the main toolbar.
Click the +Campaign button , then New campaign.
Select Video as your campaign type.
Establish your campaign goal and subtype.
Name your campaign.
Enter your budget.
Enter the locations and networks where you want your ad to appear, as well as the locations and networks you'd like to exclude.
Enter your target audience's language.
Name your ad group.
Establish your bid amounts.
Select audiences for targeting.
Select the YouTube video you've uploaded for this campaign.
Select your ad format (In-Stream or Discovery).
Click Save and Continue.
Once you've completed these steps, you're ready to roll with your first TrueView campaign. Setting up a bumper ads campaign pretty much follows the same steps, only you'll want to click the "Bumper ads: 6-second video ads" option, rather than In-Stream or Discovery. For full instructions on creating a bumper ads campaign, check out Google's guide.
YouTube ad specs
Here's a quick rundown of the different dimensions and specifications for the various forms of YouTube ads.
Video requirements
Your YouTube video ad can potentially appear on a variety of screen formats, including smartphones, smart TVs, tablets, desktop computers, and more. When planning your first video ad, ask yourself: who's going to see this? Where and how might they be watching it?
All three YouTube video ad types (TrueView, non-skippable and bumper ads) have the same basic video specs:
Video Codec: H.264, MPEG-2, MPEG-4
Audio Codec: AAC, MP3
Resolution: 640×360 (19:9 aspect ratio) or 480×360 (4:3 aspect ratio)
Frame Rate: 30 FPS
File Size: 1 GB max
For TrueView ads appearing in YouTube's search results and in the Display Network, you can also choose from a selection of four auto-generated thumbnail previews. Pick one that pops!
Overlay ad dimensions and specs
Overlay ads have one required image, which will appear over the lower 20 percent of a video. If you pick an animated image file, keep the animation loop under 10 seconds.
Dimensions: 480 px by 70 px
File type: PNG, JPG, GIF (static or animated)
File size: 150 KB max
Display ad specs
Display ads can be animated (GIF format), but YouTube stipulates that any animations must be 30 seconds or less. If your creative has a black or white background (even partially), it needs a clearly recognizable border to highlight the ad's clickable area.
Dimensions: 300px by 250 px
File type: PNG, JPG, GIF (can be animated)
File size: 150 KB max
Sponsored cards dimensions and specs
With sponsored cards, you want to pick an image that clearly displays your product, and write a convincing CTA to accompany it.
Dimensions: variable (1:1 aspect ratio)
File type: PNG, JPG, GIF (can be animated)
File size: 2MB max
Besides these technical requirements, YouTube has a list of rules and regulations around what types of content they'll allow on the platform. Keep these in mind when you're brainstorming your ads.
5 best practices for YouTube advertising
Now that you're familiar with all the different YouTube ad types and the platform's rules and regulations, it's time to think about what you're going to advertise on YouTube. I've put together a list of best practices to keep in mind while building your channel.
The goal here is pretty simple: keep viewers engaged with valuable content that keeps them coming back for more.
1. Produce content that's relevant and interesting
This is the number one rule for any type of content creation, period. YouTube ads and your other video content add huge value to your brand by showcasing your products in action.
Ninety-eight percent of viewers say they've watched a video to learn more about a product or service, and 74 percent of users who watched a how-to video to learn more about a product or service went on to buy it. "How-to" guides on YouTube are immensely popular—91 percent of smartphone users watch how-to guides, and the popularity of the search term increases by 70 percent year after year.
One of the more successful YouTube campaigns this year has been for the Nintendo Labo. This wacky, unexpected idea meshes perfectly with YouTube's "how-to" video craze. The announcement ad quickly went viral, racking up 5 million views in one day, and Nintendo's value surged four percent on the Tokyo stock exchange.
2. Engage your audience with playlists
Putting together a curated list of related videos is a great way to promote your channel and keep viewers engaged. Videos on your channel should be ordered cohesively to tell a story. Playlists create a smoother, more satisfying experience for viewers by anticipating what they want to watch next.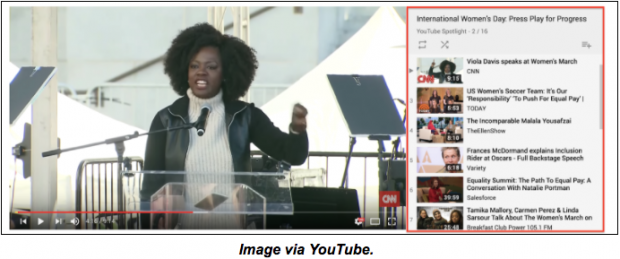 How to build a YouTube playlist:
Select the video you want to add.
Under the video, click Add to and the black "+" sign.
Click Create new playlist.
Name your playlist (keep it simple and searchable).
Change the privacy settings using the drop-down menu. Make sure it's set to public.
Click Create.
Bam! Your playlist is ready. Navigate between your YouTube playlists in the Guide section, located on the left side of YouTube's interface.
3. Give your ads relevant titles
You want to give the right first impression with your YouTube ads, so keep your titles simple and to-the-point. If your video ad title isn't relevant to the user's search terms, it won't get clicked. Stay away from clickbait, too: everyone hates a bait-and-switch.
4. Publish regularly
If you start a YouTube channel to elevate your brand, you have to commit to it. Publish, publish, publish! The last thing you want is a prospect clicking your ad only to find a dead channel with no lasting value.
Remember, video creation doesn't need to be a huge, expensive ordeal. Many of the world's most popular and successful YouTubers film everything at home. I'm not saying your videos should look unpolished. At the very least, make sure you pay attention to YouTube's ad specs, rules and regulations.
5. Find your audience with targeted ads
You're always going to get a better response when your videos find the right audience. Build a YouTube advertising campaign in Google Adwords and take advantage of the interactivity between these two search giants. The effort mutually beneficial: once you've built your video ad campaign in Adwords, you can use insights gained from YouTube to re-market to new audiences within the Display Network.
YouTube ads targeting
YouTube ads are powerful not just because your potential audience is huge, but because you can target your content highly specifically within YouTube's pool of 1.5 billion viewers. Here's a rundown of your ad targeting options:
Demographic group: the standard suite of demographic filters, including age, gender identity, income level, and family status.
Interests: find the right audience by targeting based on search history and personal interests. If your company sells replicas of fantasy weapons, you might try to target people who watch World of Warcraft how-to guides on YouTube, or "Best anime battles" video compilations.
Affinity audiences: this type of targeting is for companies who advertise their products on TV and want their campaign to have an online presence. It's similar to interests targeting, but casts a wider net. Affinity audiences include groups like people interested in beauty products, or people who listen to pop music.
Custom affinity audiences: this builds on affinity audiences, offering more specific targeting. Instead of people who wear makeup, custom affinity audiences might help you target people interested in horror-themed special effects makeup; instead of just "pop music fans", you might target people by the pop artists they listen to, like Beyoncé or Rihanna.
Life events: people's purchasing habits and brand preferences change when they reach certain milestones, like graduating from college, getting married, or having a baby. Targeting your audience by life event allows you to hone in on these important moments and market accordingly.
In-market audience: target your YouTube ads to people searching for products like yours. Google determines whether someone's "in-market" for a product or service based on ad click history, conversions, search history and how often someone's searching specific terms.
Video re-marketing: target an audience based on a) whether they've watched other videos on your channel, and b) which ones they've watched.
Placement targeting: choosing to place your ads on unique channels, videos, apps, websites, or placements within websites (such as YouTube channels, and sites on the Display Network.)
Topics: targeting your video ads to reach a range of videos, channels, and sites relevant to topics of your choosing.
Keyword targeting: target people based on their search terms. For example, if you're a wedding planner, you might target people searching for DIY craft projects involving burlap or mason jars.
The Home Depot is amazing at leveraging targeted YouTube content as part of their digital marketing strategy. The company creates how-to videos aimed at homeowners interested in DIY and, to date, the channel has close to 75 million views.
This doesn't just raise awareness of their brand; it also provides them with a huge source of re-marketing data. Last year, Home Depot was one of the U.S.'s top-earning e-commerce outfits, with $6.5 billion in online sales.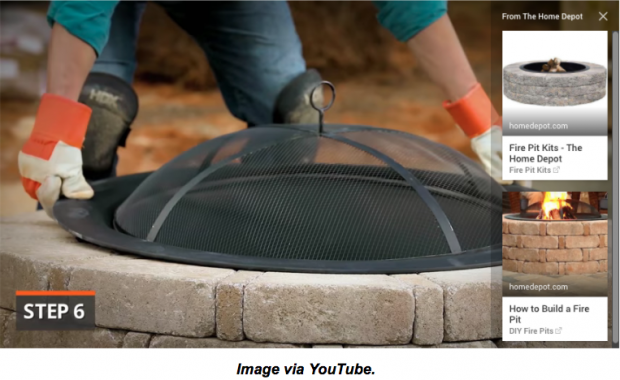 YouTube ads are critical to any digital marketing effort and they're only going to get more important as the demand for social video continues to grow. Use the information you've learned here to inform your strategy before diving in.
Use Hootsuite to promote your YouTube channel and drive user engagement. Easily publish videos to Facebook, Instagram and Twitter—all from one dashboard. Try it free today.