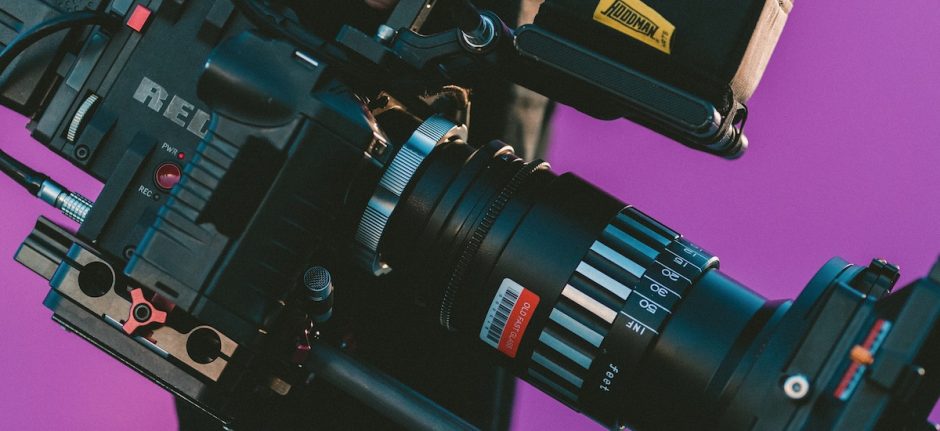 The All-In-One Guide to YouTube Ads for Marketers
Digital video advertising budgets were expected to grow 28.5 percent to $9.84 billion by the end of 2016—$2 billion of which would be spent on YouTube ads.
Continue reading to find out the benefits of YouTube advertising, the types of ad options available, and best practices for running a successful campaign.
Why your brand should be running YouTube ads
YouTube already reaches more 18-49-year-olds than any broadcast or cable network combined. And by the end of 2017, video will account for 74 percent of all online traffic. It's obvious—the demand for video is only growing.
Big businesses know this. With 100 percent of the top 100 global brands running YouTube ads in the past year, it's no secret that YouTube advertising is a serious marketing tool. As Concept5 explains, "The best brands use targeted YouTube advertising on an ongoing basis as it extends reach, drives channel engagement, and grows subscriber audiences."
As the second largest search engine (after Google), YouTube is also a prime platform for discoverability. With YouTube ad formats such as TrueView Discovery Ads, advertisements appear on mobile search results pages and in other search results across devices. As CPCStrategy explains, "This is the first time advertisements have been optimized for discoverability in mobile search engine results pages, though Discovery Ads will also show on desktop SERPs."
YouTube advertising formats
Whatever your business' goals, there's a YouTube advertising format to fit your needs.
TrueView video ads are the standard YouTube ad type. Brands who use TrueView see views of previously existing content increase by up to 500 percent after posting new videos.
There are currently three types of TrueView ads: TrueView in-stream ads, TrueView video discovery ads, and Bumper ads.
There are many benefits to TrueView ads:
You only pay per view.

Creators only pay for people who have watched their ad all the way to the end and are actually interested in the content

, and viewers get to see the videos relevant to their interests.

Google explains,

"Because you choose what you want to pay for a view, you get the right audience at the right price. Unlike cost-per-impression (CPM) pricing, you won't need to pay every time your ad is shown."

The ads are customizable.

You decide on everything from video run time to different content types (such as how-to videos, product highlights, customer testimonials, and more.)

They have great reach.

While the main focus is YouTube, TrueView ads can also appear on other publisher sites in the

Display Network

. "The Google Display Network is comprised of Google properties like YouTube, Google Finance, Gmail, and others that offer display advertising, as well as a network of millions of partner sites and mobile apps on which you can place your ads."
TrueView in-stream ads
TrueView in-stream ads are video ads that appear before, during, or after other videos on YouTube and Google's channels. If you've ever watched a video on YouTube, you've seen a TrueView in-stream ad.
After five seconds of viewing, audience members have the option to skip a TrueView in-stream ad.
As an advertiser, you pay once the viewer watches 30 seconds or if they interact with the ad, which can mean website visits, or clicking on a CTA clicks or banner.
For a step-by-step guide to creating a TrueView in-stream YouTube ad campaign, see Google's helpful resource page.
TrueView video discovery ads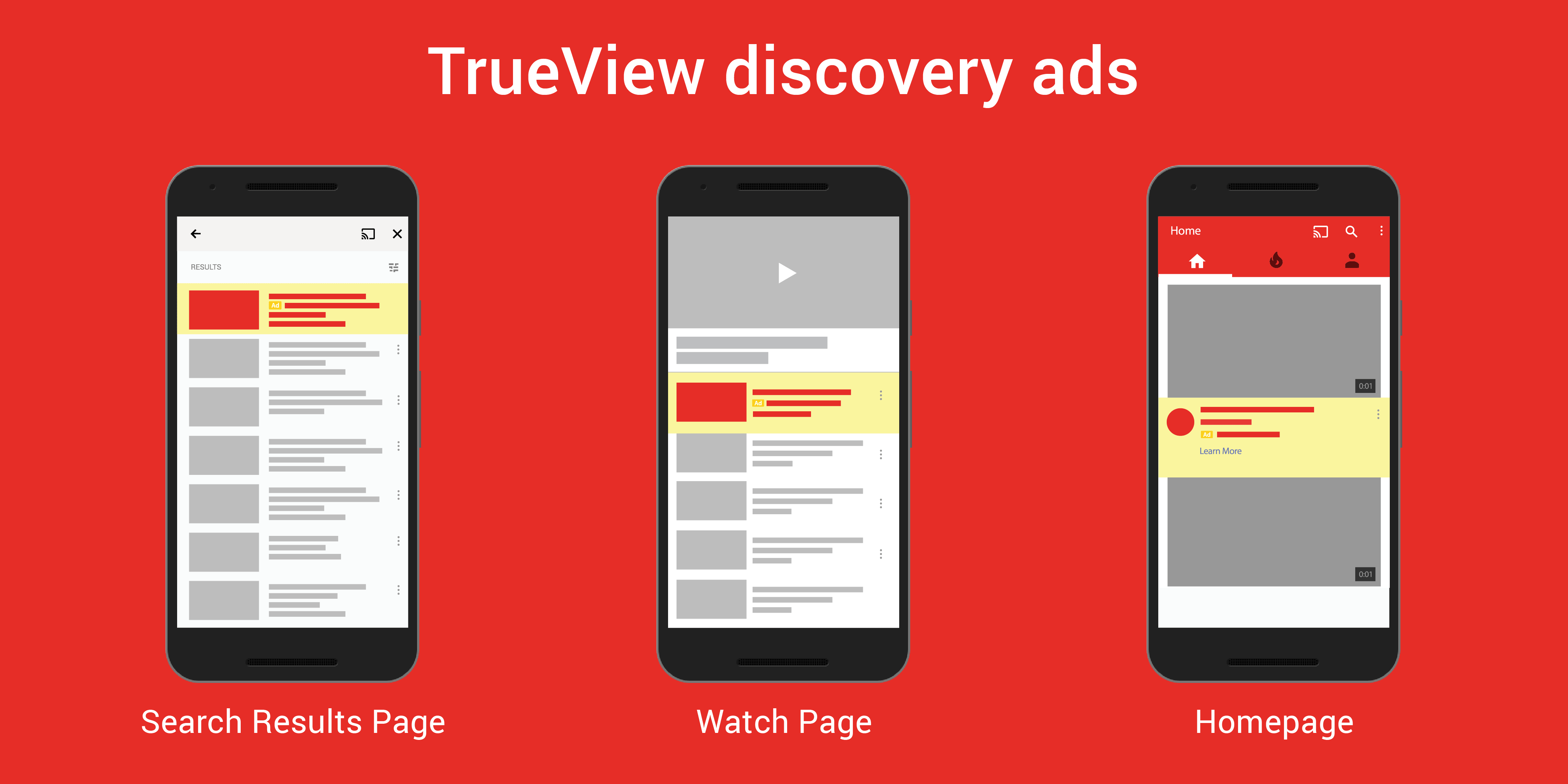 Previously called "TrueView in-display ads," TrueView video discovery ads help advertisers promote their videos in areas where audiences find relevant videos. These spaces include search results on YouTube, the Youtube mobile homepage, and the section containing related videos.
TrueView video discovery ads show a thumbnail image of your video—chosen from one of four automated images—along with up to three lines of text inviting audiences to click to watch your video. Advertisers only get charged when viewers actually click the thumbnail to watch your ad.
For a step-by-step guide and detailed specs on TrueView Video Discovery Ads, see Google's resource.
Bumper ads
Bumper ads are non-skippable clips of up to six seconds that appear before other YouTube videos. Due to their short and snappy format, they're optimized for reaching a mobile audience.
As YouTube explains, "Bumpers are a cost-effective way to reach your target audience, ensure your message is seen and heard (with nearly all YouTube ads viewable and audible), and keep you top of mind."
YouTube recommends using Bumper ads when "you'd like to reach viewers broadly with a short, memorable message.", which makes them useful for driving upper-funnel goals like ad recall and brand awareness.
With Bumper ads, viewers currently have to watch your entire ad before the video can be viewed and can potentially frustrate users more than skippable ads.
5 best practices for advertising on YouTube
1. Keep your audience engaged with playlists
If your video ad doesn't hold your audience's attention, chances are they won't convert. Using YouTube playlists—curated lists of related videos—is a great way to keep them engaged.
Organization in the form of playlists plays a huge role in discoverability, as YouTube's Creator Academy explains, "Great playlists can increase watch time and create another asset that will appear in search results and in suggested videos." Make playlists to help TrueView video discovery ads appear in-sync with other results.
How to create a playlist in YouTube:
Find a video you want in the playlist

Under the video, click

Add to

and then select the black plus sign

Click

Create new playlist

Enter a playlist name

Use the drop down box to select your playlist's privacy setting—don't make it private, as your audience won't be able to find it when they search YouTube

Click

Create

You can find your new playlist from the

Library

in the Guide on the left side of the screen
2. Label your video ads with relevant titles
Viewers get their first impression of your brand from your video's title. They aren't going to feel compelled to click on your ad and watch your video if it isn't relevant to what they are looking for.
Your video ad's title needs to be:
Short and to the point (clear and concise)

Relevant (to your brand)

Informative (explain what the video is about)
Don't mislead your audience with a keyword-stuffed name or a clickbait title. Keep it clear and concise, and establish your brand as a trustworthy source.
3. Pay attention to ad specs
Having a YouTube ad with a higher production value boosts brand reputation, trustworthiness, and helps a video stand out from the crowd.
A key component to better-quality videos are the specs. You want to make sure your YouTube ad appears consistently across devices. To help you out, Google provides a thorough guide to YouTube ad specs.
4. Create content your audience will find useful
With video, you have the ability to tell compelling stories and provide value to your audience. Create ads that are more than just ads.
Ninety-eight percent of viewers say they've watched a video to learn more about a product or service, and 74 percent of users who watched a how-to video to learn more about a product or service went on to buy it.  
Upload and share how-to videos, product demos, and other dynamic content that will entice your viewers to buy your product or service—these approaches tend to be much more engaging than an overtly sales-focused ad.
ZAGG, a leader in mobile device protection products needed a way to demonstrate what is effectively an invisible product. To keep their audience interested, they upload and advertise an average of 100 videos every year. These include product demos, installation tips, and how-tos.
With their YouTube advertising efforts, ZAGG has seen a 75 percent rise in conversions.
5. Target the right audience
YouTube offers a variety of targeting options so you can reach the audience that matters most to your brand. These include:
Demographic group targeting:

choose from traditional demographic filters such as age, gender, income, or parental status.
Interests targeting

: choose your audience based on their interests in certain topics.
Affinity audiences:

reach those who have already shown interest in relevant topics and brands. You can also choose

custom affinity audiences

to target audiences even more specifically tailored to your brand. With custom affinity audiences, you can define your audience based on more specific keywords (using free form interests) and/or using URLs as a

 "proxy for interest bundles."
In-market audience:

choose an audience that is already actively seeking information on a product similar to yours. "To qualify someone as being in-market for a specific product or service,

Google takes into account

clicks on related ads and subsequent conversions, along with the content of the sites and pages they visit and the recency and frequency of the visits."
Video remarketing:

target an audience based on their previous interactions with your videos.
Placement targeting:

choosing to place your ads on unique channels, videos, apps, websites, or placements within websites (such as YouTube channels, and sites on the Display Network.)
Topics

: targeting your video ads to reach a range of videos, channels, and sites relevant to topics of your choosing.
Keyword targeting:

showing your video ad to a targeted audience based on phrases and related keywords.
Online store Shoppers' Choice, owners of The BBQ Guys YouTube channel, increased their daily views from 800 to over 5,300 by targeting customers interested in grilling. The focus on a very specific audience segment meant higher quality leads and an increase in conversion rates.
Video marketing is a must for any digital campaign in 2017. Video ads let you share more information than traditional static ads, and can help drive engagement, leads—and revenue.
Easily manage YouTube, Facebook, Twitter, and Instagram videos with Hootsuite.