Social Media in Government: Information Dissemination
"Information Dissemination" is the second in a series of articles about how governments are embracing social media. Want to learn more? Read the white paper, or watch the on-demand webinar featuring Beverly Macy.

Having the Right Followers
Reaching the right audience is one of the biggest challenges facing governments. With social media, governments can distribute information to their followers; reaching people interested in that government agency's specific mission. Taking cues from the commercial sector, this is an example of targeted messaging for governments. Reaching out to people who are interested in a specific topic. For example, individuals interested in environmental science can follow the specific government agencies that can provide information on those topics.
From the government's perspective, this is a wish come true: crafting and disseminating information knowing that it will reach an audience that is interested in such information. As social media evolves, sophisticated analysis can now show the content creators and administrators the true reach of their messages. Armed with hard data, governments can now make strategic shifts in their messaging as they discover what works and what doesn't.
It doesn't stop there. Having a significant following of influencers helps to amplify messaging. Shear numbers of followers is not as important as having the right followers. Subject matter experts and industry leaders can help propel information, via ReTweets or reference posts across multiple channels. If you post something interesting and William Shatner RTs it, you've just gained a potential 1.5 million impressions.
Emergency Communications
One of the most important missions for governments is to get emergency information to its citizens as quickly as possible. The techniques have evolved from simply communicating via news outlets covering local and national audiences (think CNN, BBC, etc.) to also include text messaging and social media. Mobile phones have outpaced television and radio – so governments have worked with telephone carriers to push text messages alerting citizens.
Social media allows for more clarity and detail beyond simple text messaging. It also leverages the amplification and networking effect, reaching a wider audience.
Last summer, the Washington D.C. area was hit by fast moving storm that knocked out power for millions. With a dead television, I had a couple of options: Get in my car and listen to the radio, hoping to find relevant information about my community, or reach for my iPhone. Of course, I reached for my phone – logged into Twitter and found the feeds for my local government and the power company serving my home. Within seconds I was able to assess the situation and more importantly, I was able to communicate directly with them without having to call them.  Can you imagine the call hold times if telephones were the only option?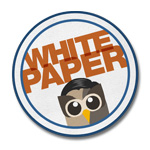 Want to learn more about how governments can start to leverage the power of social media for public communications? Download our white paper and watch the webinar: "Social Media in Government: 5 Key Considerations." Complete the form and you'll be given access to both the webinar and the white paper.