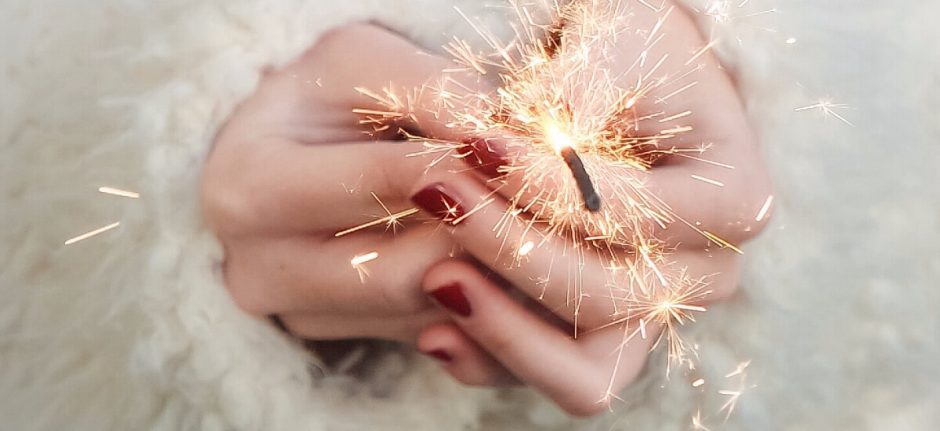 Social Media News You Need to Know: January 2017 Roundup
It's the beginning of a brand new year and social is off to a roaring start with plenty of exciting updates.
This month, Twitter created a new Explore tab, Facebook updated the video algorithm, Instagram rolled out ads for Stories, and Snapchat launched the ability to create Snapcodes for any website.
It can take awhile to get back into the swing of things at the beginning of the year, but luckily, you don't need to worry about missing something important. We've rounded up all the updates—big and small—from the major social platforms to ensure that you don't miss a thing.
Table of contents
Twitter
Explore tab
On January 26, Twitter created a new Explore tab that combines trends, Moments, search, and the best of live video. The move is intended to make it easier for users to find out what's happening on Twitter, whether it's news, trending topics, or simply popular content.
Twitter explained: "Nothing is going away—we're just making it easier to find what you want." The new Explore tab has already rolled out on iOS and is coming to Android in the coming weeks.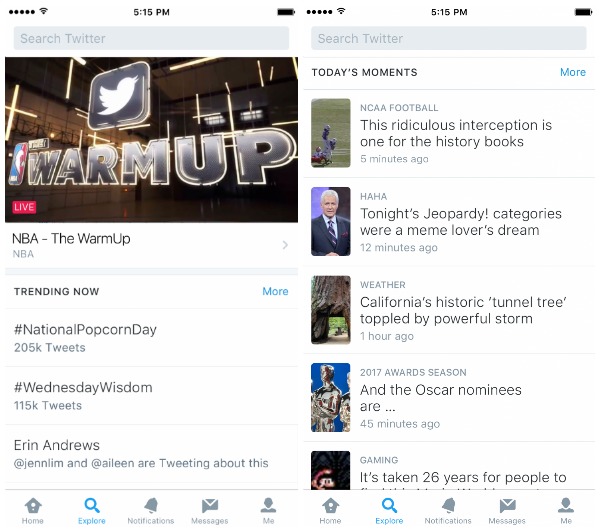 Facebook
Mid-roll ads
On January 9, Recode reported that Facebook plans to start testing mid-roll ads in video content. The format would allow publishers to insert ads into video clips that are at least 90 seconds long. The mid-roll ads would play after people have watched for at least 20 seconds. Facebook itself will sell the ads and split the revenue with publishers, giving them 55 percent of sales. The social network declined to comment on the report.
Facebook Journalism project
On January 11, Facebook launched the Facebook Journalism Project, "a new effort to support quality journalism, improve news literacy, and provide reporters and editors with tools and training to help them better tell their stories."
The program has three main initiatives:
1. Collaborative development of news products
The creation of new storytelling formats (such as Live video, Instant Articles, and story packages)
Initiatives to support local news
Working on emerging business models, such as free trials
Hosting collaborative hackathons with news organizations
Holding regular meetings with media and publishing partners, hosting partners at Facebook's F8 conference, and sponsoring journalism and publishing conferences.
2. Training and tools for journalists
A series of e-learning courses about Facebook products, tools, and services aimed specifically at journalists
Providing training for local newsrooms via collaborations with industry partners such as the Knight Foundation and the Institute for Journalism in New Media
Open up CrowdTangle, "a tool to surface stories, measure their social performance, and identify influencers," to partners
Launching the ability for Page administrators to designate specific journalists as contributors, which would allow them to go live on behalf of the Page
Working with the First Draft Partner Network, a coalition of platforms and publishers providing practical and ethical guidance on how to find, verify, and publish content sourced on the social web
3. Training and tools for everyone
Promoting news literacy by working with third-party organizations to help provide people with the information they need to make decisions about which sources to trust
Producing a series of public service ads (PSAs) to raise awareness about the issue of news literacy
Making adjustments to the algorithm and the platform to better curb news hoaxes, including working with third-party fact-checking organizations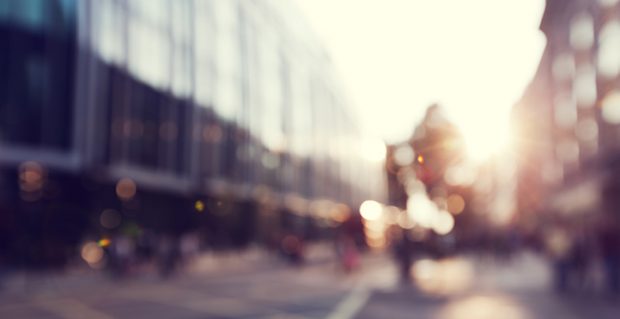 Facebook Stories
On January 25, TechCrunch reported that Facebook is testing its own version of Stories, nearly identical to Instagram's new disappearing content feature and inspired by the popularity of Snapchat. The test is being conducted in Ireland on both iOS and Android. As on Instagram, Facebook Stories appear in circles at the top of a user's feed. Photos and videos shared to Stories play in slideshow format and disappear after 24 hours.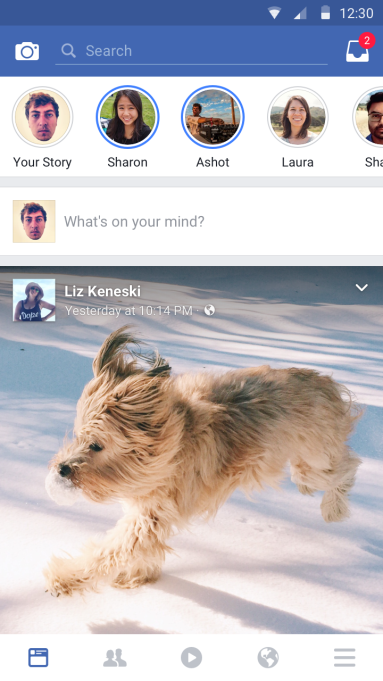 Facebook explained to TechCrunch: "The way people share today is different to five or even two years ago—it's much more visual, with more photos and videos than ever before. We want to make it fast and fun for people to share creative and expressive photos and videos with whoever they want, whenever they want."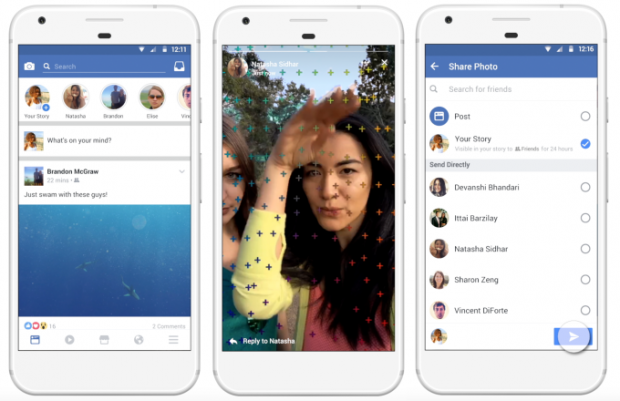 Messenger ads test
On January 25, Facebook launched a Messenger ads test. Currently available in Australia and Thailand, the test allows businesses the chance to place ads on the Messenger home screen, below recent conversations.
Facebook explained: "We believe this new test… reflects a lightweight, relevant, and useful approach to helping people and businesses connect on Messenger… We hope to learn a lot from this test, but we will take our time before considering further expansion to ensure that we deliver the very best experience to both advertisers and the 1 billion people who use Messenger every month."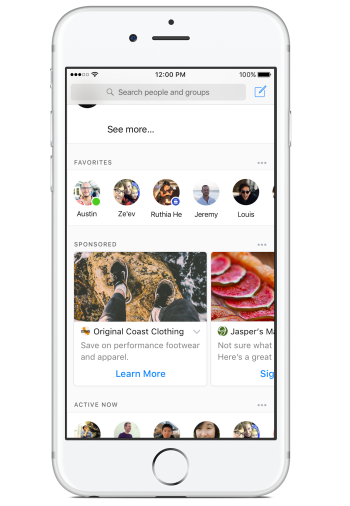 Trending feature updates
On January 25, Facebook announced three updates to their Trending feature:
Trending topics will feature a publisher headline below each topic name—headlines will be selected based on engagement around the article, engagement around the publisher, and whether other articles are linking to it
An improved system to determine what is trending—now topics will be evaluated based on whether they're being covered by a number of publishers, rather than based on one article
Everyone in the same region will see the same topics—rather than topics being personalized based on individual interests
The changes began rolling out on January 25 and will be available to everyone in the U.S. in the coming weeks.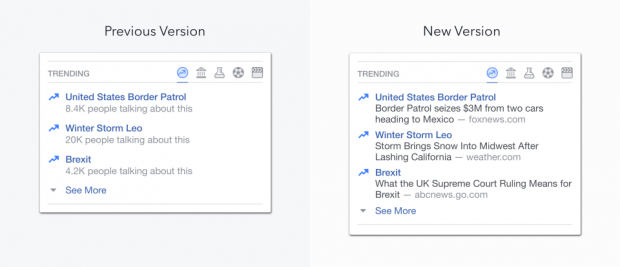 Privacy Basics
On January 26, Facebook introduced a new Privacy Basics guide, "to make it easier for people to find tools for controlling their information on Facebook." Privacy Basics is based on frequently asked questions and covers topics such as securing accounts, understanding who can see posts, and knowing what a profile looks like to others.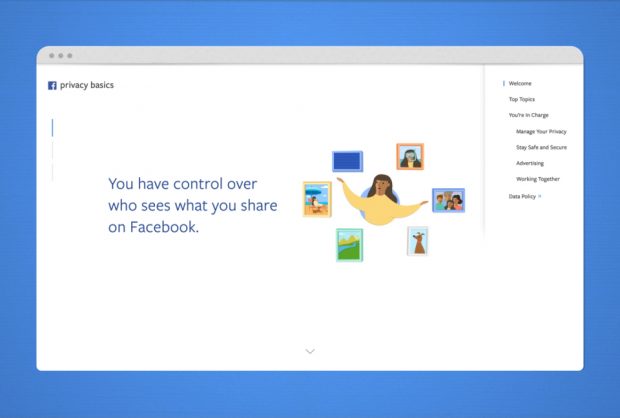 Video algorithm
On January 26, Facebook announced a new algorithm ranking factor for video. The network already takes into account percent completion—how much of each video a user watches. The algorithm update weighs the percentage more heavily the longer a video is, meaning that longer videos that people spend time watching stand to benefit.
Facebook explains: "Longer videos that people don't watch will not perform better in News Feed. The best length for a video is whatever length is required to tell a compelling story that engages people, which is likely to vary depending on the story you're telling."
The update applies only to organic videos and will not affect the distribution of video ads.
Instagram
Live photos and GIFs in Boomerang
On January 5, TechCrunch reported that Instagram users can now create Boomerangs out of Apple Live Photos in Stories. To find out how, check out our Instagram Hacks post.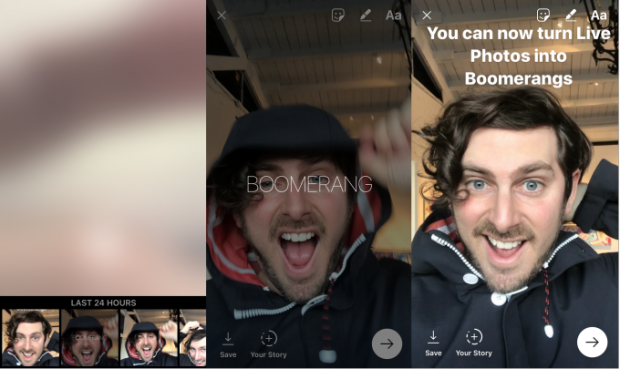 Wide color
On January 9, Instagram announced support for wide color. The update is intended to better showcase images shot on the new iPhone 7 and 7 Plus, "which include cameras that capture a greater range of colors than previous models and screens that can display that wider color range."
Instagram CTO and co-founder Mike Krieger detailed the process in a post on Medium, explaining how parts of an image outside the sRGB color gamut would previously have been lost. In the second image below, the blue highlights color that would have been lost from the first image before the introduction of wide color.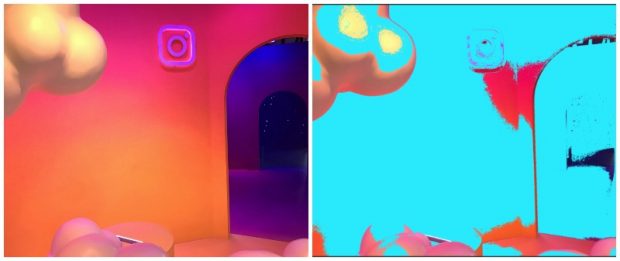 Stories insights
On January 9, Instagram announced insights on Stories. Brands that have converted their Instagram account to a business profile will be able to access metrics on reach, impressions, replies, and exits for each individual Story.
https://vimeo.com/198759769
Stories ads
On January 9, Instagram announced ads in Stories. The app is currently testing ads with more than 30 clients around the world, including the likes of Capital One, Maybelline New York, and Netflix.
Stories ads will offer targeting, reach, and measurement capabilities. Forbes reports that they can include photos and videos and will be labelled as sponsored.
The new ad format for the reach objective will roll out globally to all interfaces in the coming weeks. Instagram has plans to expand it to include direct response options in the coming months.
Below, see the format in action for Airbnb.
https://vimeo.com/198759780
Live Stories available globally
On January 24, Instagram rolled out Live Stories globally. Instagram's answer to live-streaming, Live Stories were initially introduced in November 2016.
To go live, users simply have to swipe right from feed and choose Start Live Video from the format picker. Once the broadcast has ended, the Live Story will disappear from the app. While live, a pink LIVE icon will appear under the account's profile photo in the Stories bar. Top Live Stories will also appear on Explore, making discovery easy for users.
Pinterest
Ad groups
On January 17, Pinterest introduced ad groups to give advertisers more control over campaigns. Ad campaigns on the platform previously included two elements: the campaign itself and Promoted Pins. This structure will now include ad groups.
Since ad groups can contain multiple Pins, advertisers can now assign budgets and targeting to ad groups, as well as manage specific budgets within a single campaign.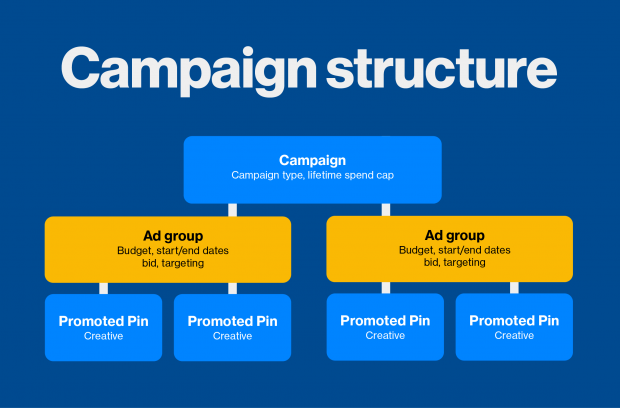 YouTube
Super Chat
On January 12, YouTube introduced Super Chat, a new tool for fans and creators to connect with one another during live streams. Super Chats are highlighted messages in the chat stream that viewers can purchase. They remain pinned to the top chat for up to five hours.
YouTube explained: "For creators, this means Super Chat does double duty: keeping their conversations and connections with (super) fans meaningful and lively while also giving creators a new way to make money."
Super Chat launched on January 31 for creators in more than 20 countries and viewers in more than 40 countries. It marks the retirement of an old feature called Fan Funding.
Sharing feature test
Mid-January, The Financial Post reported that YouTube started a test for a new mobile sharing feature. The feature allows users to send videos directly to others within the app using a new button. They can also create group conversations and use other interactive features, such as heart icon to indicate appreciation of a shared video. The test is being conducted in Canada.
YouTube told The Financial Post: "We thought this was a nice way to expand and really answer a need that exists in the market."
LinkedIn
Desktop redesign
On January 19, LinkedIn revealed a desktop redesign, developed in concert with the platform's new mobile app.
A few of the redesigns features are:
Streamlined navigation
Real-time messaging interface
Fine-tuned Feed
More intuitive search
Greater insight into who's viewing content
Improved profile suggestions
In a separate post, LinkedIn shared some tips on how to get the most out of its new search functionality.
Refugee program
On January 29, LinkedIn expanded its refugee support program to the U.S. In partnership with the International Rescue Committee (IRC), LinkedIn plans to start providing financial resources and training to IRC staff to help newly settled refugees find jobs.
This support will help the IRC implement economic empowerment programs across its 30 offices in the U.S. LinkedIn originally launched its refugee program, titled Welcome Talent, in February 2016.
Snapchat
Deep linking and autofill for lead gen forms
On January 11, AdWeek reported that Snapchat is testing deep linking and web auto-fill. A spokesperson from Snap Inc. confirmed the test to AdWeek.
Deep linking lets users swipe up and tap a link to leave Snapchat and go directly to another app. Auto-fill lets users fill out lead-generation forms with one tap on the screen when they see an ad. To protect privacy, users will be asked if they want to use the feature each time it's activated.
Snap Inc. did not specify which brands were testing the features.
Ads targeting based on offline sales data
On January 19, AdWeek reported that Snapchat has signed a deal with Oracle Data Cloud in order to offer more information to marketers. Oracle data from offline purchases will be used to target consumers with relevant Snapchat ads based on products they've purchased.
Snapchat is matching up audience data using hashed email addresses and anonymous files of mobile IDs.
Selling ads against Nielsen tv ratings system
On January 24, AdWeek reported that Snapchat has revealed a partnership with Nielsen. The partnership is with Nielsen's mobile Digital Ad Rates (mDAR) unit, and will allow brands to buy guaranteed Snapchat audiences by age group and gender, similar to the options offered to TV advertisers. Snapchat had previously partnered with Nielsen to offer ads measurement.
Snapcodes for any website
On January 31, Snapchat updated to the app to allow users to create Snapcodes for any website. When another user Snaps the code, they'll be given the option to open the website inside Snapchat.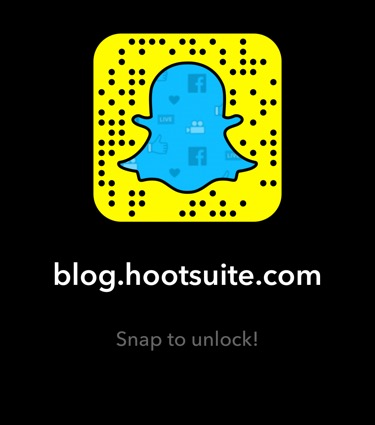 To use it, simple open Settings, tap Snapcodes, and then select Create Snapcode. Then enter your desired URL, add an image from either the website or your device, resize it to fit in the ghost cutout on the Snapcode, and Save to Camera Roll.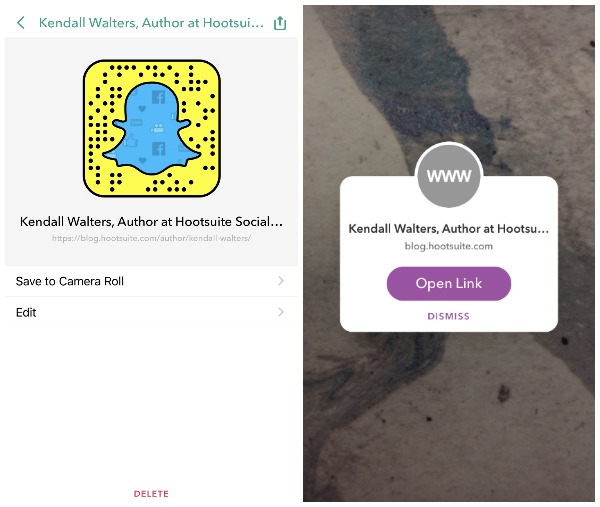 Social media moves fast and keeping up with the rate of change—new platforms and shifting best practices—can be tough. Learn the fundamental social media marketing skills you need to stay ahead of the pack with free training from Hootsuite Academy.