Make Your Search Social, With the Hootlet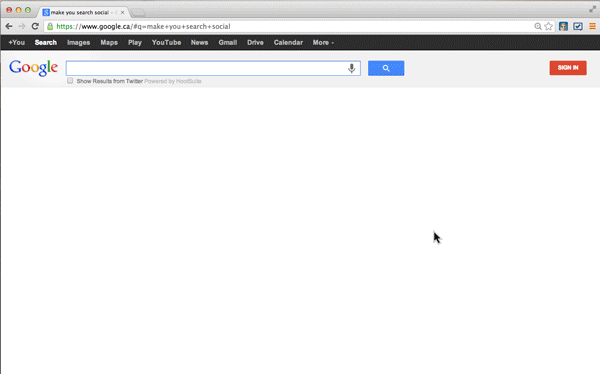 Hootlet, the versatile social media extension from HootSuite, has revolutionized social search.
Where once social media messages were confined to social networks and blogs, this valuable content is now integrated directly into your everyday browsing activities. From Google searches to Google Maps and Yelp, the Hootlet now incorporates social search directly into the most common web functions.
In doing so, the Hootlet has become your best bet for finding targeted web content that you can share without ever leaving your browser window.
Social Search – Google Search
So how does the new Hootlet help you find relevant social media messages? It has been integrated directly into your Google search and allows you to see Tweets related to any search that you do. Want to learn more about a prospective client? A Google search will bring up Tweets about them. Wondering about a political candidate? Searching them on Google brings up Tweets from others discussing that subject.
The applications of this feature go well beyond personal use. Businesses in the midst of a PR event (a store opening, a sale, a product release) will now be able to simultaneously search for media mentions on Google while viewing Tweets that mention them. This simplifies the online elements of PR management and engagement.

Social Search – Google Maps and Yelp
Have you ever been at a restaurant, store or venue and wondered what other people are saying about it? Not in a review from last year, but right now? Hootlet brings you that insight, pulling geolocated social messages into Google Maps and Yelp.
Now when you search for a specific location on either site, a button called "Tweets near here" appears. Clicking that button brings up a new window full of Tweets from people nearby, in an adjustable range of anywhere from 500 metres to 25 kilometres based on your needs. The social messaging that you discover can then be shared to your own social accounts without ever leaving the page. The Hootlet allows you to reply to these messages, retweet them, or – if this is a search you do often – pull them from Google Maps and Yelp into a search stream within your HootSuite dashboard.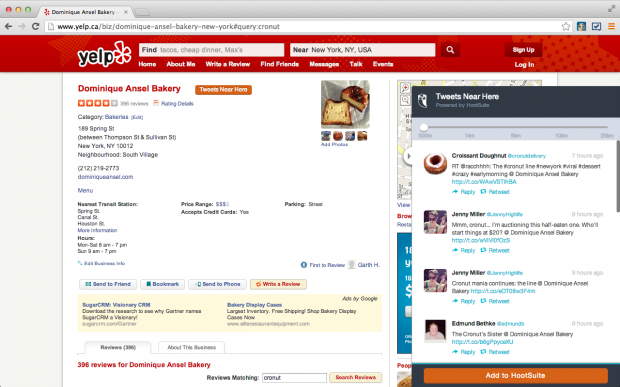 This new functionality is great for businesses looking to quickly track the sentiment around locations, because it removes their dependance on Tweets that mention them specifically. Think of a message that reads "This coffee is incredible!" without mentioning the shop name or Twitter handle. That feedback can now be identified on Google Maps based on the geographic location from which the message was sent.
If you use Google or geographic searches for any reason, social media can now be integrated with ease. Don't miss out on the real opportunities unlocked by social search. Download the Hootlet today.