Can we just take a moment to say: we're impressed? If you're here reading this story about Sprout Social alternatives, you're obviously the type of person who does their homework before they commit to a social media management tool — and we love that.
Sure, maybe you're curious about Sprout Social. Maybe your boss is pressuring you to schedule your posts using this specific social media dashboard; maybe all your friends are Sprouting the night away.
But you don't want to rush into a commitment without checking out your other options. And that's called integrity, baby.
So we're here to salute this brave commitment to research — and to give you our full support on your education journey. (You're welcome! Send flowers!)
Read on for our rundown of all of Sprout Social's top competitors, so you can follow your (well-informed) heart and make the right decision for your unique social media needs.
7 Sprout Social alternatives and competitors
Managing social media = 25 jobs. Creating content, posting to multiple networks, learning about your audience, providing customer support, reporting wins to your boss… It's a lot. Hootsuite can help you do all of that (and more) from one user-friendly dashboard that works with Facebook, Instagram, Twitter, LinkedIn, TikTok, Pinterest, and YouTube.
With Hootsuite, you get an easy-to-use social media scheduler that gives you
Especially if you want to optimize your reach, practice next-level social listening, perform cross-platform scheduling, access in-depth analytics, and simplify your audience management, Hootsuite is the social media management tool for you.
There's also the fact that Hootsuite is well-known as the best social media management tool for social teams who are concerned about security and compliance. Maybe this sounds boring, but it's important, especially if you work in an industry like finance or healthcare! And it's actually quite hard to find a social tool that integrates with all your favorite compliance and auditing tools already.
Read our tips for social media security and social media compliance.
Good for: Social media managers, small business owners, digital agencies, social pros in regulated industries, and large social media teams.
Pricing: Free plan available; professional plans (for 10 social accounts and up) available from $99 per month. See full pricing here.
More info: Hootsuite vs. Sprout Social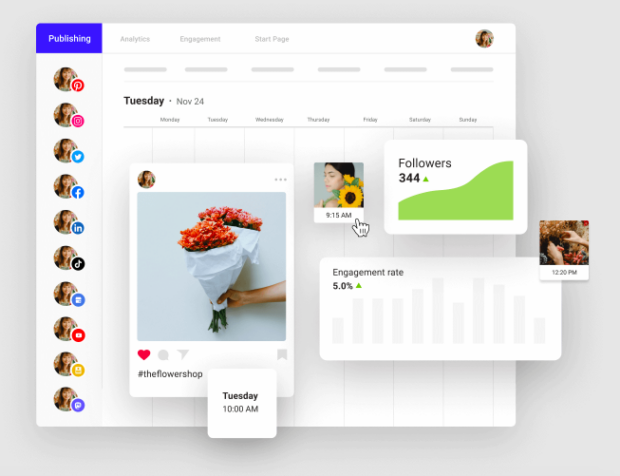 Buffer is another social media management tool that helps individuals and brands schedule, publish, and analyze their social media content across various platforms.
With access to several major social media platforms (Facebook, Twitter, Instagram, LinkedIn, Pinterest), Buffer allows users to queue up posts to be automatically published at specific times. A built-in analytics feature monitors all the usual metrics (likes, shares, etc.) And if you're not feeling too inspired on any given day, Buffer has tools to help you find and share relevant content from trusted sources within your industry.
Good for: Small businesses and startups, content creators, marketing professionals.
Pricing: Free plan available; plans with more robust analytics tools available from $6 a month and up per channel.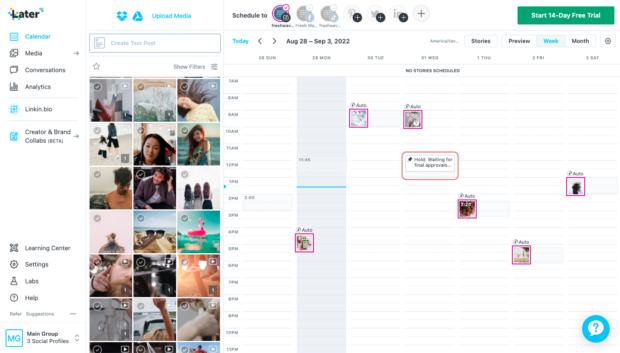 Later is another social media scheduling and management tool, but what makes this one distinct is its focus on visual content. It doesn't offer as in-depth features as Sprout Social or Hootsuite, but for businesses that rely heavily on Instagram, it can be a nice fit.
Later specializes in helping you plan and schedule your image and video posts with a user-friendly visual content calendar. Preview your Instagram feed, re-arrange the order of posts and visually plan the aesthetic and layout of your grid. Later's linkin.bio URL offers the chance to create a clickable and customizable landing page that resembles your Instagram feed.
Good for: Instagram influencers, e-commerce businesses, visual content creators.
Pricing: The entry-level plan is $18; more professional-grade accounts start at $40 monthly.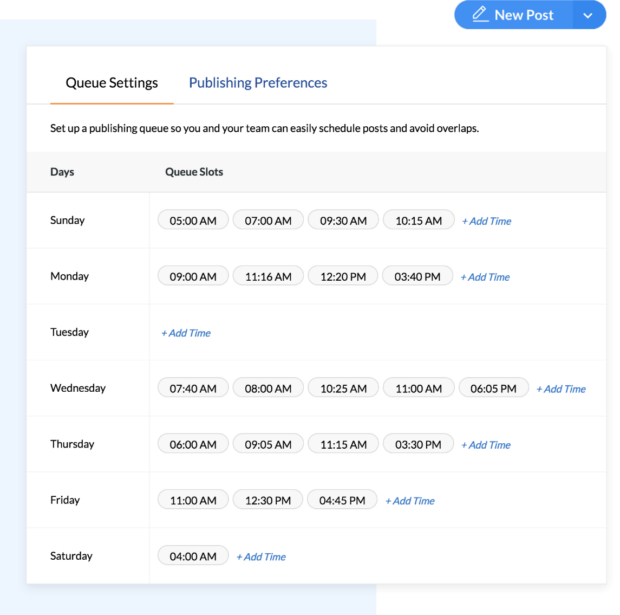 Here's another social media management tool: Zoho Social! The centralized platform allows social media managers to juggle multiple social media accounts in one place.
If you're already a Zoho CRM user, Zoho Social integrates with the application and allows for a holistic view of customer engagement across different platforms.
Like many other social media management platforms, Zoho Social allows you to schedule and publish posts, monitor mentions and comments, engage with your audience, and analyze performance, all from a single dashboard.
Create and queue up posts for specific dates and times, or use Zoho's social listening features to monitor keywords, hashtags, and mentions related to your brand or industry.
Good for: Medium-sized businesses that already use Zoho CRM
Pricing: Entry level plans start at $10 per month; professional accounts start at $30 per month.

Sprinklr is a unified platform for managing social media, customer care, marketing, and other aspects of the customer experience. (Whewww!) In other words, this social media management tool offers a centralized hub to streamline operations, improve efficiency, and enhance the consistency of customer interactions across various channels.
Sprinklr is ultimately designed for large enterprises and organizations. It has deep, complex functionality that allows users to consolidate customer inquiries and issues into one place, and then use the analytics feature to access actionable insights and measure key performance indicators. Sprinklr also helps you create personalized experiences by segmenting and targeting specific audience groups.
Good for: Enterprise-level businesses, global brands.
Pricing: As Sprinklr is targeted at larger organizations, the pricing follows suit, starting at $299 a month for 10 channels.

Still want to read more about Sprout Social alternatives? Fine, fine, here's one more: Khoros is another social media management tool that offers plenty of advantages for businesses — namely because the comprehensive platform combines social media management, customer care, community management, and marketing automation.
Like most other social media management platforms, Khoros offers multi-channel support across sites like Facebook, Twitter, LinkedIn, and the rest. A fairly robust content library helps with content planning and scheduling; social listening tools and sentiment analysis features lets brands track mentions and opinions from customers (and haters, too).
Integration with Khoros' customer care functionalities allows you the opportunity to handle customer inquiries, complaints, and support requests in one place. One particular benefit for Khoros is that it has features to help with adherence to strict content guidelines — whether those are industry-wide regulations or simply in-house brand voice guidelines.
Good for: Multinational corporations, customer support and service teams.
Pricing: On request.

As far as Sprout Social competitors go, Hubspot's benefit is that it integrates its social media management tool with its customer relationship management software (CRM). This integration can be super helpful for businesses that want to track and manage social interactions within the context of their customer relationships.
Managing your social interactions with customers across all the different platforms is the main benefit of Hubspot. But users can also schedule and publish content, monitor engagement, and track performance. HubSpot's social media management tool also includes social listening capabilities, enabling you to monitor brand mentions, keywords, and industry trends. HubSpot analytics track metrics such as engagement, reach, clicks, and conversions.
Good for: Content marketers and bloggers, inbound marketing agencies, and small businesses who already use Hubspot.
Pricing: The integrated marketing hub starts from $40 per month.
How to pick the best social media tool for you
Like a good pair of jeans, there's no one "best" social media tool that fits everyone. Choosing the best social media management platform for your brand depends on your unique needs and social media strategy. If you want to make an informed decision about the right social media tool for you, here's our step-by-step guide.
Define your goals
Why, exactly, is your brand using social media? Without specific objectives for your business, it's going to be tough to measure success. For instance, are you looking to increase brand awareness? Engage with your audience? Drive traffic to your website? Sell your disco-ball cowboy hats? Understanding your goals will help you evaluate which tool aligns with your needs.
Read our guide to setting (and exceeding!) social media goals to help you define your own.
Assess your target audience
This may seem obvious, but it bears mentioning: Different social media platforms attract different user demographics, so it's essential to choose a social media management tool that reaches the platforms that are relevant to you. For instance, if your key audience loves to use TikTok, you probably want to pick a management tool like Hootsuite that can schedule TikTok posts.
Not quite sure who you're trying to reach with your social media content? Here's a guide to identifying your target audience.
Make a wish list of features
Each of these social media management tools can do a million different things, but don't be dazzled by features that aren't relevant to your goals or process. Before you even begin shopping, make a list of things that will actually help you do your job.
Consider aspects such as:
Post scheduling
Analytics and reporting
Advertising options
Content formats (images, videos, text)
Community management features
Integration with other tools or platforms
Decide what are "need to haves" and what are "nice to haves" before you narrow down your shortlist of platforms.
Tally your people, your accounts, and your money
The cost of social media management tools can range widely, depending on the size of your team, the number of accounts you're managing, and your analytics needs. What sort of budget are you working with? How many users or collaborators will actually need to access the dashboard? How many accounts are you juggling?
Take stock of all this info to make sure you're comparing platforms that can meet your specific needs — after all, judging a free, one-user, one-account platform against an enterprise-level platform is like comparing apples to… a spaceship.
Check user reviews and ratings
Unless you're considering brand-new software, there are other people out there who have already had a chance to experience these social media management tools. Take advantage of that expertise by seeking out reviews and ratings on sites like Trustradius and G2. (Maybe you even know someone in your professional network who can give you the low-down about what they love — or hate — about a product.)
Wherever you're getting the hot goss, it's important to pay attention to both positive and negative feedback to get a well-rounded perspective on each platform's strengths and weaknesses.
Test it out for yourself
There's no better way to see if a social media management tool is right for you than to try it out firsthand. If possible, sign up for a few free trials or demo versions of the social media tools you are interested in. Your hands-on experience will allow you to explore interfaces, features, and usability and give you a better understanding of how well the tool fits your specific requirements.
If Hootsuite is on your shortlist, we've got a 30-day trial available for you right here. Give it a whirl!
Think about your brand's future
Maybe you're just a small, one-person operation right now… but where will you be three years from now?
Anticipate your future needs and growth potential. Will the chosen tool accommodate your expanding audience or increasing content demands? Choosing a social media tool that can scale with your business can help you avoid the hassle of switching platforms later.
FAQs about Sprout Social alternatives
Who is a competitor to Sprout Social?
Sprout Social has a bunch of competitors out there, but one of the more notable Sprout Social alternatives is Hootsuite.
Hootsuite offers similar features and capabilities to Sprout Social. Both tools provide solutions for scheduling and publishing social media content, monitoring and engaging with audiences and analyzing social media performance. They also both offer team collaboration features and support multiple social media platforms.
With Hootsuite, you get:
An easy-to-use, cheaper social media scheduler
Personalized recommendations for the best times to post
Intuitive analytics for all your social accounts
One inbox for DMs and comments from every network
Industry benchmarks and competitor analytics
Integrations with all of your other tools, including Canva, Grammarly, Hubspot, Shopify, Mailchimp, Microsoft Dynamics, and 200+ more
What is cheaper than Sprout?
If you're looking for social media management tools that are more cost-effective than Sprout Social, Hootsuite is one great option. Hootsuite has a range of pricing plans, the cheapest one starting at $99 per month. By comparison, Sprout Social's cheapest plan starts at $249 a month.
Hootsuite's average cost per user is also cheaper than Sprout's, making it more cost-effective for marketing teams.
Hootsuite also provides more features than Sprout Social, besides the basic comprehensive social media management dashboard features (scheduling, analytics, and team collaboration). Check out Hootsuite's exact list of features vs. Sprout Social's.
Other social media management tools that are cheaper than Sprout Social include Buffer and Later.
Which is better, Hootsuite or Sprout Social Reporting?
Both Hootsuite and Sprout Social offer robust reporting capabilities, and ultimately the "better" option depends on your specific needs and budgets. But Hootsuite Analytics is pretty hard to beat.
A Hootsuite plan is cheaper than Sprout Social Plan, and the Hootsuite Analytics feature specifically has a popular, user-friendly interface and intuitive reporting tools.
Hootsuite Analytics collects your stats from Facebook, Instagram, Twitter, LinkedIn, and TikTok.
It helps you track metrics like:
Reach
Engagement rate
Impressions
Likes
Plays
Shares
Clicks
Saves
Comments
Video views
New followers
Total followers
Profile visits
Reactions
Negative feedback rate
Website clicks
Average time watched
Number of messages, calls, and emails
Daily engaged users
Website clicks
And much more
You can set up custom boards that give you an overview of your most important metrics at a glance, over a select period of time and look up much more granular information, down to the performance of every individual post you published.
Overall, Hootsuite's analytics solutions can do everything Sprout Social's analytics dashboard can, plus a few bonus features:
Best times to post based on a specific goal like engagement or brand awareness (Sprout Social offers generic best times to post recommendations)
Social ROI analysis
Link shortener (You can only do this with an external integration in Sprout Social)
So, if you're someone who likes to dig deep into data and performance tracking, we think Hootsuite is the better option. But Sprout Social's analytics will get the job done, too.
Save time managing your social media presence with Hootsuite, the #1 Sprout Social alternative. From a single dashboard you can publish and schedule posts, find relevant conversions, engage the audience, measure results, and more. Try it free today.
Do it better with Hootsuite, the all-in-one social media tool. Stay on top of things, grow, and beat the competition.
Free 30-Day Trial