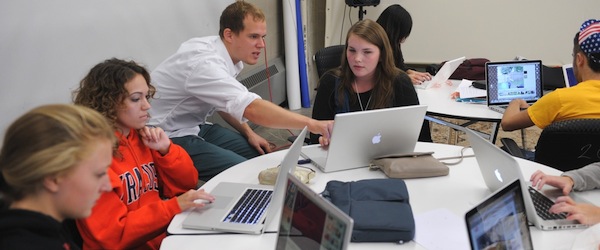 The Key to Better PR? Social Media Education
Every day your business' reputation is being discussed and questioned on social media. As a result, PR professionals need to stay on top of these channels, to both highlight the positive feedback that could benefit the brand, while mitigating the risks of social media criticisms and controversies. And yet, many PR professionals still aren't comfortable on today's popular social networks.
In this age of digital technology, better PR depends on better social media education. As more and more public relations and communications professionals enter the job market, only those who have been taught the fundamentals of social media for business will rise above the pack.
Do you teach future PR professionals? The HootSuite Higher Ed Program's Social Media for Communications Curriculum will help you teach students how to use social media for public relations and communications.
How Social Media is Changing the Game
Public relations is at the forefront of the changing media landscape, which means that so much of what PR professionals do on a day-to-day basis is now affected or influenced by social media. Business announcements, crisis communication and journalist engagement are just three examples of how social media is changing the public relations game.
While companies used to depend largely on media outlets to break news, social media has made businesses a news outlet of their own. PR departments can often spread businesses announcements— product releases, noteworthy clients or anything else— through their own social channels to great success. But to do so, they must know how to optimize messaging to ensure their Tweets or Facebook posts get shared. PR teams also need to format announcements for a social media audience, which is very different than a media audience.
Journalist engagement has also drastically changed with the onset of social media for business. PR pros can build relationships with reporters and increase the likelihood of future coverage by engaging and thanking the press on social media. But there's a right way and a wrong way to engage with journalists on social media, and knowing these important distinctions is essential for PR professionals.
Finally, crisis communication might just be the area of public relations most affected by social media. In the case of a brand crisis, or any crisis, PR professionals need to be able to leverage the real-time nature of social media. In the midst of a crisis, clients and followers will take to Twitter and Facebook instantly for answers, so PR teams need to have messaging prepared to immediately respond. The right content, tone and frequency of social media messaging are essential to crisis communication and PR professional need to develop these skills before a potentially damaging situation occurs.
"Social media used to be considered "new" media but is now a core part of the media landscape," says Cher Lee, Senior Communications Manager, HootSuite. "With so much of the news cycle and press connections taking place on social, PR practitioners with these skills are increasingly valued by their organizations. For us, savvy on social is a must."
Training A New Era of PR Professionals
Though all of these changes present a challenge for public relations and communications education programs, there are resources available. The 10-part Social Media for Communications curriculum describes the new 'Digital Communications Landscape' and addresses major changes through lessons including "Social Media & Breaking News" and "Engaging on Social Media." By the completion of this course, students will be able to understand social media fundamentals and etiquette, create a social media campaign, enhance their personal brand online, drive traffic to their blog using social media, manage a social media crisis, and more.
Karen Freberg, Ph.D. teaches Social Media & Mobile Technologies in Strategic Communications at the University of Louisville, where she instructs students on how they can use social media strategically for public relations and communications. Freberg takes advantage of HootSuite University's Higher Education Program as a digital textbook for her class, in order to give students the social media practice they'll need without spending ample class time on the fundamentals.
"The class I designed is not an introductory social media class, it's more focused on the strategy behind social media. We don't cover the basics of what is Facebook or what is Twitter, so HootSuite University is perfect for integrating the tactical into the classroom," she says.
Because social media skills are now essential in public relations jobs, every assignment that students complete in Freberg's class is designed to help them build their online presence and create a portfolio of work to demonstrate their expertise and knowledge to future employers. Students create and maintain a personal blog, write about social media and the public relations industry, and earn their HootSuite Certification. They also work with real clients to gain the experience needed to enter the workforce and secure an internship or future job.
"I wanted to have students create campaigns for actual clients so they could go to employers with the training from this class in social media, but also show them an initiative that a client actually implemented," explains Freberg.
One of the students' clients was the University of Louisville Athletics department, where students ideas were incorporated into the creation of a social media hub, a second screen experience for athletics fans to engage with each other. The social media hub integrates multiple platforms, such as Twitter, Facebook, Instagram, and Vine, in order to bring fans together in an online community.
"The class helps students develop a strong social media skill set to take with them in their future jobs or interviews," says Freberg.
HootSuite University's Higher Education Program is currently being used in over 300 global institutions including Columbia, NYU, and Syracuse University.
Are you a professor looking to teach social media in your classroom? Apply to HootSuite's Higher Education Program and gain access to free teaching resources and tools, ensuring your graduates are fully prepared for their future jobs.