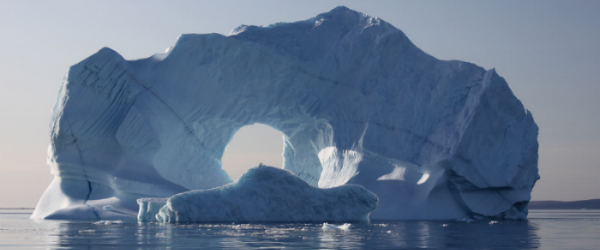 This Week in Social: the Twitter Iceberg, Facebook's Internet and LinkedIn's New Tools
With every update, social media networks create new possibilities for Internet users: whether it's exploring future careers, connecting with influential figures, or something most of us take for granted—the basic ability to browse the web.
You may not have time to keep up with all the advantages of the new social media opportunities during the week, which is why we started this weekly roundup of the latest news in the world of social web.
Now that you have some time, let's get you caught up.
Latest from the Big 4
Every week Facebook, Twitter, LinkedIn and Google+ announce policy changes, updates, design tweaks, new features and other changes that can affect how you use their tools. Here are this week's highlights:
First they let users use a pseudonym on Google+, and now you can use Hangouts without strings attached—good guy Google is making their services more accessible with each update. Messaging app Google Hangouts, which was previously available exclusively to users with a Google+ account, is now available for anyone with Google Apps installed.  While Google+ users still get perks like multiple-platform availability, those without an account don't need the added step of signing up before hanging out.
LinkedIn is ramping up the frequency of their updates, with the latest new features letting users explore potential careers and ramp up social selling. The latter is made possible with a new version of Sales Navigator, which makes it a standalone tool rather than a feature within the professional social network. LinkedIn Group Product Manager Sachin Rekhi told TechCrunch that "social selling consists of four main steps—establishing a presence on social networks, finding the right people, engaging with those people, and building trust." Sales Navigator walks the user through all the steps, recommending sales leads and helping you establish points of connection with them.
Facebook is making good on its promise to bring free Internet access to developing countries through the Internet.org initiative. The campaign released an app this week that allows users to access basic health and employment information, perform a Google search, and, naturally, browse Facebook. The app will first be rolled out in Zambia in Southern Africa, and will be available to clients of local branch of the Indian telecommunications company Airtel.
Next big thing
The social web is a dynamic landscape, with new players constantly shaking things up. Whether it's a new class of Y Combinator startup stars announcing their big ideas, or a surprise venture capital investment in an app rumoured to be the next Snapchat, this industry moves fast. Here's the latest:
It feels good to get your first 100 followers or 20 likes on a Facebook photo, doesn't it? Now there are now apps to make you to feel even better about posts that make it to the 'Popular' page. Bubblenews, for example, monetizes your social media content, letting you, the user, earn money from popular posts that attract ad revenue. Bubblenews also calls for longer, attention-grabbing posts, by imposing a 400-word minimum.
Another app Bonzo Me has a different approach to money-making by turning the data collection process from social network giants like Facebook on its head. The app prompts you to watch advertising videos, but then gives you 80 percent of the revenue, as a reward of sorts. However, creators of the app warn users that it isn't time to 'quit your day job' just yet.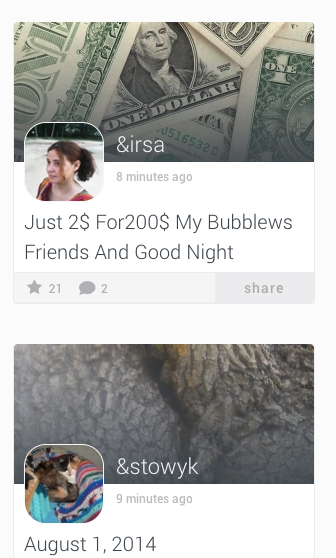 Just like a leader is nothing without the first follower, your social media content is not actually social until you engage with someone else, or that someone likes and recommends your post to others. This is the reason we check Klout scores and measure our social media account's reach.
Now there is yet another tool to check the influence of your followers: SocialRank, an app that analyzes your follower base for the most valuable and engaged users. The app measures follower count, follower-to-following ratio, @mentions of your username, etc.—all to learn more about your audience, and see how you can more effectively engage them. If this sounds familiar, it's because we've been telling you to do this all along—now there's just a tool to make it easier.
Long read: Iceberg Tweeting
If you are a relatively new Twitter user, you know features such as @mentions, retweets, and hashtags as essential to the social network. Back in 2006, however, was a different story. While Twitter always encouraged sentences with a brevity and scant punctuation that would have made Hemingway proud, much of what makes up Twitter as we know it today was the work of its users—people like you and me, who wanted to have discussions on a global scale.
As years went on, the original purpose for imposing the 140-character limit—the text messages on (not yet 'smart') phones—became obsolete. Twitter now allows for many ways to sidestep the character limit: attaching photos, videos, geo-tagging, and tagging users. This insightful article on Medium (which is, ICYMI, a blog publishing platform made by… you guessed it, Twitter co-founders) describes the Tweets of today as "Iceberg Tweets," meaning what we see on our feeds nowadays only marks the tip of the Tweet's iceberg.
The author predicts that images and links soon won't count towards the overall character count either, making the original 'tip of the iceberg' Tweet a brief teaser for whatever follows under the surface: a video, a photo gallery, maybe even a novel.
Nowadays, we can't imagine a Twitter without clickable hashtags. If we, the users, can help shape Twitter from the text-only snowflake to the Big 4 iceberg, just think of what else we can do.