Twitter is where people turn for customer service. The conversational and real-time nature of the platform makes it easy for customers to ask questions, celebrate businesses they like, or reach out if they need any support. According to our research, evidence of this can be found in the fact that the volume of Tweets targeted at brands and their Twitter customer service handles has grown 2.5 times from 2013 to 2015.
According to McKinsey's analysis, 30 percent of social media users prefer customer service via social media over traditional customer service call centers. Using Twitter to interact with customers also has a direct benefit to your business. After receiving a positive response from a company, 77 percent of people feel more positively towards that business, according to a 2016 survey conducted by Twitter and Research Now.
Want to learn how to better engage with existing and potential customers on Twitter? Read on for three tips and be sure to check out Connect via Hootsuite, our virtual conference. Register for free to learn how to use social media at every stage of the buyer's journey—from engagement and brand awareness, to driving leads and closing sales.
Connect via Hootsuite takes place October 5, 2016 at 8:30 a.m. PT/11:30 a.m. ET/4:30 p.m. BST
1. Respond to customers with enthusiasm
Respond quickly. Prompt customer service pays off. And when consumers don't get an answer from a company on Twitter, 81 percent don't recommend that company to their friends, according to a 2016 survey conducted by Twitter and Research Now. Think of interacting with a Tweet directed at your business in the same way you'd greet someone who walked into your shop. We recommend checking your Twitter at least once a day to respond to potential customers.
Keep your responses short and friendly. Click the heart on someone's Tweet to "like" it. People like to be liked!
And don't be afraid to use pictures, GIFs, or emojis. An enthusiastic GIF or a smiley face clearly communicates your mood (and images can transcend language or literacy barriers).
In this reply, @theDryBar uses a heart emoji (the color even matches their brand!) to show a positive Tweet some love.
@emilydrape ????

— Drybar (@theDrybar) February 3, 2016
And here, @RKSupport shares an image of their sizing chart to help answer a customer's question.
Check out this sizing chart! They typically fit true to size :) pic.twitter.com/GnKynAta5v

— Runkeeper Support (@RKSupport) June 9, 2016
Not everyone tweeting about your business may know your handle. Consider searching Twitter for your company name and see if there is conversation around it. Remember you can filter Twitter searches by location, date by selecting "More options."

If you're on Hootsuite, make a column that monitors mentions of a few keywords. If your business is an Albuquerque plant nursery called "Sandra's Cactus Emporium", for example, then "Sandra Cactus," "Cactus Albuquerque," and "Cactus Store" would be good terms to watch.
2. Move conversations from public to private
Direct Messages are private and don't have a character limit, so they're perfect for conversations that are getting wordy or you would prefer to have between just you and a customer.
If a conversation is light and positive, keep it public to show other potential customers that you are reachable. It can even be valuable to address straightforward negative comments publicly, so other people can see you delivering great customer service. But if you need a customer's personal information or the conversation is going to have a lot of back and forth, move it to Direct Message. You can do this gracefully by replying with a "Send a private message" link.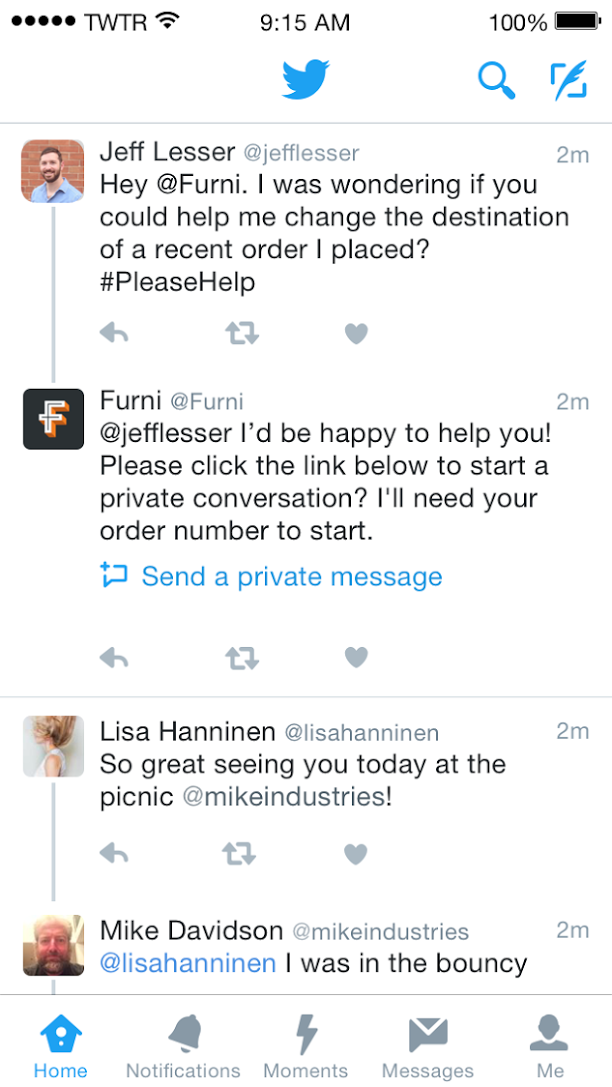 Find out how to easily make a "Send a private message" link.
3. Amplify positive reviews
By being active on Twitter and running a good business, you help to ensure customers will tweet positive reviews. These responses feel good and can be used to promote your business. By retweeting one, you broadcast it to your followers.
Tea company @BobaGuys retweeted a review of their new shop location. Retweeting can also be a great strategy to help with your influencer marketing or Twitter.
The new Boba Guys in Hayes Valley is ???? pic.twitter.com/AORAQo5qwI

— Dave Lomas (@davidlomas) June 9, 2016
You can also add a quote to the Retweet, thanking the customer or reminding them to "Tweet us if you need anything else!"
Fashion company @EILEENFISHER showed some love and quoted a Retweet from a customer.
Thx for the ❤️! https://t.co/6wGglKgmnY

— EILEEN FISHER (@EILEENFISHERNY) May 23, 2016
The more you use and promote your Twitter account, the more responses will pour in. Ask customers to follow you in person, in the footer of your emails, and on your websites, signage, or paper receipts. Many businesses even incorporate their @username into their packaging so customers feel encouraged to connect when they're most excited about their newly purchased product.
Check Twitter today to see how prospects are responding to you (or your competitors!) and use these tips to turn their Tweets into opportunities to create loyal customers.
Visit business.twitter.com for more advice on growing your business with Twitter, and be sure to follow @TwitterSmallBiz, where we share regular tips and tricks.