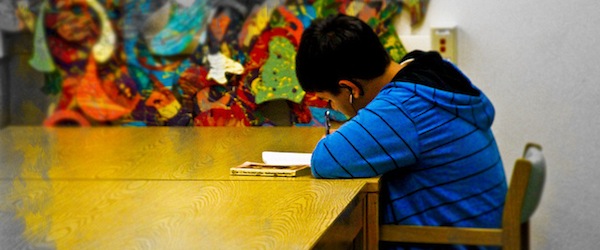 Wish You Had Social Media When You Were in School? Question of the Week
Go check your Facebook feeds right now. You'll be flooded with photos of your friend's children — kids anywhere from pre-k to high school —with captions explaining how they are "back to school again" or "time flies, look at how much they've grown!" Is there a GIANT backpack involved or maybe a gap-toothed grin? Yes, as September ushers in the school year, we are seeing more and more back to school social media posts.
But, would you want to be the kid in these photos? Having parents and friends constantly tagging photos and status updates with you in them; these might not be their proudest moments looking back in five or ten years. Having social media accounts also comes with a lot of responsibility, and this can be hard for school-aged kids to understand. The last thing young people want is another set of rules, but the fact is irresponsible social media use could potentially ruin your education and later impact your career. On the other hand, social media is a great tool to use as an education tool and subject.
We decided to ask our Twitter followers if they ever wished they had social media when they were in school. Scrolling through the answers was interesting, and a bit hilarious. Let's take a look at what our followers think about being in school in the age of social media.
@hootsuite NO!

— Sarah Salter (@sarahmsalter) August 30, 2014
@hootsuite Not really. It would have been a distractor.

— Mmonarca (@Mmoncarca) August 30, 2014
@hootsuite totally not! I had a life at school!!

— paul hanlon (@buzzcockblue) August 30, 2014
@hootsuite not really, not at all!

— Liliana P García Gza (@Lily_Paty) August 30, 2014
@hootsuite nope, nope, nope.

— Mark Buerger (@meisterbuerger) August 30, 2014
@hootsuite NO WAY!!

— Vivienne van Leuken (@TwitViv) August 30, 2014
@hootsuite def not! School is a harsh, unforgiving place filled with enough trolls – no need for social media to add to that mix!

— Cathlen Fourie (@CathlenFourie) August 30, 2014
So, we ended up getting a resounding NO! It almost felt like our followers were shouting it at us through the internet: they were quite happy without having the added distraction of social media while they were in school. For many of us, it was hard enough to navigate growing up, let alone doing it and looking cool on social media. Kids can also be mean, and having to deal with it at home (on social media) as well as at school in person can be a very daunting thought.
Do you have an opinion on being in school in the age of social media? Join the conversation and let us know what you think in the comments below!