Are SMM Tools Just for Businesses? Not When 42% of Adults Use Multiple Social Networks
Social media management tools may become increasingly valuable for everyday social media users, as 42% of adults now use two or more social networks.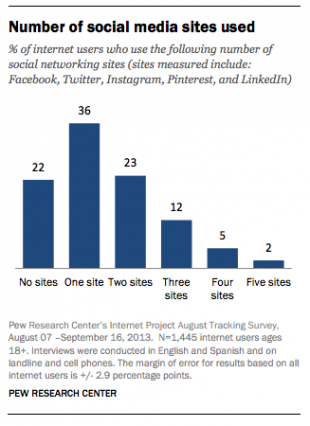 The data, part of Pew Research Center's "Social Media Update 2013," shows that more adults now use multiple social networks than adults who use only one (36%).
Of those who use several networks, 23% use two sites, 12% use three site, 5% use four sites and 2% use five sites. Will the bottom 7% using four or five sites may not seem that significant, the Pew poll only asked about five sites: Facebook, LinkedIn, Instagram, Twitter and Pinterest. The number may be significantly higher when networks like Google+, YouTube and Tumblr are taken into account.
So while many still consider SMM platforms a device for power users and businesses, as more and more adults increase their use of a variety of social networks the relevance and use of these tools will likely rise among casual users.
Facebook, Instagram Where Engagement Is Highest
Of the five networks that Pew surveyed people about, Facebook and Instagram stand out as those with the highest engagement. 63% of Facebook users go on the site daily and an impressive 40% sign in multiple times per day. At 57%, more than half of Instagram users also use the app on a daily basis with 35% checking it multiple times per day.
Though this would seem to make a case for improved engagement on more visual social networks, curiously Pinterest is on the low end for engagement. Only 23% of Pinterest users visit the site daily, and close the half use the site less than once a week.
For the full Pew Research Center report, click here.
Ready to simplify your social media experience? Try HootSuite Pro today!