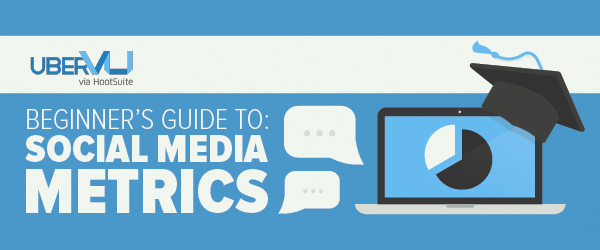 As a social media professional, you know how important having a social media presence is to a business. And you also know just how overwhelming it can be. You're trying your best to produce and share great content, you're interacting with customers and prospects, and you're trying to make sense of it all. The biggest question you're most likely trying to answer is if your efforts are paying off. If you're just keeping track of gained fans or followers, you're missing out on important insights. If you want to successfully evaluate the results of your social efforts, you need to track the right social media metrics.
Not sure where to start? In this Beginner's Guide to Social Media Metrics, we'll break down the social metrics you should be tracking, describe how to measure them, and most importantly, explain how to use them.
Today, we'll break down reach and exposure. Reach and exposure are often used interchangeably as they both represent the size of your potential audience. However, they do differ slightly.
Reach
Reach is the potential audience for a message based on total follower count (Twitter, Pinterest and LinkedIn followers, total Likes on your Facebook page, etc). If your boards have 1,000 followers on Pinterest, then each of your pins could potentially reach 1,000 people.
It's important to note that Facebook provides its own analytics around reach, which it defines as "the number of people who saw your post". Facebook considers a post to reach someone when it's shown in that person's News Feed. They also provide "total reach," which includes the number of unique people who saw any activity from a Page as well as paid vs. organic reach.
Exposure
Exposure further expands on your potential audience by measuring not just the number of your followers, but the number of followers each of your followers have. Each time a person shares something in social, it is delivered to their list of followers—each instance is called an impression. And those impressions are included in a message's exposure. For example, if your company's latest tweet was retweeted by a Twitter user with 10,000 followers, then the exposure for that tweet would include the number of impressions based on your audience plus the 10,000 impressions based on that specific user's audience. Of course, not everyone who receives a post in their social feeds will read it, which is why exposure measures the potential audience.
How to Measure Reach and Exposure:
To measure your reach, you would tally your following on each social network—number of Twitter followers, Facebook page likes, LinkedIn followers or connections, Pinterest followers, etc. You can keep track of these stats manually or can use the analytics reports provided by each social network.
Measuring exposure on your own can be a bit tricky, especially if you're looking to track the impressions of a particular campaign or market team. Quality social media management or analytics platforms will automatically track exposure for you. Or if you want to measure your content's exposure manually, you can tally up your total follower count as well as each time your content is shared in social. For example, on Pinterest you would track the number of repins and the number of followers those who repined your post have, as well as pins from your website or blog. Focus on the sharing stats for each platform—retweets, shares, likes etc.—as well as links from your website or blog to calculate your average number of impressions.
How to Use Reach and Exposure:
Track reach on each social network over time to determine where you're seeing the most growth.
Use exposure to measure the spread of a conversation to evaluate the success.
Inform future initiatives. Determine what's resonating with your audience by finding what types of content or messaging received the highest exposure. Use that research to perfect future campaigns or content creation.
Track competitors' exposure to view potential share of voice.
Compare exposure to mentions to find potential influencers. If a specific post's exposure was many times higher than its mentions, someone with a large social following is clearly distributing the content. Research the influencer and find ways to work together.
Combine exposure and reach with engagement metrics to help form a more complete understanding of impact.
Track exposure in real time with Hootsuite Insights. 
(Formerly uberVu via Hootsuite)