Brands Are Tweeting Four Times More in 2013 Compared to 2012.

Are brands finally getting the Twitter picture? The big ones are, at least.
Every year Brandwatch analyzes how over 250 leading brands are using Twitter. This includes everything from the platforms they use to their levels of engagement. This year, the report showed almost full adoption of Twitter among the businesses that were analyzed.
In 2013, brands have tweeted at least 30 times a week on average, four times the 2012 average. This is a positive especially when paired with the news that 60% of brands are using Twitter for both broadcasting and engagement purposes. Businesses are beginning to understand that Twitter is a two-way channel, to be used for more than advertising and marketing (for brands that are good at engagement, check out @ESPN, @PlayStation and @Disney). Top brands are increasingly using social media within customer service, HR, and sales.
Part of this has to do with the increase in the number of brands using multiple accounts, which at 63% is nine times what it was in 2011. Companies have clearly found value in creating secondary accounts for community engagement or customer service, a strategy we use ourselves.
Speaking of us, HootSuite remained the most-used tool outside of Twitter's own web interface, according to the Brandwatch report. Of the 253 brands, more than half (134) are using the HootSuite dashboard, including 20 of Interbrand's top 100 global brands.
Overall the report showed a very positive trend among leading businesses in their use of social media. There is, of course, always room for improvement – we're looking at you, 25% of brands that still use Twitter for broadcasting only.
Check out some of the data drawn from the report in the infographic below.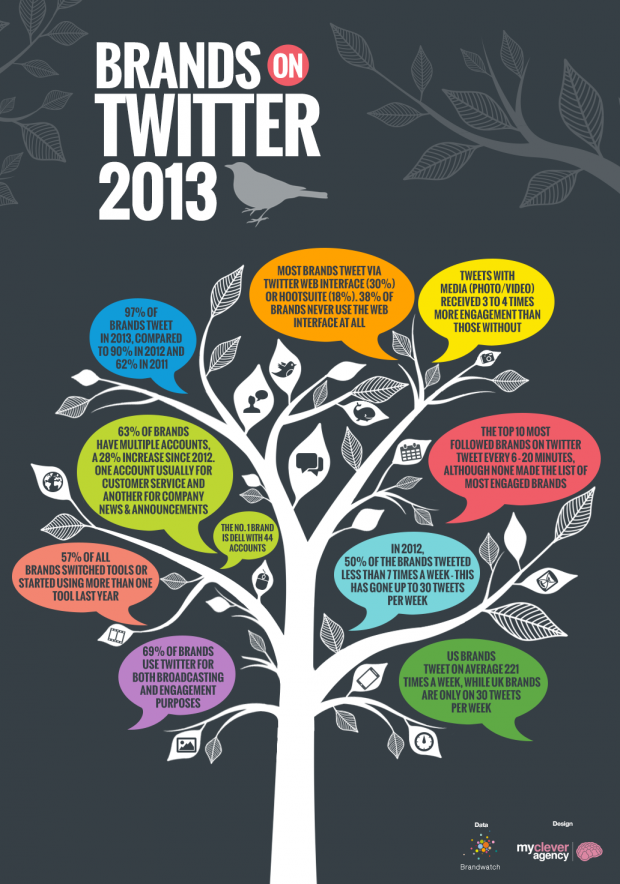 Learn how to make the most of Twitter and other social networks. Download "Putting Social to Work for Your Business" today.