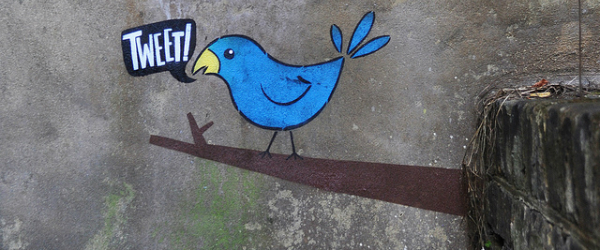 Everything You Need to Know About Twitter's Evolution in 2015 (So Far)
Twitter has had a big week: the network redesigned its #Discover tab, rolled out the new and improved 'Retweet with Comment' function, allowed users to upload slow-motion iPhone videos, and even had to debunk some takeover rumours. On top of that, some Twitter users have been seeing evidence of new UX design tests on the layout of the news feed and search.
Making sense of several announcements in a row is a big task for busy marketers. To help you figure out how the latest changes may affect your Twitter strategy in the coming months, here is everything you need to know about Twitter updates in the first quarter of 2015.
Retweet with comment without character restrictions
The long-awaited feature allows users to add their own commentary to a retweet without wasting character count. When the Retweet button is pressed, a prompt to add comment appears before the user's Tweet is reposted to your timeline.
A similar feature was temporarily available to a select number of users in summer 2014, in a format that wasn't nearly as sophisticated in terms of user experience: in order to quote someone else's Tweet without losing character count, you'd have to copy and paste the direct URL of their Tweet at the end of your own message.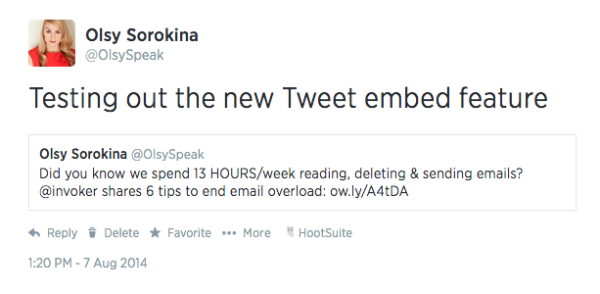 This feature is a boon to marketers on the 140-character network, who can now compose longer Tweets without worrying about the length's negative effects on the engagement rate. However, as Mashable notes, media files such as Vines and embedded images appear much smaller when retweeted with comments—so be mindful of the character count on media-rich Tweets.
New ways to discover trends on mobile
Along with other updates, Twitter has announced the retirement of the #Discover feature, which has been the network's staple since 2011. Instead of #Discover, users of Twitter's mobile app will now see summary of trending topics in the search page. Each trending keyword or hashtag will come with a short description next to each one, as well as top media file associated with each trend. The new trend list will also feature how many Tweets have been sent, and whether the trend is going up or down.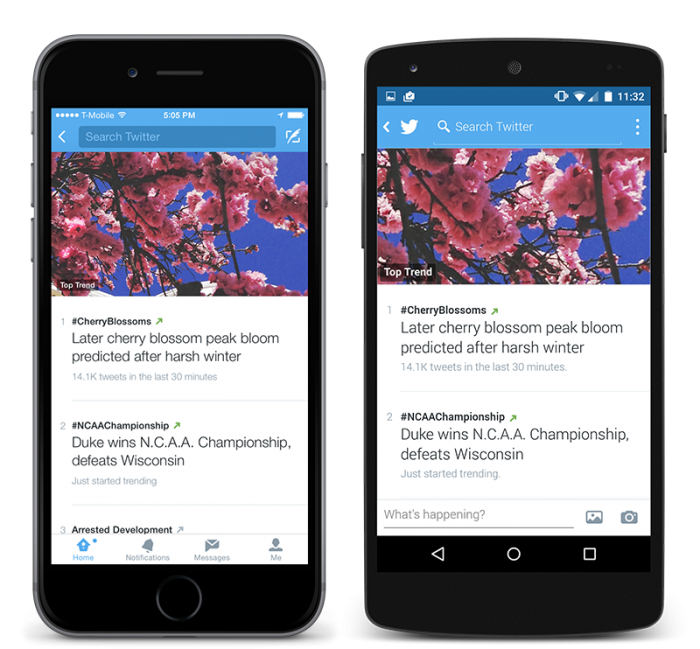 This feature is particularly beneficial for those who have enabled Tailored Trends, or trends specific to a nearby location or a location of your choice. The new trends feature is rolling out in the US in English for users who have tailored trends on iOS and Android.
This Twitter update is highly beneficial for users who hunt for the latest news on the network, as they highlight Twitter's unique advantage for tracking events in real time. Instead of spending time trying to decipher what secret message lies behind a certain hashtag, users will be able to get to the heart of the matter in seconds. For brands, this updated capability presents extra incentive to create shareable content, since your keyword or hashtag doesn't have to be explicitly branded to link back to your business. However, it's still not a reason to abandon proper hashtagging etiquette.
Slow-motion video uploads
Starting late January, Twitter users could film and upload videos straight onto the network. As the feature rolls out to more users worldwide, they tweeted about the newest video capability—the option to upload slow-motion videos along with your Tweets.
New! iPhone users can now upload and share slow-motion videos. Enjoy your favorite moments just a liiiittle longer… pic.twitter.com/Jig6Tyt9HY

— Twitter (@twitter) April 8, 2015
Like Facebook's soon-to-come 360-degree video feature, this offers more opportunities for businesses to create engaging and fun content. Plus, now you can share all those slow-motion videos from your iPhone on places other than Instagram.
Live-streaming with Periscope
Live-streaming video app Periscope was acquired by Twitter in January. The app went live at the end of last month, rivalling the freshly released live-streaming app Meerkat, which has made its debut at SXSWi and had all the tech media abuzz with speculation about the nature of social video.
The live-streaming video trend has been going strong since SXSW, with Meerkat and Twitter's Periscope duking it out for the title of the best app in the market. As Hootsuite CEO Ryan Holmes pointed out, the bigger question behind the competition between two apps is whether the live-streaming trend is here to stay. If Periscope and Meerkat are really set out to change the digital landscape, it might be a good idea to brush up on some strategy tips for your next live broadcast.
Niche for connecting with content creators
In February, Twitter has acquired Niche, a startup that helps advertisers connect with online content creators such as YouTube vloggers and Instagram foodies. Niche works with the client to choose creative talent that can provide the best fit for a brand's campaign; as well as the social media content creator, who receives access to analytics to see what parts of content are working and which ones need an adjustment.
Neither Twitter nor Niche hinted at their mutual plans for the future, besides continuing to create and share engaging content across social media channels. However, experts in the field see the acquisition as a value-add for Twitter advertisers, who may have the upper hand when drawing from Niche's talent pool.
Group DMs and Tweet summaries
In the beginning of the year, Twitter also made it possible for users to send direct messages to groups of users, and provided While You Were Away summaries of most popular Tweets to users who have been logged out for a couple of days. If you haven't had a chance to explore these functions, read about these three major Twitter updates in greater detail.
Still testing
In addition to the official launches and announcements, Twitter regularly tests new features for smaller groups of users. Many of these features later get rolled out to the rest of the network's users, so it's worth keeping an eye on the latest beta developments.
For example, this week, some users saw a different UI when searching through the web app. The new design is simpler, matches the user's personal profile colour scheme, and includes a bigger variety of search option tabs.
New Twitter search UI rolled out to Safari (not on Chrome yet) is much better. Hope better search results are next. pic.twitter.com/btGT5yQiYi

— Eugenie Sills (@esills) April 7, 2015
Lastly, for the past two days, my own Twitter feed has been displaying images before the text of the Tweet, but the lack of feedback from the rest of the Twitterverse likely means that if it is a new feature test, it's rolled out to a very small group of users.
Have you been seeing new features on Twitter that haven't been covered by tech media? Share your Twitter updates in the comments below!