Want your brand's Instagram Stories to look clean, polished and consistently stylish? Instagram Stories templates are the way to go.
The truth is, most of your favorite brands probably already use them. But really, it's no surprise they want to make their Stories look good: half a billion users interact with Instagram Stories daily, and 58% of people say their interest in a brand or product increased after seeing it in Stories.
If you're not using this Insta feature to put your best foot forward, you're going to miss out.
In this post, we'll show you how to use Instagram Stories templates to wow your audience and showcase your best content. We've also included a designer pack of 72 customizable templates that will boost the look of your Stories right away.
Get your free pack of 72 customizable Instagram Stories templates now. Save time and look professional while promoting your brand in style.
Why use Instagram Stories templates?
Though Stories may disappear after 24 hours, they're still going to reach plenty of eyeballs over that span of time, as we know from those impressive Instagram Stories stats.
Plus, now that you can turn Stories into "Highlights" on your Instagram profile, that temporary content actually has the potential for a much longer shelf life.
Might as well make it look nice, right?
But there are tons of other reasons to use Instagram Stories templates, too.
Look professional
Yes, Instagram Stories are primarily known for their charmingly unpolished execution (anyone else weirdly addicted to watching Go Clean Co. scrub grout?). But, as with all social networks, the level of professionalism that users expect from brands is steadily rising.
Brands often use Instagram Story templates to create a consistent aesthetic on their Stories: one that's connected to their larger visual identity or brand voice. The subtle (aesthetically pleasing) inclusions of branded fonts, colours and logos all help to build familiarity and trust with a brand.
Jewellery design studio Melanie Auld Jewelry uses templates to share editorial content on its Stories, like this profile of wellness and travel blogger Julianne Barbas. With shots laid out artfully and elegant text, it's almost like a digital magazine feature. Profesh!
Save time (and money)
Because most content on Stories disappears after 24 hours (unless you post them to your Highlights), it doesn't make sense to professionally design every single shot or video.
But if you know you're going to be regularly posting certain types of content, designing a template to accompany each one will save you time (and the cost of hiring a pro) in the future.
Pro tip: With Hootsuite's Instagram Story Scheduler, you can create, edit and schedule your Instagram Stories in advance.
Make non-visual content pop
Instagram is a visual platform where brands that invest in good photography excel. But not everyone on Instagram is selling something visually exciting like optical illusion makeup or horrifying '80s living rooms.
The Washington Post (whose TikTok, btw, is weirdly good too) gets people to swipe up on their news stories by using eye-catching animated text and simple illustrative graphics. Even though it's less flashy than glitter eyeshadow, it catches the eye in a Stories feed full of bright visuals.
Or, maybe you just need to post a Story that doesn't necessarily call for a photograph, such as an intro page for a slideshow of delicious treats, à la Minimalist Baker.
Stand out from the competition
This one's easy. Instagram Stories templates are a quick and simple way for your brand to distinguish itself as viewers are flipping through a sea of Stories.
A striking graphic design will (hopefully!) capture their attention and reinforce your brand's style in the process. It's also a way to show that you've put time and thought into your content.
Brit and Co.'s stories are instantly recognizable when they pop up in your feed: images and videos are always on a splashy backdrop that features brand-appropriate colors, shapes and textures. They're distinct from the standard look you get from crafting a Story directly in the Instagram app: definitely attention grabbing.
72 free Instagram Stories templates
As a thank you to our dedicated readers, we've designed a pack of 72 customizable Canva Instagram Stories templates that will instantly boost the look of your Stories. The templates are divided into nine different story types, with four to 12 styles per category.
Choose the format that best suits your purposes and customize it in Canva to match your brand—or simply use as is. The possibilities are endless!
Want 'em all? No sweat. Download them here!
Get your free pack of 72 customizable Instagram Stories templates now. Save time and look professional while promoting your brand in style.
Happy birthday Instagram Story templates
AMA Instagram Story templates
Quotes Instagram Story templates
Instagram Story ad templates
Instagram Story bingo templates
Instagram Story donation templates
Music Instagram Story templates
This or that Instagram Story templates
About Me Instagram Story templates
Get your free pack of 72 customizable Instagram Stories templates now. Save time and look professional while promoting your brand in style.
Instagram Story template size
If you're going to DIY your own Instagram story template, you're probably going to want to know the dimensions.
Instagram Stories are 1080 pixels wide by 1920 pixels tall.
For best results, your Instagram Story should have an aspect ratio of 9:16, and a minimum width of 500px.
And in case you were curious about any other social specs, here's our handy social media image size cheat sheet!
Instagram Story template apps
Not only are there thousands of beautiful templates in Adobe Spark's free library, but it's got built-in photo editing functionality too — so you can make sure your images pop as much as the graphic design.
Adobe's got some bare-bones starter templates for you. Put your own spin on things and get experimental!
Download the Unfold app for iPhone or Android to access a huge library of ready-made Stories templates right on your phone. A monthly or annual subscription will open up even more options.
A perennial favorite of the influencer crowd, A Design Kit's designs allow you to add elements, tweak colors, texturize and more. Over 30 fonts offer an opportunity to really stand out from everyone else typing away with Instagram's minimal selection.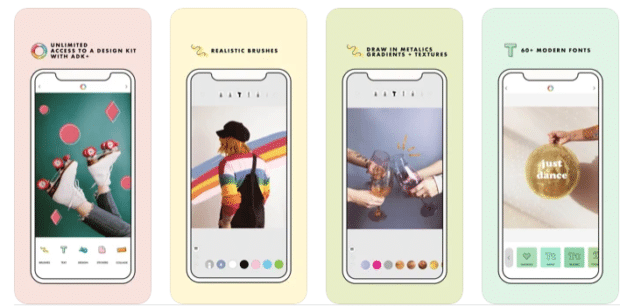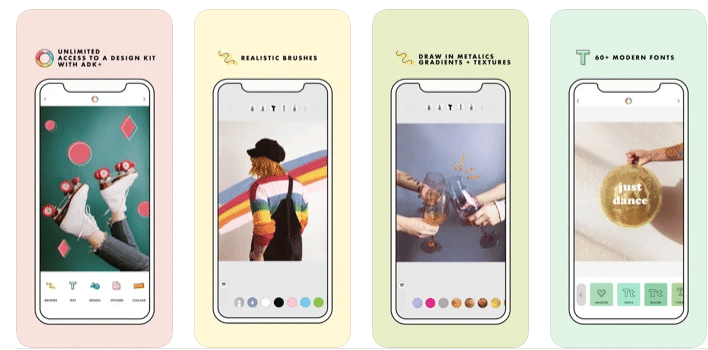 Easil's free version includes 2,500-plus templates to play with, but if you feel like splashing out, the platform's brand kit feature is pretty cool: it allows you to store your color palette, logos, brand images and fonts in one place to pop into their sleek templates. There's also a handy collaboration feature, so you can tag-team a Story with a teammate if you need an extra hand.
The unfortunately named GoDaddy Studio tool (formerly Over) actually has some pretty sweet design options. It's ultimately lure to try to get you to sign up for their web hosting services, but you can score some sleek looking templates for free.
Mojo's specialty is animated Stories: toss your photos or videos into one of their dynamic templates and customize the timing, music and text effects for an attention-grabbing message. New templates and styles are added each month.
With Crello's free plan, you can download five designs each month; a subscription plan offers more options for tapping into their design library.
Okay, the Instagram Stories templates you'll find on Creative Market are all paid options… but if you've got some bucks in your social media budget, you can get something unique in the $30-$70 range. Buy a cohesive pack that speaks to your brand and you'll have plenty of options to play with. Most kits have hundreds of variations on a theme to keep your Stories on point but not repetitive.
Now that you're all set with some beautiful visuals, it's time to buckle down and focus on crafting great content to go with it. Check out our list of 20 creative Instagram Story ideas or guide to must-know Instagram Stories hacks to get the inspiration flowing for your next post.
Save time managing your Instagram Stories using Hootsuite. From a single dashboard you can schedule and publish posts directly to Instagram, respond to comments and DMs, measure performance, and run all your other social media profiles. Try it free today.
Grow on Instagram
Easily create, analyze, and schedule Instagram posts, Stories, and Reels with Hootsuite. Save time and get results.
Free 30-Day Trial