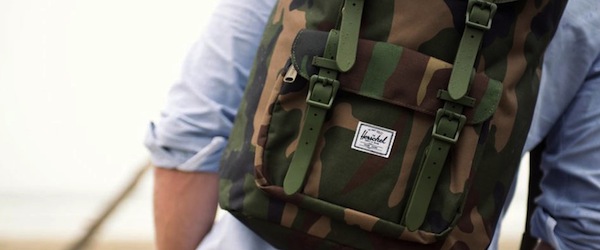 Want to Grow Your Business Online? Secrets from Herschel Supply Co.
Some brands just "get it." Their products are timeless, high quality, and perhaps most importantly, cool. Thanks to great branding, some of these products even shape fashion movements that customers around the globe want to associate themselves with—both on and offline. Herschel Supply Co. is one of the brands that get it.

Seeing a void in the retail industry for quality and stylish bags, in 2009 Herschel Supply hit the ground running to quickly become a globally recognized brand. Still inspired by their success, we wanted to learn more about what fuels Herschel Supply's explosive growth and what growing pains they have.
How Herschel Supply Grew Up So Fast
Based in Vancouver, Canada, Herschel Supply grew from zero distributors to over 5000 across 50 countries in under five years. On social media, in the last six months alone, they've increased dedicated followers on Facebook by 42% to 170,000 Likes and on Twitter by 63% with 14,700 followers—not to mention other networks like Pinterest and Instagram. Today, they are an international player collaborating with brands like Apple to create quality products.
Much of Herschel Supply's success is due to timing. In 2009, the market lacked innovative, fashion-forward bags geared toward 15-28 year olds who were increasingly living active, yet stylish lifestyles. The combination of timely, on-trend products and branding geared toward a socially savvy generation is the reason they grew up so fast. Social media's ability to reach global consumers and create communities around products and businesses has levelled the playing field for young businesses transitioning into global brands.
"There's no way we could have grown this quickly without social media. Anybody in the world can access what we're doing; anybody can see how we showcase our brand and engage online. People can share around the globe." -Lydon Cormack, co-founder and Managing Director
The Advantage of Being Socially Savvy
Because Herschel Supply grew up in the social media age, integrating social into their workflow and connecting with customers online has been an organic, agile process. They've proudly cultivated a highly engaged community with thousands of impressions daily. One secret is Herschel Supply's voice, which formed naturally by being true to who they are and attracting like-minded people.
Herschel Supply shares uniquely curated content across each social network for brand fans, industry leaders, and influencers. To mix up content, they collect and share customer-generated media alongside their branded hashtag, #WellTravelled. "A lot of our social media actually comes from ideas that our audience submits to us, or stories they tell us, and we just build off of it," says Allison Butula, who manages social media and digital marketing at Herschel Supply. "We're really just observing and sharing that with everyone."
Expansion Doesn't Come Without Growing Pains
Growing a business comes with its own challenges. Although they have nearly half a million social followers, they have a very lean marketing team. Herschel Supply conquers this challenge by relying on Hootsuite Pro to help them with their social media management. With Hootsuite, they manage all their social profiles, brand mentions, and #WellTravelled tags in one centralized place. "Hootsuite has been extremely helpful in managing that because of the mobile app and desktop," says Allison Butula, who manages social media and digital marketing.
"We can login to something that has all of our profiles and allows us to communicate in real time, as well as schedule for times when someone's busy or out," says Mikey Scott, Global Marketing Director. "It's kind of unbeatable."
Finding a Business Solution that Grows with Them
"As we continue to grow, it's going to be something we can grow on, instead of grow out of," says Scott on Hootsuite. "The one thing that this interface does for us, is it allows us to act like we're all in one place at one time—whether it's scheduling or multiple people using it—it allows us that ability to feel connected."
Grow your business into a brand. Learn more about what Hootsuite Pro can do for you.
Download this story: