Hootsuite Acquires Social Analytics Leader uberVU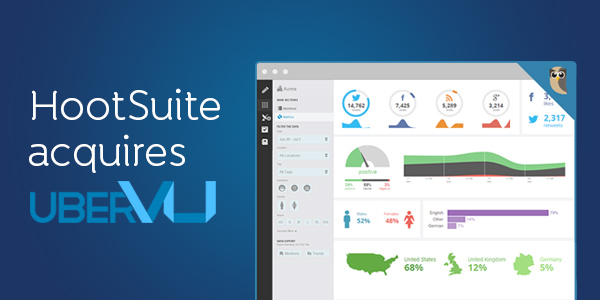 I am pleased to announce that HootSuite has acquired uberVU, a leading innovator in social analytics. We're excited to welcome uberVU's best-in-class technology and talent to the HootSuite family.
uberVU's product is a next-generation social media analytics solution that turns data from blogs, forums and social networks into actionable business insights. uberVU has built an impressive user base of over 200 customers, including Fujitsu, S.C. Johnson, and NBC.
We've seen that single-purpose social media monitoring tools frustrate users by making it difficult to put data to use and turn insight into action. By bringing uberVU on board, HootSuite is adding powerful analytics capabilities to our battle-tested engagement platform. This is a direct response to feedback from HootSuite customers and has accelerated our existing analytics plan.
uberVU helps businesses better understand their social audience by identifying key influencers on relevant topics, easily detecting real-time spikes in engagement (with insights on sentiment, location, and demographics), and highlighting important mentions. Customers also get a powerful content marketing tool that identifies trending stories and relevant content to post directly to social media accounts. To track results, customers can create custom reports using templates and drag-and-drop layouts.
Effectively immediately, HootSuite is offering uberVU's standalone social analytics product. Over the coming months, we will integrate uberVU's technology and expertise with the HootSuite experience, enabling our users to make informed decisions across all their social media activities.
HootSuite and uberVU celebrate this acquisition as an exciting new chapter for both organizations. Current Enterprise customers of uberVU and HootSuite can contact their dedicated Account Manager for more information on this partnership.
To learn more about HootSuite's approach to social intelligence, we invite you to register for a webinar, Social Media Intelligence: Turn Insight Into Action, featuring industry experts from HootSuite, uberVU and Forrester Research, on February 12th.