3 Social Media Lessons from Pro Surfer Julian Wilson ~ Community Spotlight
Julian Wilson is an Australian professional surfer and ambassador for the National Breast Cancer Foundation. When he's not surfing, he's using the power of social media to promote his personal brand, engage with his fanbase and use his influence to advocate for breast cancer awareness.
"With social media, everything is just right there in the palm of your hand and everything is so 'in the now'. If they're not talking about you, then you're not very dangerous." – Julian Wilson
By the age of 24, Wilson has become one of the most successful surfers in the world. He made his mark on competitive surfing when he won multiple world junior titles and invented the 'Sushi Roll' trick— all by the age of 20. After Wilson scored a perfect 10 at the 2012 US Open Championship, he was quickly sponsored by three of the biggest brands in sports: Red Bull, Nike and Oakley.
Don't expect him to stop anytime soon, he recently cemented his ascent toward the top of the world rankings with his performance at the Hurley Pro this past Summer. Stay tuned to find out 3 ways you can reach a Julian Wilson level of social success.
How Does Wilson Power His Online Brand?
Wilson has an impressive social profile– over 55 000 followers on Twitter, nearly 100 000 likes on Facebook and a rapidly increasing 113 000 followers on Instagram. Although his boyish good looks help, Wilson makes a massive effort to stay active online. He tweets timely updates from his competitions, shares photos of his day to day life on the road and uses social platforms to bring himself closer to his fans.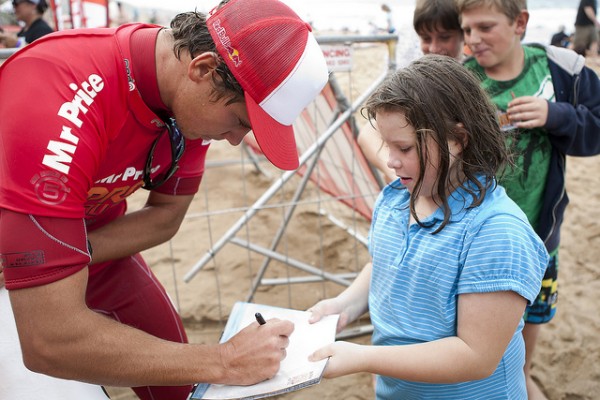 3 Surf Lessons in Social Media
Julian Wilson personifies the concept of a social athlete. He masters the nuance of social branding by being personable, amplifying campaigns and being humble and respectful of the communities that got him to where he is.
Here are three lessons you can learn from Wilson when trying to attract a strong following on social media.
1. Make Them Love You
First and foremost, Wilson understands the importance of being personable when you are a public figure. He humanizes himself by sharing anecdotes of what is happening in his life, both on and off the wave. Whether that be what he is eating, where he is travelling on days off or just photos of his friends and family.
Instead of using his networks to only promote the latest competition or promotional product, Wilson uses social to share with his followers who he is and what he likes. In turn, people who want to be like him are attracted to his brand and what he stands for. Not to mention, Wilson's savvy social media strategy makes him the perfect face for sponsorship.
2. The Power of Visuals
Wilson has found his biggest social success on visual platforms, like Instagram and Vimeo. To populate his Instagram account, he released a 'Follow Me' video on Vimeo. In just a week, he had over 15 000 views and now more than 37 000. In the short time since he adopted Instagram, he has amassed an incredible following.
Wilson uses the #TBT hashtag campaign to give his fans a glimpse of the star before fame. Childhood photos and embarrassing haircuts that make his fans feel closer to him as a person and friend. The latest addition to his Instagram campaign, #SequenceSundays, celebrates the skill of surfing photographers by montaging photos of Wilson performing difficult tricks.
On Vimeo, Wilson has uploaded over 50 videos of video eye candy for surfing fans and followers to watch repeatably. He also uses his powerful social media influence to bring viewers to his sponsorship videos on YouTube.
3. Give Credit Where It's Due
Celebrity status doesn't (usually) happen overnight, you have to claw your way to the top. Julian Wilson gives credit where it is due, his fans, his sponsors and his friends/ family. He takes gratitude to the next level, offering contest and giveaways on his Facebook page as a way to say thank you.
He stands behind causes that truly mean something to him, such as breast cancer awareness after his mother survived the disease. He understands his words and actions carry a huge influence and uses that to bring attention to important subjects.
When developing your social strategy, taking tips from Wilson's online presence is a strong place to start. Be a human, be humble and appreciative of your followers and most of all, bring a healthy balance of real and professional to your online profiles.
Put the power of social to work for you. Try HootSuite Pro free for 30 days.