With 500 million monthly active users, Instagram is second in social media popularity only to Facebook, making it the photo-and-video-sharing network of choice for consumers and brands alike. Users upload more than 95 million photos and videos every day, and those posts garner 4.2 billion daily Instagram likes. A single post—done right—can rack up tens of thousands (or hundreds of thousands or even millions) of likes.
It's not just celebrity Instagram accounts that see those big numbers: 68 percent of Instagram users regularly engage with brands. Brands using Instagram see a per-follower interaction rate of 2.26 percent, more than 10 times the 0.22 percent they see on Facebook, and almost 100 times the 0.027 percent they see on Twitter.
With that level of user engagement, Instagram provides an important way to connect with fans—and potential fans—to create a sense of community and brand loyalty that's impossible to achieve through traditional marketing, or even other social networks. But before you can start engaging with fans, you need to get their attention—and that means learning how to get Instagram likes.

Bonus: Download a free checklist that reveals the exact steps an adventure photographer used to grow from 0 to 110,000 followers on Instagram with no budget and no expensive gear.
What are Instagram likes?
As on other social networks, users on Instagram can choose to "like" your content. They can do so by double-tapping your photo or video on the mobile app, or by clicking the heart icon under your content on the app or on a desktop. Instagram users do not have to be following you in order to like your posts.
So why are likes a big deal? They're often the first point of contact between your content and a potential new follower. It's a low-commitment way for users to show appreciation for others' post, but likes can build into ongoing engagement that helps you build an Instagram community.
For brands especially, it's important to get enough likes to bolster your credibility. A photo with a very small number of likes can harm your brand more than it helps.
How to get more likes on Instagram
As with any marketing tool in your arsenal, you need to develop a clear Instagram strategy based on concrete goals. Sure, posting photos and creating witty captions can be fun, but without a clear plan in mind, it's more of a game than a legitimate business approach.
Once you've nailed down what you want to achieve with your Instagram feed, it's time to look at how the components that make up each post can give you an Instagram likes boost.
1. Post compelling photos and video
It goes without saying that you need to put some serious thought into the photos and videos you post to Instagram and make sure you choose the best looking, most interesting content for your feed. When selecting your Instagram content, keep the following three photo guidelines in mind:
Show your face (or someone else's): Photos that include people's faces are 38 percent more likely to get Instagram likes than photos without faces.
Know your colors: Pictures that are primarily blue get 24 percent more likes than photos with red as the primary color, and photos with a single unified color scheme get 17 percent more likes than those with many different colors.
Watch your filters: Researchers from Yahoo and Georgia Tech found that while filtered photos get more engagement, not all filters are created equal. Their results showed that filters to increase contrast, correct exposure, and add a warmer tone to photos have the best results. It can be easier to achieve these effects using Instagram's manual editing tools rather than selecting a pre-programmed filter. If your photo is great, don't feel compelled to filter it just because you can.
To keep your visuals unique and varied, try incorporating Instagram's other apps. Boomerang creates a short looping video, Hyperlapse creates smooth time-lapses, and Layout combines several images into a collage.
2. Spend time on the caption
Yes, Instagram is a highly visual medium—but that doesn't mean you can neglect the text that accompanies each post. Unlike Twitter, Instagram does not have a character limit, so you can write quite a long caption to go with each photo or video (if it makes sense for your brand). It's a format that allows for highly engaging storytelling, something National Geographic has mastered.
Sure, a cute baby animal pic is likely to get a good number of likes all on its own, but the story about Mama Penguin's "heroic parenting skills" makes it virtually impossible not to like this photo.
But your story doesn't need to be a long one: An effective caption can be only a few words long. If you're not sure what to use for a caption, try asking a question. It's a surefire way to engage users, who will jump in with their answers in the comments—and often give your photo a like at the same time.
3. Add a location tag to make your content more discoverable
The "add a location" option allows you to tag your posts with a place name that becomes a clickable field. Clicking on the location then shows all photos and videos tagged with that place, offering another way for users to discover your photos.
Easier discovery means more people will see your photos, so perhaps it's not surprising that posts tagged with a location get more engagement than posts that don't.
A physical location associated with your brand—like a shop, hotel, or head office—is an obvious choice, but you can also use a more general location like a city or town.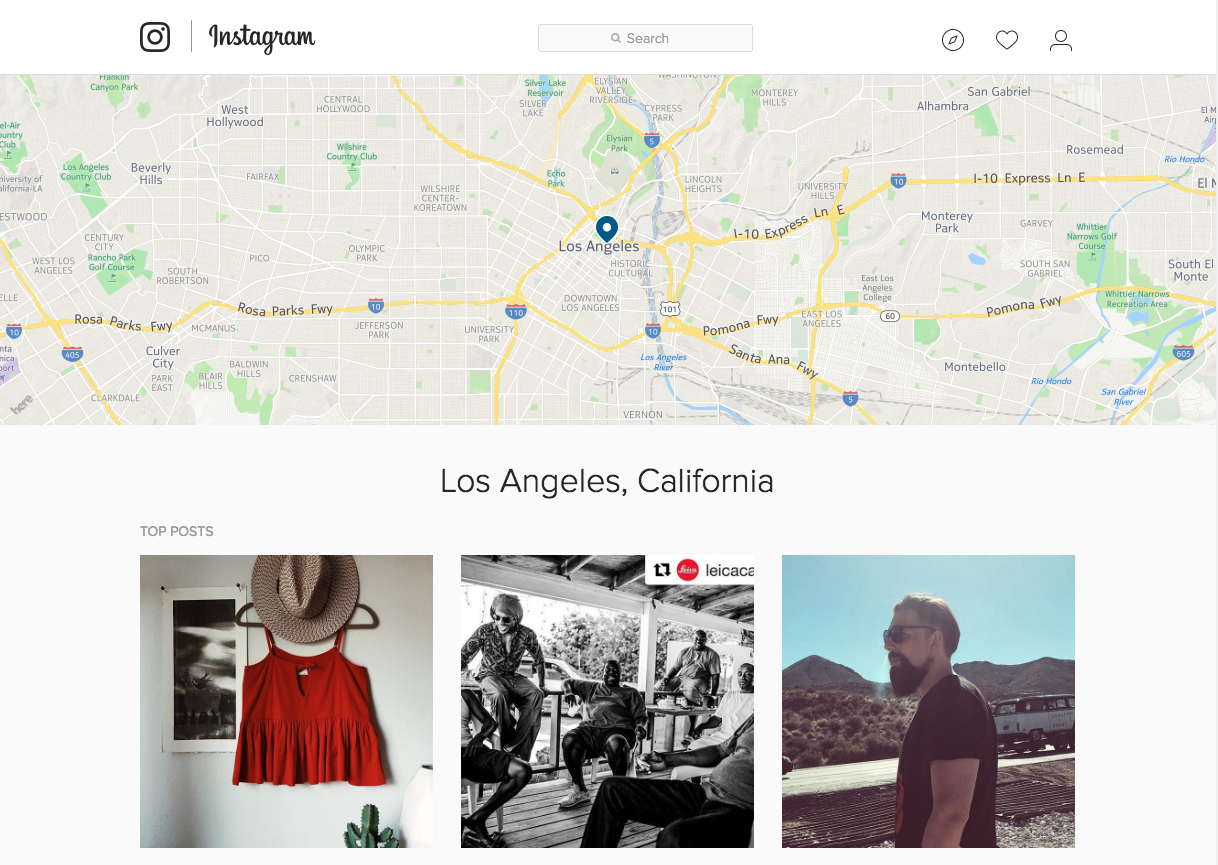 If you post, for example, from partner locations, community or networking events, or tourism destinations, you'll likely use different location tags for different posts. Instagram will provide a list of suggested locations for each photo.
4. Use hashtags—wisely
Hashtags are not technically a separate component of your post, but they're so important that they're worth considering on their own. First, think about where to include your hashtags. You can include the most important two or three hashtags in the photo caption, but don't go overboard—a big block of hashtags is hardly compelling content.
If you want to use more than a few (Instagram allows up to 30 per post), post them as a comment. Once users start to comment on your post, the comment with the hashtags will be hidden from view, but the tags will still be in effect.
When deciding which hashtags to add to your post, keep in mind that the most popular tags may not be your best option. Tags like #like4like are popular, but they're pretty obviously fishing for likes rather than building meaningful engagement. Many of the likes they draw in are not even from real people, but from bots.
That said, there are plenty of popular hashtags worth using in your posts, including at least one themed hashtag for every day of the week. For example, LeBron James's vintage photo with the ever-popular #tbt hashtag (short for #throwbackthursday) garnered more than 265,000 likes.
For more hashtag tips and strategies, check out The Complete Instagram Hashtag Guide for Business.
User-centric strategies to get more Instagram likes
When you're on the hunt for Instagram likes, you need to make sure you're giving users what they want, when they want it. Here are some key user-focused practices to keep in mind.
1. Incorporate user-generated content
Create a branded hashtag and encourage Instagram users to include it with their posts. This will give you access to an important source of likeable content that's ready for you to regram. Make sure to tag the original photographer in your caption.
2. Mention and engage with other users
Tagging someone in your photos is a sure way to draw their attention—and that of other users interested in the person you tag. Posts that tag someone in the caption get more engagement. On the flip side, be sure to venture beyond your own photo stream to like and comment on other users' photos and videos. That engagement can draw people back to your profile, where they're sure to find some like-worthy posts to double-tap.
3. Post consistently—and at the right time
When you're consistent, users know what to expect from your feed. A regular posting schedule that coincides with the times your audience is most active on Instagram keeps followers engaged without overwhelming their feeds. Be sure to choose an aesthetic for your feed and stick to it. Any major change can throw users off and suck likes away from your posts.
4. Be true to who you are
Social media is a place of community-building, and you simply can't build a community if you're not authentic. If you're unsure about how to create an engaging brand personality on Instagram, seek inspiration from others who have got it nailed.
Once you start incorporating these techniques to get Instagram likes, be sure to monitor and measure your efforts and adapt your overall strategy as needed.
A final word of warning: You may be tempted at some point along the way to buy Instagram likes or try other shady tactics to up your like count. Don't do it. The only likes that matter are those that come from real people who want to engage with you and your content.
Now that you know how to drive more Instagram likes, find out how to get more Instagram followers in our complete guide.
Save time managing your Instagram presence by using Hootsuite to share Instagram video, schedule posts, and monitor your efforts. Try it free today.