#HootSuite Social Analytics Close the Gap Between Actions and Results on Social Media Efforts
Since the recent release of the all new HootSuite Social Analytics in the dashboard, we've seen fans of the dash singing the praises of the fully customizable reports.
In case you missed it, we've revamped the analytics for all users — Basic, Pro and Enterprise — with over 30 modules that can be mixed and matched into report templates. They're customized, simplified and automated, which means you can easily track the results of your actions on the social web.
We've even got a video featuring music from the Salteens that we're sure you'll enjoy.
HootSuite Social Analytics from HootSuite on Vimeo.
Socializing 'Bout Analytics
Folks are talking about HootSuite's Social Analytics. With so much buzz, we wanted to share the reviews from those who gave the Reports a spin. Here are just some of the posts covering everything from how to use the new modules, to how you and your team can benefit from them:
Mashable – HootSuite Analytics Just Got A Whole Lot Better
One of the notable features of the new Social Analytics is the ability to customize and create reports. Using the dashboard's Report Builder, you can select from more than 30 measurement modules that include metrics for your Twitter profile, aggregated Ow.ly click stats, Facebook Insights and Google Analytics. The builder also enables you to create a unique look to the report by adding a personalized header and logo.
ZDNet – HootSuite Hatches Reporting, Deeper Analytics
Since HootSuite was already pulling in data from your tweets, Facebook Insights, and Google Analytics, building out their own reporting system to leverage all this data for customized reports was the next logical step. Their first foray into this is nothing short of awesome.
Yahoo News – HootSuite Launches Social Media Analytics Platform
Social Analytics, a completely overhauled expansion of previously offered analytics tools by HootSuite, offers user real-time analytics information, viewable through up to 30 different report modules, which are accessible through a new dashboard and sidebar.
Read Write Web – Hands-On With HootSuite's New Social Analytics Dashboard
Social media management dashboard HootSuite launched a dramatic overhaul to its analytics dashboard earlier this week, giving marketers and community managers more powerful reporting tools.

We spent some time with the new dashboard, and it's pretty impressive… The real magic lies in the new "Custom Reports" tab, a drag-and-drop interface from which you can hand-select modules with a wide selection of metrics for any date range.
John Haydon – HootSuite Now Offers Social Analytics And Custom Reports
HootSuite, a tool that allows you to manage multiple social media accounts (Twitter, Facebook, LinkedIn), has recently beefed up their reporting module to help you do the following:

Track mentions on Twitter
Measure Twitter follower growth
Analyze Facebook "likes" and demographics
Overlay social media stats and website visits from Google
Read Write Web – HootSuite Moves into Social Analytics
The service is designed to fulfill the more common requirements that comes with the advent of social technologies. As companies engage more, there will be a requirement for a new form of social analytics that give an overall sense of volume, visibility and perception about what is being tracked.

The service is integrated into the HootSuite environment. It can be skinned for the company or the client.

Reports can narrow in on specific campaign elements or give an aggregated view of all user profiles within various networks. The reports are fully integrated with Google Analytics and Facebook Insights and a HootSuite short URL. Reports may also be edited and shared.
More Reading
There lots of great reviews this time around, so we thought we'd include as many as we could find. Here are some more articles for further reading:
Burgie Media Fusion – HootSuite Reinvents Social Analytics ~ Custom Reports to Measure Success
My Tech Opinion – HootSuite: Custom Social Media Analytics Reports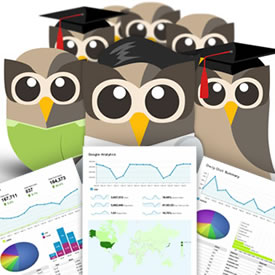 I Like Pay Day – Track the Return on your Social Media Investment with HootSuite's New Social Analytics
I Like Pay Day – HootSuite Launches Social Media Analytics Platform
News Blaze – HootSuite Reinvents Social Analytics Reporting in Social Media Dashboard
Danny Brown – HootSuite Gets Social With New Analytics
Upstart Internet Blog – HootSuite Adds Analytics
Walker Marketing – Social Media Management Dashboard Round-up
Have you written one we haven't included yet? Let us know @HootWatch — we always enjoy reading your reviews and learning what you love about the dash.
International Analysis
The new Social Analytics update resonated with fans around the world. There were hoots in many languages including, Spanish, French, German, and Dutch. Here are just a few:
WWWhat's New (Spanish) – HootSuite lanza una plataforma de estadísticas de redes sociales
HootSuite launches a platform for social network statistics.
Clases de periodismo (Spanish) – HootSuite relanza su plataforma Social Analytics
HootSuite relaunches its Social Analytics platform.
Viayoo (French) – Du social analytics au social CRM
From social to the social CRM analytics
t3n (German) – HootSuite Social Analytics: Umfangreiches Social Media Monitoring
HootSuite Social Analytics: Comprehensive Social Media Monitoring
Twitter Smash (German) – Hootsuite – Super Social Analytics
Insperide (Dutch) – Nieuwe statistieken in HootSuite – Social Stats
New Statistics HootSuite – Social Stats
Keep in Touch
Stay tuned for more great developments coming up on our roadmap. You can keep up to date by following @HootWatch on Twitter, and for more information on using HootSuite Social Analytics Reports, be sure to check out the Help Desk for articles and Community Support Forums.