Social media campaigns have proven themselves to be up to 60 percent percent more effective than traditional advertising campaigns. So why aren't more brands running them? Launching your first social marketing campaign can seem daunting. There are a lot of moving parts and factors to consider. That being said, if you're prepared, social media campaigns can actually be simple—even fun to build.
If you're just starting out, there's a few things you should know before you venture into the world of social campaigning, and we're happy to walk you through them. Follow this step by step guide and start capitalizing on one of the most effective social media tools for business.
Get a campaign builder
Before you launch any kind of social marketing campaign, you're going to need a campaign builder. If you use a social media management platform, using a campaign builder is a very similar experience.There are a few different social marketing campaign platforms out there, and they each offer a unique campaign building experience.
Picking a campaign builder is easy once you know what your main goals are. If you're interested in social marketing campaigning as a way to generate leads, look for a builder that offers multiple customizable form-fill campaigns like sweepstakes, polls, and quizzes. The more freedom you have to tailor the form, the more successful these campaigns will be. More specifically, they'll be successful on your terms. Whether you want a more detailed portrait of your fanbase on social media, or to generate as many email addresses as possible for your database, this flexibility will pay off.
If you have a creative fanbase or a visually compelling product, you might want to explore the world of user-generated content (UGC) campaigns. This includes photo contests, video contests, and social galleries.
The best campaign builders for UGC should, at a minimum, allow you to:
Curate your fanbase's creativity via hashtag(s) or mentions
Moderate, approve, ban, or download UGC
Aggregate photos, videos, and/or Tweets onto a centralized page
Create galleries where fans can vote, comment and share to encourage further engagement
One social marketing technique that campaigns can help you explore is social commerce. At its most basic form, social commerce is when companies populate a shoppable catalog with user-generated photos and videos of their products. It's a great way to turn all that UGC into actual sales.
Beyond the campaigns themselves, there are other traits to look at when choosing your campaigns platform. How extensive is the built-in analytics platform, and how well does it integrate with Google Analytics? Is it easy to use? Do you like the design? How much support does the platform come with?
Once you've found a social marketing campaign platform you like, you can start to think about launching your first campaign.
Identify your campaign idea
Once you've got the platform, it's time to pick up your markers, find a whiteboard and start thinking about your fanbase, your company, and how to celebrate them with your first social marketing campaign.
What do you want this campaign to accomplish? Each campaign template has its own strengths and weaknesses, and you'll want to pick a campaign type that will align with your marketing goals. If you want to generate leads, form-fill campaigns like those mentioned above will fill in the blanks (quite literally) of your social fanbase. If your customers are actively producing UGC already, running a UGC campaign will not only make the most of that but demonstrate to your fans that you're paying attention to what they're up to on social media. These campaigns can be contests, but they don't have to be. If you want to generate UGC without the pressure of deciding who won a contest, you can always choose to run social galleries or hubs, which display aggregated UGC without putting your fans in direct competition.
Ask yourself:
What do your fans love about you?
What do you wish your fans had a better understanding of?
Why do you love your fans?
And who are they when they're not buying your products?
One way to get a more fleshed-out understanding of your fans and what they like about you is just to listen to them on social media.
Different segments of the population are found on different social networks. If your target demographic includes a lot of Boomers, a Vine campaign might not be the most direct way to reach them. Likewise, if you're trying to engage with teenagers, a campaign hosted on Facebook might reach them but not connect with them. To teens, Facebook has become a newspaper—a place to read about current events or announce and celebrate life's milestones. Social marketing campaigns that depend on excitement and engagement won't thrive with this demographic on Facebook.
Wherever they are, start tracking the hashtags that are connected with your business, and take some time to review what your fans are saying about you. If there's a favorite product or a common gripe that you find coming up often, maybe you can address it in your campaign.
Look at your calendar before you design any marketing campaign: is there an upcoming holiday that brings in business for your company? Or is there a product launch or anniversary that you want to commemorate? Those are all good reasons to launch a campaign, and they have a built-in hook to entice your fans.
Once you know why you're launching a campaign, what kind of campaign you want to run, and how you'll position it to your fanbase, it's time to design and launch your first campaign.
Design and launch
Armed with your idea, it's time to build out your campaign.
There are a few key components that your campaign has to have. It's got to have a name, a home, and a set duration. Some campaigns, like social galleries, can be permanent fixtures, but they're the exception, not the rule. If you're going to run many campaigns, two weeks is a good length, especially if they're sweepstakes or polls. For campaigns that take more work to enter, like a Photo or Video Contest, you might want to give your fans a month.
In terms of visual design, all social campaigns have the basics in common. Firstly, it has to have a header. Your header's proportions should be spelled out by your campaign builder—you'll need one for desktop entrants, and another for mobile devices. This header should have the general principle of the campaign spelled out—you have to give people a reason to scroll down and enter, after all. Opening the header's copy with a verb is always a strong choice. This isn't a place for a lot of words. Generally, they say you shouldn't put more than six words on a billboard. I'd say the same thing is true for a social marketing campaign's header.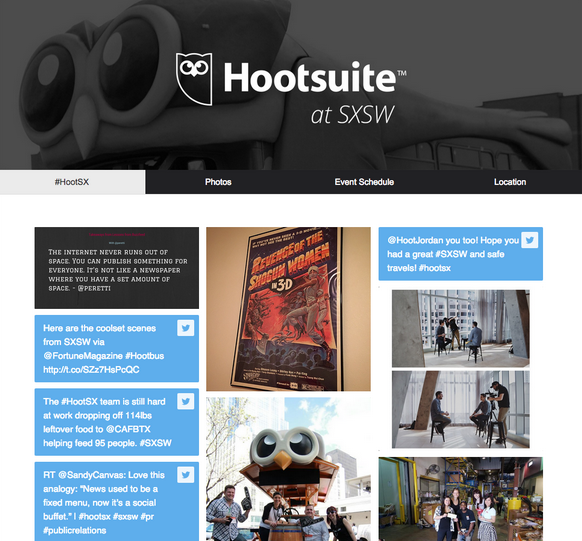 You've also got to get your body copy written. You won't need more than a few sentences—the campaign builder can create a separate page for all the necessary rules and regulations. Take the body copy as an opportunity to boost your brand and your fans. Your fans are here to check out your campaign because they're smart enough to recognize a great opportunity to engage with your brand.
While you're going through the building process and uploading all the necessary components, there are a couple of optional features that you might want to make the most of. If you're running a form-fill campaign of some kind, make sure to customize the form to take in all of the different pieces of information that you want to collect. If you're running a contest with a prize, you might want to restrict the participating countries to places you're willing to ship to. If your fanbase is multilingual, some campaign builders will allow you to post multiple translations of the campaign.
Most campaign builders should give you an option to customize the 'Thank you' page—the page that your fans will see once they've submitted their entry to the campaign or contest. This is a valuable piece of social media real estate. Why not include a special offer or reward for the people who followed through and entered? You can always change the Thank You page once a certain amount of time has passed, and reserve the rewards for the early birds.
Another optional feature that your social media campaign platform should offer is incentivized sharing. If you choose to enable incentivized sharing, every entrant who shares the social campaign's link across their social networks receives additional entries. If this campaign is going to be hosted on or heavily promoted on Facebook, this is a very good thing to enable. Facebook significantly reduced brands' organic reach early in 2015, so your fans will be able to promote your campaign on Facebook more effectively for free than you can without investing in paid promotion. Each Facebook user has a median of 200 friends. That kind of exponential reach is extremely powerful.
Once you've built the components, uploaded them to your builder, and chosen which optional features to enable, it's time to launch.
Promote the heck out of your campaign
And with just one click of a mouse, your campaign is live. Give yourself a minute and a half to be pleased before you get right to work promoting it.
Static promotion is an important first step. If your promotion is on a microsite or your Facebook page, include a link to the campaign on the landing page of your website. If you choose to build the campaigns into your home site, make sure they're easy for your fans to find.
No matter where you're hosting the campaign, promote the campaign where your fans are. If you use a social media management tool, you can build out a queue of promotional Tweets and statuses for your official channels. But it's important not to rely exclusively on automated messaging. Fans want to be interacted with. Reach out to the entrants as soon as you get their submissions, whether that's a form-fill, photo or opinion.
Promoting your social marketing campaign in your newsletter by email can be very effective. Rather than blasting your subscribers with an email exclusively focused on the campaign, make the campaign the first order of business in the next issue of your existing newsletter. One of our clients used this tactic and saw 40 times more entries on that day than any other day during the campaign. The people who are subscribed to your newsletter already care about your brand; they're a natural fit to enter your campaign.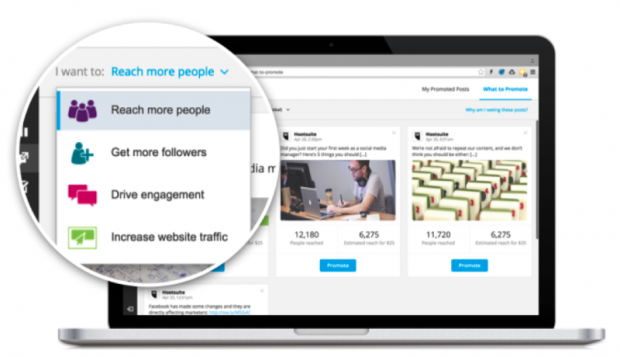 If you do want to invest in promoted Tweets and or Facebook ads, there are some things you should know. On Facebook, promoted posts have become less of an option and more of a necessity. In 2013, 9 percent of all Facebook page posts were promoted. In 2014, that number doubled to 17 percent.
To make your promotional content stand out, include something visual with your posts. Photo content has become common on Facebook: to stand out from the crowd, try video content, which has become more and more effective. A video post on Facebook now has twice the organic reach as a photo (8.7 percent vs 3.7 percent).
Promoted Tweets are another possible investment for your campaign. Maximize their effectiveness by keeping them short. Tweets that are 100 characters or less win 18 percent higher engagement than those around the full 140 mark. It's always good to have a photo, but it's better to have more than one. Tweets with a photo series have a 173 percent higher engagement rate than Tweets with only one; Tweets with Vines have a 256 percent higher engagement rate than one-photo Tweets.
Promote this campaign until the very, very end. Many organizations see a bump in the number of entries in the final days of a campaign. To maximize your entries, keep engaging and promoting until the clock runs out.
End the campaign
The end of your campaign is not the end of the checklist.
If your campaign can be won, choose your winner. Whether this is by a randomized draw or careful deliberation, make someone's day and pick a name. The final outcome of the social marketing campaign should be announced as soon as humanly possible. You'd want to know if you won a social marketing campaign, after all.
As soon as that announcement goes up, reach out to everyone who entered the campaign. Thank them, and offer them an exclusive coupon, unless you already did on the campaign's Thank You page. Last year Hootsuite ran a contest giving away Hootsuite Pro for life. We collected emails from entrants, and when the contest ended we followed up, offering trials of Hootsuite Pro and Hootsuite University. These emails were targeted to people who clearly had an interest in the product, and we had impressive open and conversation rates as a result.
If you ran a poll or a quiz, forward the results over to a blog writer and create one more piece of shareable media. If you ran a gallery to collect UGC, review your aggregated content. You might have the raw materials to start building a social commerce catalog.
Once you know what you have, it's time to study the data behind it. This is where the analytics aspect of your campaign builder will shine. Did you achieve the results you wanted? What can you do next time to achieve an even greater goal? Take the data you learned from each social marketing campaign, and use it to improve your next one.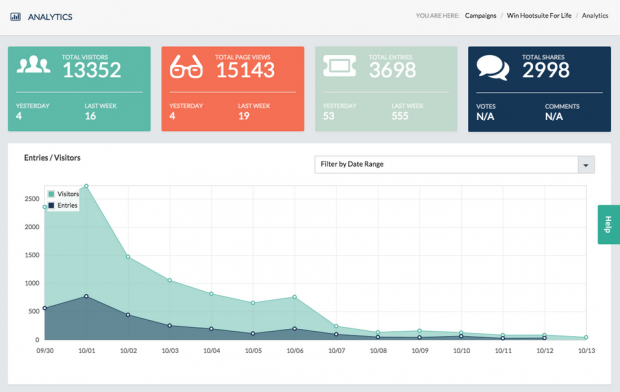 Social media campaign checklist
Get a campaign builder
❑Identify your goals
❑Select campaign types to match those goals
❑Select features you want, from analytics to support
❑Find a platform that meets your needs for all of the above
Identify your campaign idea
❑Identify what you hope to accomplish with your campaign
❑Listen to and get to know your followers
❑Choose the best social networks for your audience
❑Find a hook for the launch of your campaign
Design and launch
❑Choose your campaign's name, home and duration
❑Design your header image and header copy
❑Write your body copy
❑Consider the information you need in your form
❑Customize your Thank You page
❑Add social share incentives
Promote your campaign
❑Promote across social channels where your audience resides
❑Engage followers and campaign participants on social media
❑Invest in paid social media promotion
❑Share link to your blog and website
❑Promote your campaign in your email newsletter
❑Promote the campaign until the very end
End the campaign
❑ Announce your winner if applicable
❑ Follow-up with all entrants with a coupon or promotion
❑ Use UGC for future branded content
❑ Study the data and use it to improve future campaigns
To learn more about social media campaigning, leave your questions in the comments, or reach out to one of Hootsuite Campaigns' Customer Success Managers today.