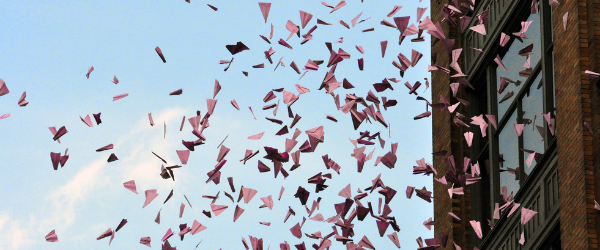 5 Social Media Campaign Ideas for Small Businesses
You know the desired outcome of your social media campaign, but what is the best way to achieve that? Whatever the goal of your brand's social media campaign may be, the first step is to give your audience a good reason to be engaged.
We've talked a lot about social media campaigns: what tools you can use to create them, optimize them, and track their results. But first, there's always an idea—and that idea is often the most important determining factor in your social media campaign's success.
For inspiration, we turned to a few companies that use Hootsuite for social media management, searching for creative examples of social media campaigns.
Here Are 5 Social Media Campaign Ideas
Add a personal touch
Since one of the most important things a brand can improve on social media is customer service, it's easy to turn this into an opportunity to reward your fans and get potential customers. The Virgin Group, notorious for their expansive campaigns, made waves in the social media advertising world with their Flying in the Face of Ordinary campaign. One part of this campaign involved Flying in the Face of Ordinary, or #FITFOO, crews scouring social media for people who could use some cheering up, and messaging them with a surprising offer. Those who received such pleasant surprises could then tweet about their experience using the official campaign hashtag.
Just this happened: http://t.co/PytvcvkG4o VirginAtlantic shows up with a ride & gloves. Tweet #FITFOO if you need a rescue!!!

— Melanie Nayer (@chic_travel) March 19, 2013
You don't have to have the resources of an international business to create a similar social media campaign—there are tools to help you find people who may be interested in your product in your area. For example, your brand can use Hootlet's "Tweets Near Here" feature to find people on social media who could benefit from your services, and pay it forward.
Crowdsource for engaging and authentic content
No one can tell a better story about customer experience of your brand than customers themselves. A bare minimum of social media strategy for businesses nowadays is to create a memorable official hashtag to track your customers' interactions on Twitter and Facebook. Many businesses go beyond that: for example, Contiki Holidays team up with YouTube celebrities to share traveller-generated video and photo content in the annual Contiki Road Trip campaign. The road trip gives fans an opportunity to meet with their favourite YouTubers, and engage with the business by adding the official hashtag #ContikiRoadTrip2014.
Today was the best day ever… Thank you @PhillyChic5 and @Jessewelle #contikiroadtrip2014 — I MET THEM (@RubyRubyx3) August 3, 2014
The experience doesn't always have to be a direct description of the brand, but rather a story representing your company's core values. One of the most heartwarming examples of this is Airbnb's short film made entirely out of Vine videos filmed by their social media fans. This massive campaign started on Twitter, where Airbnb posted instructions on how each shot should be filmed. The participants then had 48 hours to submit their Vine, along with the hashtag #Airbnb and shot number, for a chance to be included in the final project and receive Airbnb credit. The result is a beautiful story of paper boats and airplanes adventuring on different terrain.
Make the campaign a part of a lifestyle
In order to track the social conversation around your campaign, use a hashtag that is easy to spell and remember. Naturally, customers would want to tag your brand, so the campaign hashtag doesn't have to include your business' name. Instead, think of a lifestyle your customers embrace: whether they are foodies, do yoga, or seek out the latest makeup trends, take advantage of that fact that your brand is a part of that lifestyle. For example, Vega encouraged their customers to share how they include Vega supplements in their healthy lifestyle choices for the upcoming year, using the hashtag #OneChange to track the campaign. Customers shared smoothie and snack recipes that included Vega products, thus creating brand awareness through favorable association with healthy diet and positive change.
My version of @Miss_Whisk Elvis Protein Oats! @VegaTeam #OneChange pic.twitter.com/tcPIyUZgfu — Beth Miller (@millerbeT) February 23, 2014
Herschel Supply Co. is another brand among the leaders in lifestyle content. Herschel's #WellTravelled campaign encouraged their fans to share photos of their journeys on Instagram, for a chance of their travels being featured in a photo series on the company's official site. The best thing about a memorable, versatile hashtag? It can be repurposed for several campaigns: Herschel Suppy Co. used the same hashtag for a contest where fans had to answer questions to win a Herschel backpack.
Let your customers decide
One of the most important campaigns is the launch of a new product. Brands spend a lot of time and resources on researching how the customers respond to the new offer—the prevalent reaction often determines the fate of the new release. So why not let the customers give their feedback on social media? When Five Guys restaurant, notorious for their bare-minimum menu of burgers and fries, decided to introduce milkshakes to their menu, they encouraged customers to share their thoughts on social media using the #ShakeYourShake hashtag. The campaign generated thousands of interactions, thanks to a simple, easy-to-remember tag that made it easier for customers to share visually engaging content.
Salted caramel & bacon, chocolate & bacon shakes #fiveguys #awesome #shareyourshake #bacon pic.twitter.com/msp7QyN03a — Ravirheart (@ravirheart) June 23, 2014
Make the customer a part of something bigger
Everyone is attracted to the idea of helping out someone in need, but not everyone can commit to volunteer hours or charity trips. This may be the reason why customers respond so well to one-for-one campaigns, such as the one that made TOMS shoes their name—campaigns that allow you to help out by simply making a purchase. A recent campaign by DAVIDsTEA followed the one-for-one principle by donating a warm beverage to a local hunger relief shelter for every cup of tea purchased at their stores. They encouraged customers to share their Cup of Warmth post on Facebook, and retweet Tweets that mentioned the campaign.
Best. Fans. Ever. With your support, we reached our goal of 150,000 donated cups of tea! So much love ♥ #cupofwarmth pic.twitter.com/PJNAOMta7F — DAVIDsTEA (@DAVIDsTEA) January 29, 2014
Now that you have ideas for successful social media campaigns, Hootsuite Campaigns can help you manage them.