Social Media Intelligence Webinar ~ Now Available On Demand

It's time for marketers to elevate the role of social data. That was the biggest takeaway from last week's webinar, Social Media Intelligence: Turn Insight Into Action, now available for on-demand viewing.
HootSuite invited Allison Smith, a guest speaker from Forrester Research, and Marc Pascarella, CEO of recent HootSuite acquisition, UberVu, to join Jeanette Gibson, HootSuite's VP of Community, to discuss the business potential of social media intelligence in the marketing department and beyond.
Many marketers face a dilemma: social media now features more networks, users, and data than ever before, but when marketers turn to it for insights, it can seem inadequate. We asked our audience to evaluate their use of social data in terms of a four-stage maturity model.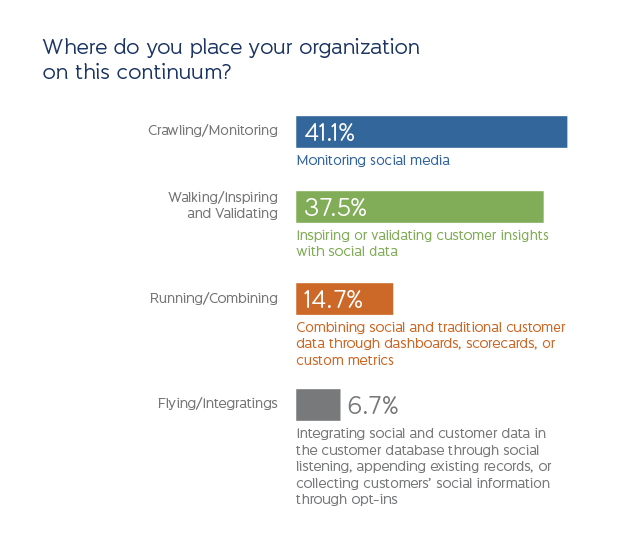 The vast majority of respondents reported being in the crawling or walking stages of this social data continuum. Most of them are either monitoring social media, or using social media to validate or inspire customer insights. Far fewer are combining social data with traditional data through dashboards, scorecards, or custom metrics, and only a handful have integrated social data into their customer databases.

Jeannette Gibson explained that traditional data sources, including customer feedback survey results, are typically siloed off in a separate business function or department, usually in market intelligence. Social data—the new kid on the block—is collected and analyzed its own part of the enterprise, usually in a dedicated social media function. If social data is isolated from other data sources, marketers are liable to use it only for measuring their social campaigns and therefore miss out on its potential to generate actionable customer insights for the whole enterprise.
Combining structured data sources, such as customer satisfaction reports and Net Promoter Scores, together with unstructured data from social media is "actually quite a big challenge… in any organization," Gibson stressed. However, the opportunity for marketers to provide their organizations with a deeper, holistic view of customers is simply too good to pass up.
Gaining a 360-degree view of customers is now mission-critical for marketers. But arguably social data will make its greatest impact outside the marketing department, in a wide variety of other business functions from research & development to human resources. Marketers currently use social data far more regularly than their colleagues in other groups (a truth borne out by the results of our second poll question, below), so their leadership is crucial to making that data available throughout the enterprise.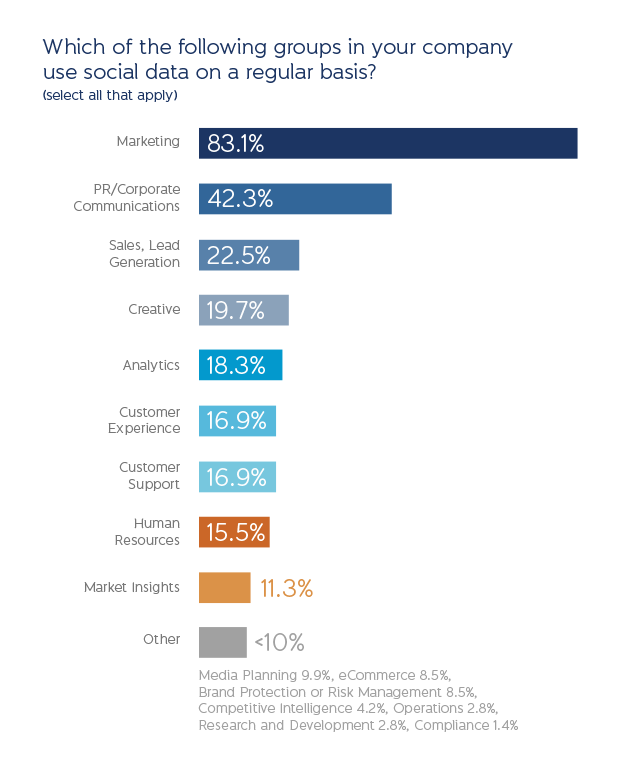 Putting social data into the hands of decision-makers in every department is one of the hallmarks of Social Media Intelligence. But if the sheer volume of social data can overwhelm even experienced analysts in the marketing department, how can managers and front-line workers in other business functions hope to make sense of it all?
According to Marc Pascarella, CEO of UberVu, the key is to empower an organization with software that "distills real-time information down to just what matters to you, right now". Relevant insights must flow to the people who need them, and reach them in time to make a difference.
The only way to avoid the fuzzy thinking that results from data paralysis, advised Pascarella, is to "focus on actionability to help people make business decisions".
To find out how your enterprise can implement an organization-wide strategy for social media intelligence, view the webinar now in its entirety or download the companion white paper, "Turning Insight Into Action: The Journey to Social Media Intelligence".