Top 10 Global Twitter Trends of the Week ~ Volume 62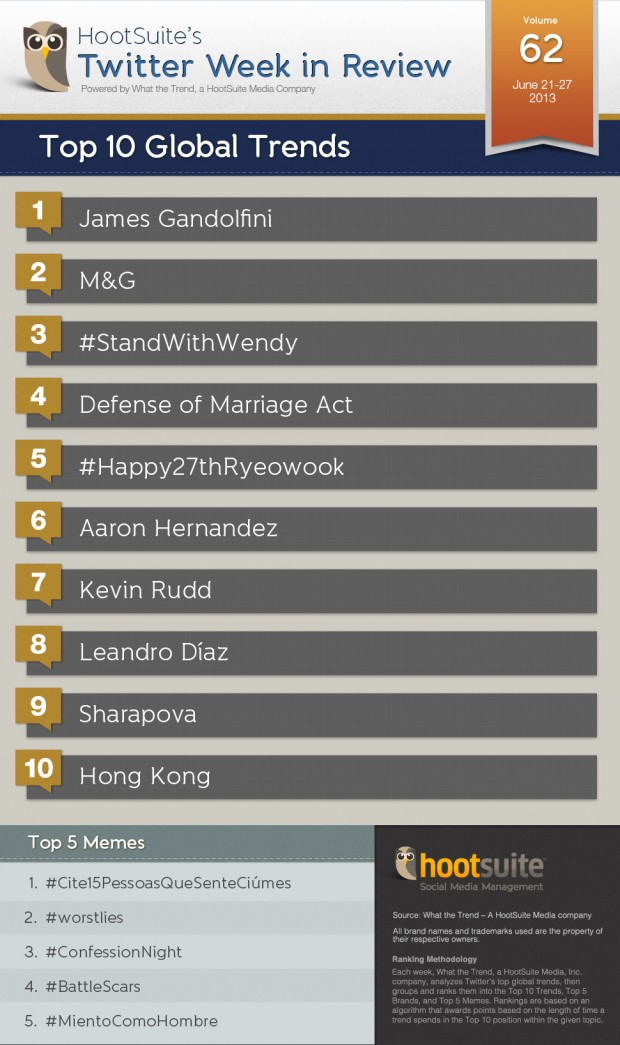 This week's Top 10 Global Twitter Trends is slightly American-centric after their huge week breaking global news. From one of the fastest civil rights shifts in America's history taking place to a momentous stand (in Supreme Court) for reproductive rights, here's what trended to the top of Twitter's global radar.
#1: James Gandolfini Passes Away
James Gandolfini was vacationing in Sicily before attending the Taormina Film Festival, when a sudden heart attack took his life on June 19th. The news rocked the world and sent shock waves through Twitter. Gandolfini was widely recognized for his role as Mob boss Tony Soprano on the ultra-popular gangster tv series, The Sopranos.
His funeral took place Thursday at New York's Cathedral Church of Saint John the Divine, one of the largest churches in the city. In attendance were several celebrities and thousands of fans, family members and friends. Broadway even dimmed their lights in honor of the passing of a great entertainer. Fans around the globe mourned his death and celebrated his achievements on Twitter, becoming the number one Twitter trend.
#2: M&G with 1D and Bieber
Meet and greets are almost an unfair trend. They basically apply to any artist doing a global marketing push. With that in mind, millions of One Direction and Justin Bieber fans made M&G trend as they shared their fan pics with the celebrities.
#3: #StandWithWendy
On Monday, a law banning all abortions in Texas, U.S. would be passed, with stringent new restrictions on clinic licensing.
But then something special happened. On Tuesday, Democratic State Senator Wendy Davis and her supporters, held a 13-hour filibuster, stopping the controversial abortion law from moving forward. Thousands supported her on Twitter with the hashtag #StandWithWendy. A video of her filibuster along with hundreds of shouting supporters in the Supreme Court, received almost 500K views YouTube – and caught the attention of President Barack Obama:
Something special is happening in Austin tonight: http://t.co/RpbnCbO6zw #StandWithWendy

— Barack Obama (@BarackObama) June 26, 2013
#4: Defense of Marriage Act; #DOMA
This week was a big one for America, hence the global trends. On Wednesday one of the fastest civil rights shifts happened in their history. Seventeen years ago, a Democratic President signed a federal law that defined marriage as a union between man and wife. Struck down by the U.S. Supreme Court, they ruled that denying same-sex marriages of federal benefits is unconstitutional.
"DOMA (Defense of Marriage Act) instructs all federal officials, and indeed all persons with whom same-sex couples interact, including their own children, that their marriage is less worthy than the marriages of others," said Anthony Kennedy, who authored the majority opinion. "The federal statute is invalid, for no legitimate purpose overcomes the purpose and effect to disparage and to injure those whom the state, by its marriage laws, sought to protect in personhood and dignity." Basically, gay marriage is now recognized by federal law.
It's about time, America. Marry the one you love!
#5: #Happy27thRyeowook
South Korea's K-Pop boy band Super Junior's Kim Ryeowook celebrated his 27th birthday on June 21st. The hashtag #Happy27thRyeowook pretty much says it all.
#6: Aaron Hernandez
If you signed a $40 million contract, would you throw it all to the wind?
After renewing a five year NFL New England Patriots contract, Aaron Hernandez was charged with first degree murder. The American footballer is under investigation for the death of Odin Lloyd and now for possible involvement of a drive-by shooting that killed two in Boston back in July 2012. Apparently, after nearly a year of searching, the Boston Police Department found a silver SUV that's linked to the scene of a double homicide. Hernandez may have been the renter of the SUV at the time of the killings.
#7: Kevin Rudd Ousts Julia Gillard
Kevin Rudd has ousted Australian Prime Minister Julia Gillard to return as leader of Australia's Labor Party. In a leadership ballot called by Gillard herself, Rudd won 57 votes and Gillard, 45. This Prime Minister musical chairs oust happened just in time for Australia's upcoming federal elections set for September 14th.
#8: Leandro Díaz
Colombian vallenato music composer, Leandro José Díaz Duarte, passed away on June 22. The Colombian city of Valledupar's streets were filled with hundreds of fans to show their respect.
#9: Sharapova
Former tennis champion Maria Sharapova crashed out of Wimbledon 2013 in the second round after losing to Portuguese qualifier, Michelle Larcher de Brito. Since her loss, Sharapova trended further as she vocally watched her boyfriend Grigor Dimitrov meltdown as he tried to tackle the Wimbledon court.
#10: Hong Kong
Edward Snowden, the now infamous former CIA employee who leaked documents on the U.S.' extensive surveillance programs, hid in Hong Kong for several weeks. Snowden flew to Moscow on Sunday, but the issue has raised tensions between uneasy U.S. partners – Russia and China. Although Obama dismissed him as "a 29-year-old hacker," Snowden probably won't be returning to the U.S. of his own free-will anytime soon.
Check out what's trending in our U.S. Twitter Trends of the Week.
Never miss another tweet or trend with HootSuite's killer social media management tools.