Top 10 Twitter Trends of the Week by Ad Age and HootSuite (USA), Volume 51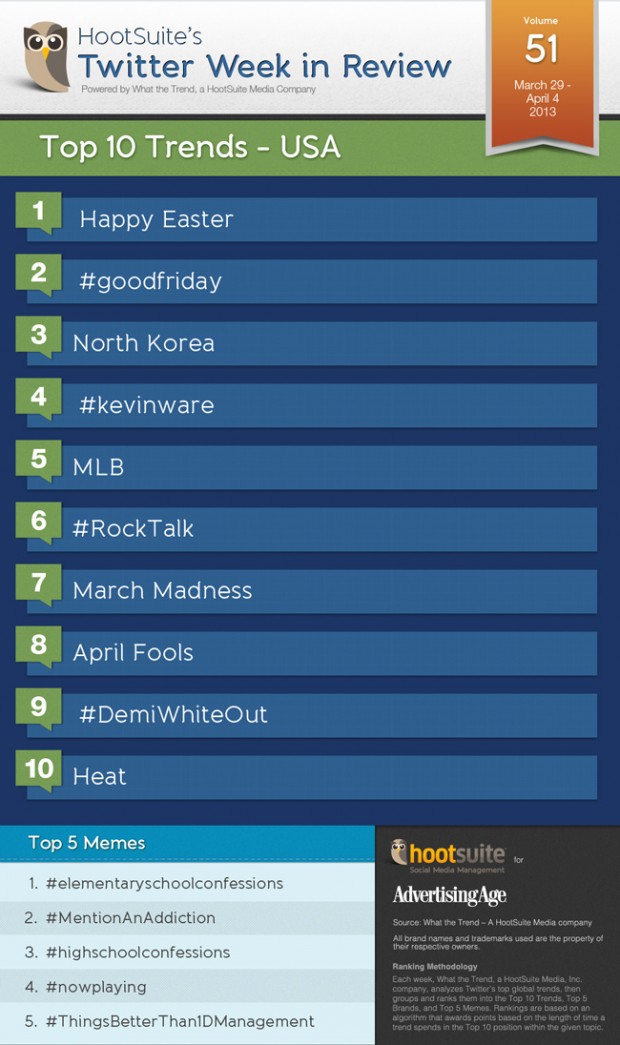 Ahh, Spring. A time for blossoms, bunnies, long weekends and sports. While college basketball's main event, March Madness gathers a variety of trending hashtags, WWE wrestling fans battle it out in social media for their fave WrestleMania champion.
Happy Easter and #GoodFriday
While these Twitter trends are self explanatory, it's interesting that they're both trending over serious threats against the States. Perhaps this says something about American Twitterers trying to keep things light in social media?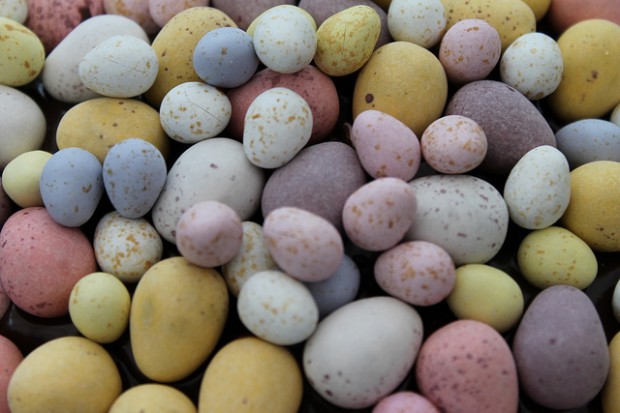 Last weekend, people celebrated Easter, religiously known as the Christian holiday and festival revolving around Christ's death and resurrection. Good Friday is primarily observed during Holy Week on the Friday preceding Easter Sunday, and coincides with the Jewish observance of Passover. This holiday commemorates Jesus Christ's crucifixion and death at Calvary. Easter, on the other hand celebrates his resurrection as described in the New Testament.
Biblical references aside, both of these holidays have become associated with chocolate bunnies, spending time with family, the beginning of spring and most importantly – a long weekend.
Small Country Syndrome?
When is Kim Jong-Un going to learn? Tensions on the Korean Peninsula have reached a pinnacle this week, after reports that North Korea has moved missiles to the coast, ready to launch.
On Wednesday, the US sent ballistic missile defenses to Guam, after North Korea cited that the US military bases located in Guam are possible targets for missile attacks. Now, North Korea's also vowed to restore their nuclear facilities, while making serious threats to the US and South Korea.
Although the U.S. is making conceded efforts to tone down talk of North Korea, they may be poised and ready to strike when Kim Jong-Un makes the call. For now, all we can do is wait and see what happens.
Elite Eight Injury
In the first half of an NCAA "Elite Eight" game against Duke, Louisville basketball player Kevin Ware attempted to block a three-point shot, landed awkwardly and suffered a compound fracture to his right leg. Both teams were visibly shaken at the sight of the injury. After being tended to courtside for several minutes, Ware was then carried off on a stretcher. Ware's team, Louisville, subsequently beat Duke 85–63, in a performance dedicated to their injured colleague. Twitter exploded after Ware's injury and even #prayforware became a popular hashtag.
#RockTalk
On April 7th two of WWE wrestler veterans, Dwayne "the Rock" Johnson and John Cena will be facing off in the ring at WrestleMania 29. Established in 1985, this annual event is the longest running event in professional wrestling. #RockTalk is the official hashtag being used by the WWE wrestler "The Rock" to talk to his 4.3 million Twitter fans.
HootSuite is here to help WWE fans participate in the excitement! Check out our command center that tracks the social mentions of the two vet opponents leading up to the games. Stay tuned!
March Madness
One of the most famous annual sporting events in the United States, March Madness is now trending for the second week in a row. March Madness is the official nickname for the NCAA Men's Division I Basketball Championship. This single-elimination basketball tournament is played each spring in the United States. Fans of March Madness have been active all month on Twitter, discussing games, players and teams and the biggest upsets and controversies.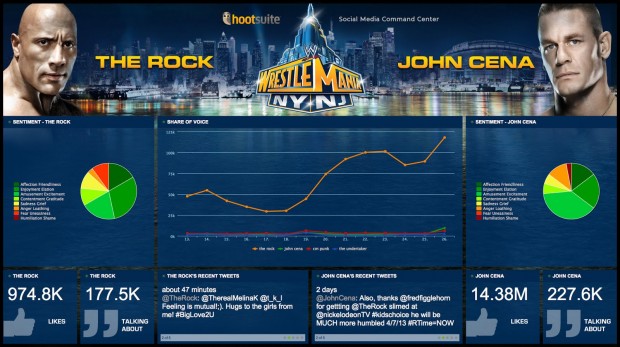 This past week, the Elite Eight games have been trending as they play out, not to mention Ware's injury. But this weekend are the Final Four games, where the top teams battle it out for a chance at the Championship title. The Elite Eight and Final Four games are among the most-watched basketball games of the year, hence why they're trending.
April Fools
Yes, April 1 came and went this week, and we could not resist getting in on the action. Spolier alert- the following video is a spoof:
Mysterious White Out
This past week, famed American pop singer songwriter, Demi Lovato sent millions of dedicated fans into frenzy with her mysterious online 'whiteout.' Profile images for Lovato's social media accounts and official website all went blank, and fans went wild in Twitter to try to decipher why. Her label Hollywood Records, starting laying on some heavy hints that some exciting new artwork was on the way for her next album. Since the #DemiWhiteOut, her networks have been updated with artwork from her new single "Heart Attack," which is now available in iTunes. Talk about hype.
Still here? Check out what the world's talking about in our International Twitter Trends (hint: it's not so sporty… think North Korea and a possible World War III).