Top 10 U.S. Twitter Trends of the Week by Ad Age and HootSuite, Volume 62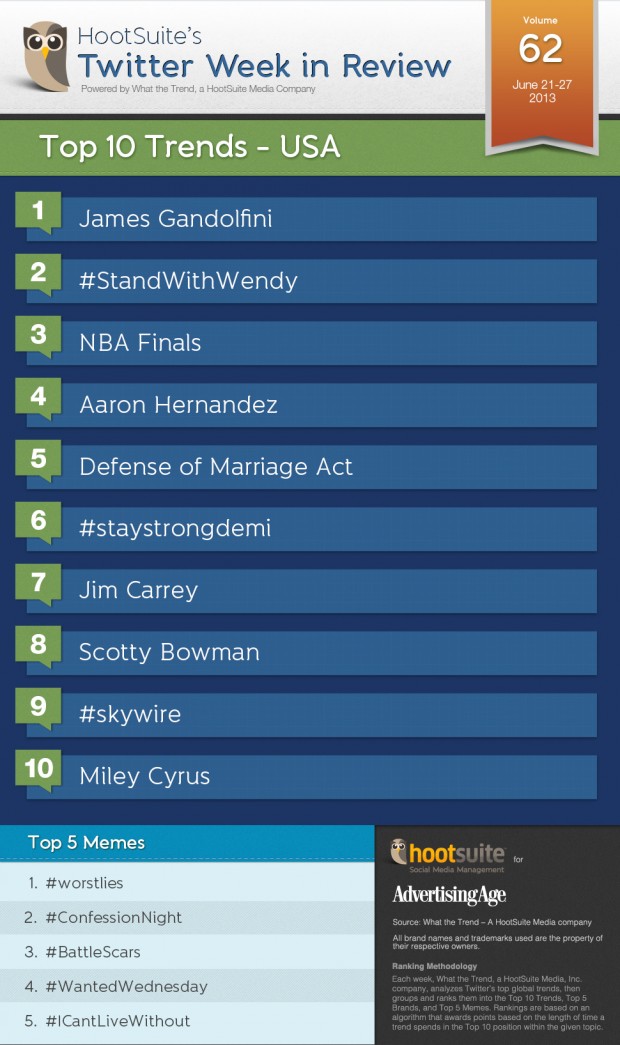 This week's Top 10 U.S. Twitter Trends includes one of the fastest civil rights shifts in America's history and a momentous stand for women (hint: it's not Miley Cyrus' new music video). Take a peek into American culture this week with me.
#1: James Gandolfini Passes Away
James Gandolfini was vacationing in Sicily before appearing at the Taormina Film Festival, when a heart attack unexpectedly took his life on June 19. Gandolfini was widely recognized for his role as Mob boss Tony Soprano on the ultra-popular gangster tv series, The Sopranos. He was mourned by thousands, including several celebrities, this last Thursday at his funeral in New York's Cathedral Church of Saint John the Divine, one of the largest churches in the city. Even Broadway recognized the loss and dimmed the lights in honor of the entertainer. Sopranos fans took to Twitter to pay their respects and mourn the loss of a great actor.
#2: #StandWithWendy
On Monday, with the support of the State Senate's conservative majority and Governor Rick Perry, a law banning abortions in Texas would be passed, along with stringent new restrictions on clinic licensing.
This was certain to become law, but on Tuesday, Democratic State Senator Wendy Davis held a 13-hour filibuster, stopping the controversial abortion law from moving forward in Texas. Thousands of people supported her valiant efforts on Twitter with the hashtag, #StandWithWendy (Remember #StandWithRand?). Davis' colleague, State Senator Leticia Van De Putte, challenged Republican leaders by saying: "At what point does a female senator need to raise her hand, or her voice to be heard over the male colleagues in the room?" Davis' filibuster was streamed by the Texas Tribune, receiving almost 500K YouTube views – and caught the attention of President Obama:
Something special is happening in Austin tonight: http://t.co/RpbnCbO6zw #StandWithWendy

— Barack Obama (@BarackObama) June 26, 2013
#3: NBA Finals Wrap-Up
The Miami Heat are already champions of social media (they use HootSuite) and now they've won their second straight NBA championship, beating the San Antonio Spurs in a nailbiter on June 20th. For us though, the highlight of the night was Chris Bosh's inability to cope with the confetti rain.
#4: Aaron Hernandez in Jail
After renewing a five year NFL New England Patriots contract for nearly $40M, Aaron Hernandez, was charged with first degree murder and stripped of his contract last week. Hernandez is under investigation for the death of Odin Lloyd and now for possible involvement of a drive-by shooting killing two in Boston's South End in July 2012. Apparently, after nearly a year of searching, the Boston Police Department found a silver SUV that is linked to the scene of a double homicide. Hernandez may have been the renter of the SUV at the time of the killings.
Aaron Hernandez won't be trending for touchdowns any time soon.
#5: Defense of Marriage Act; #DOMA
On Wednesday, a major civil rights shift in the US happened. One step for the Supreme Court, one giant leap for equal civil rights?
Seventeen years ago, a Democratic President signed a federal law that defined marriage as a union between man and wife. This law was struck down by the U.S. Supreme Court. They ruled that denying same-sex marriages of federal benefits is unconstitutional.
"DOMA (Defense of Marriage Act) instructs all federal officials, and indeed all persons with whom same-sex couples interact, including their own children, that their marriage is less worthy than the marriages of others," said Anthony Kennedy, who authored the majority opinion. "The federal statute is invalid, for no legitimate purpose overcomes the purpose and effect to disparage and to injure those whom the state, by its marriage laws, sought to protect in personhood and dignity." In short, the federal government will no longer discriminate against gay people.
It's about time. Marry the one you love!
#6: #StayStrongDemi
American singer, songwriter and actress, Demi Lovato's estranged father passed away last weekend after a long battle with mental illness. On Thursday morning, Lovato appeared on Good Morning America to discuss how she's coping and address the public.
"I'm handling it OK," Demi, 20, said. "My father and I didn't have the most ideal relationship but at the end of the day he's still my dad. I grew up with him and he's a wonderful person, but I'm handling it OK. It's difficult, but I'm handling it OK."
Lovatics, aka her fans, sent their love and support on Twitter, hence the #StayStrongDemi trend.
#7: Jim Carrey Against Violence
I did Kickass a month b4 Sandy Hook and now in all good conscience I cannot support that level of violence. My apologies to e

— Jim Carrey (@JimCarrey) June 23, 2013
Jim Carrey vented on Twitter saying that things had gone too far. A month before the Sandy Hook massacre, Carrey finished filming Kick-Ass 2, an ultra-violent comedy. However, in light of recent events, he took back support of his own film, saying that in "all good conscience I cannot support that level of violence."
#8: Scotty Bowman
As the Chicago Blackhawks scored the final Stanley Cup goal, Scotty Bowman, their senior advisor for hockey operations, celebrated his 13th Stanley Cup championship.
#9: #skywire
No sweat. Daredevil Nik Wallenda's been training for this feat his whole life. Wallenda successfully completed a historic high-wire walk across a section of the Grand Canyon on Sunday. This "King of the High Wire" walked 426.7 metres across the raging Colorado River just 450 metres below. The best part? Unlike crossing the Niagara Falls (earning himself a Guinness world record), Wallenda didn't wear a safety harness this time.
This crazy stunt has people tweeting across the globe. The event broadcast live on @Discovery and thousands tapped in with the hashtag #skywire.
#10: Miley Cyrus
Haven't Googled Miley Cyrus images in a while? You're in for a treat. This little minx just released a scandalous music video for "We Can't Stop" that's arguably pretty trendy. Former Disney star's new hit received a whopping 10.7 million VEVO views after one day. Not only does this break a record for most VEVO views in 24 hours, but she also beat out her male-doppelganger Justin Bieber for views.
IT'S OFFICIAL! @MileyCyrus has broken the @VEVO 24hr record w/ #WeCantStop! RT using #MileyVEVO to congratulate her! http://t.co/xz2tOkSToX

— VEVO (@VEVO) June 25, 2013
See ya later alligators. Check out what's trending in our Global Twitter Trends of the Week.
Never miss another tweet or trend with HootSuite's killer social media management tools.