Top 10 US Twitter Trends of the Week by Ad Age and HootSuite, Volume 63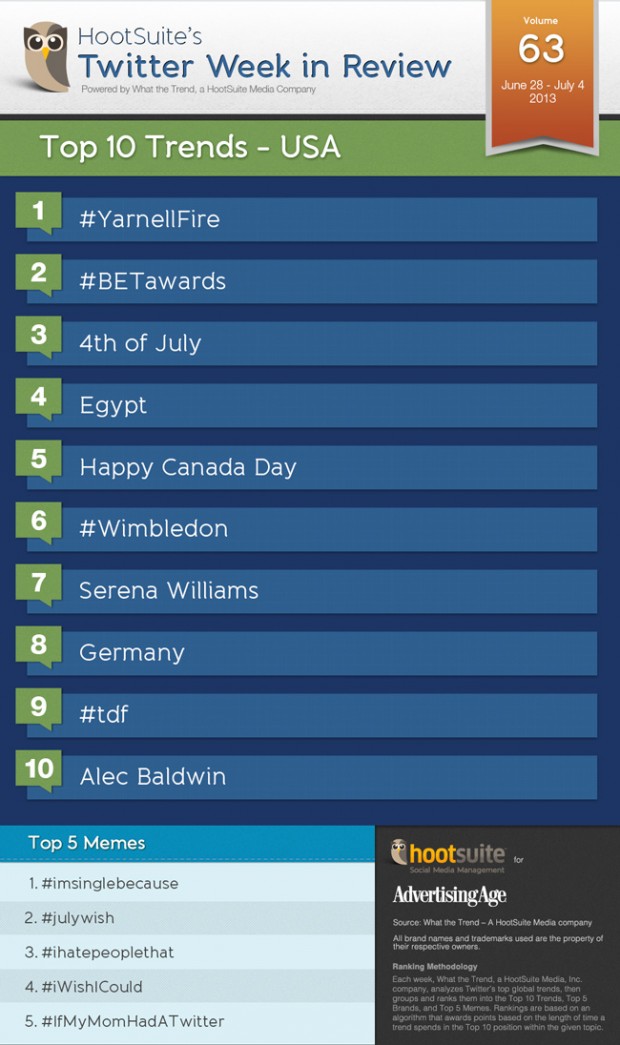 As tragedy swept across Arizona, thousands sent their condolences on Twitter. But even in the wake of tragedy, people still find Twitter trends to tweet about. From America celebrating its independence to tensions between the US and EU and Alec Baldwin blowing his top again – here's what America had to say this week.
#1: #YarnellFire
Tragedy struck Arizona this week and thousands sent their condolences and well wishes on Twitter. On June 28th, lightning struck and ignited a massive and ongoing wildfire. The Yarnell Hill Fire has consumed about 8,400 acres and about 129 homes. On Sunday, the fire claimed the lives of an elite group of 19 Granite Mountain Hotshot firefighters, stationed out of Prescott, Arizona. A memorial was held for the firefighters on Monday evening.
The Yarnell Fire is responsible for the nation's biggest loss of firefighters since 9/11, as well as the most firefighter deaths in a wildfire for 80 years. With over 700 fire personnel and recent rain to help, the fire is now about 80% contained and not expected to grow. Our hearts go out to the friends, family and communities surrounding the fallen firefighters.
#2: #BETawards
Some of the hottest stars in Hollywood came out last Sunday for the 2013 BET Awards. Celebrating music, entertainment and Black culture was Nicki Minaj, Ciara, Miguel, Kendrick Lamar, Macklemore, Kanye, Beyonce and many more celebs.
#3: 4th of July
Sharing videos, photos and social messages with their following, patriotic Twitterers pushed the 4th of July to Twitter trend number 3. Here's a little Independence Day history:
#4: Egypt
Widespread economic issues and political unrest caused Egypt to protest its relatively new democratic government and President Mohamed Morsi. Interestingly, as protests gained national momentum, they also gained the support of the Egyptian Military. This week the Egyptian Military stepped in and overthrew the government with a coup supported by the majority of the people. However, Morsi's supporters and members of the Muslim Brotherhood are upset and so protests ensue amongst the divided civilians.
On Thursday, the Supreme Constitutional Court's leader, Adly Mansour, was sworn in to temporarily govern the population. Mansour hopes he can help mend divided and unrestful Egyptians.
#5: Happy Canada Day
Remember that country up north? The one that loves maple syrup, fishing and wearing Canadian tuxedos? Well apparently they know how to make a Twitter trend too. Thousands of Canadians celebrated its independence from Great Britain on July 1st.
To all of those Twitterers armed with Canadian flags, matching red and white face paint and fake tattoos, Happy Canada Day and Bonne fête du Canada!
#6: #Wimbledon
Wimbledon trending is a perfect example of how social media amplifies and intensifies sporting events with more engagement and fan participation. As Wimbledon 2013 comes to a close with the final matches just around the corner, fans around the world have been following along on Twitter. Discussing every move of the men's and women's quarterfinals and semifinals, while sharing fan photos and inspirational quotes – it's no wonder this didn't trend higher.
#7: Serena Williams
Speaking of Wimbledon trending higher, Serena Williams' loss Monday to Sabine Lisicki in the fourth round sent shock waves through Twitter. "You cannot expect for anybody, even if she is the greatest player of all time (if she is) to be perfect on all the matches all the year. She is not, and she will never be," says one of Williams' coaches. Could this be the end of her reign?
#8: Germany
Right before a massive US-EU free trade agreement, Edward Snowden leaked more information saying that the US is supposedly spying on its European allies. Before moving trade negotiations forward, Germany and the US will begin to address growing European concerns over internet surveillance. Steffen Seibert, German government spokesman, said that high-level US and German intelligence experts will begin "an immediate and intense discussion" over the issues of data protection and the NSA. Clearly this is not being taken lightly.
European Commission spoke of the potential threat this poses to the US saying that EU businesses will likely move their data and information off of American internet providers.
#9: #tdf AKA Tour de France
Tour de France is one week in and stirring up Twitterers around the globe. Starting on June 29th and finishing up the 21st stage by July 21th 2013, this year's #tdf covers a total distance of 3,404 kilometres. Fans are encouraged to connect on Twitter to follow the updates and everyone's discussing the progress of each day.
Here's a fun quote by Lance Armstrong: "The Tour de France? No. Impossible to win without doping. Because the Tour is a test of endurance where oxygen is decisive." Unsurprisingly, fans are wondering if they can really trust this year's 100th Tour de France. Either way, it's an epic global sporting event.
#10: Alec Baldwin
"What's he done now," was the first thing my colleagues said when they heard Alec Baldwin was trending. Apparently he's done with Twitter. Threatening to even quit acting to remove his family from the public eye, Baldwin was forced to apologise for threatening to "f**k up" a Daily Mail reporter. This is after the reporter wrote a piece that accused Baldwin's wife Hilaria (it's hilarious, I know) of posting a series of upbeat tweets during last week's funeral of James Gandolfini. This is by far my favorite trend.
Stay tuned for our next week's Twitter trends, or check out what trended in across the globe.