More Ways to Measure ROI – HootSuite Welcomes Webtrends Integration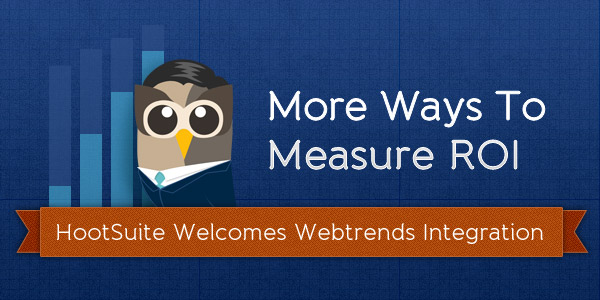 HootSuite Enterprise is now integrated with Webtrends, a pioneer in the web analytics space, to provide organizations with a detailed view of their social media ROI. Analytics is a core tenet of HootSuite's enterprise social media management system, and the HootSuite – Webtrends integration adds even more value for our Enterprise clients.
Gone are the days where social-specific metrics are the sole barometer of social media success. Today, social strategies are tied directly to organizational goals, and the standards of measurement have changed to reflect this. For that reason, HootSuite is committed to constantly improving our offering, and this integration provides the performance data organizations crave.

Closed Loop Reporting
Available to HootSuite Enterprise and Webtrends On-Demand customers, HootSuite's integration with Webtrends connects social media messages to website conversion statistics, enabling organizations to optimize their social tactics and compare social media ROI against other digital channels (ex. SEO, SEM, email, display).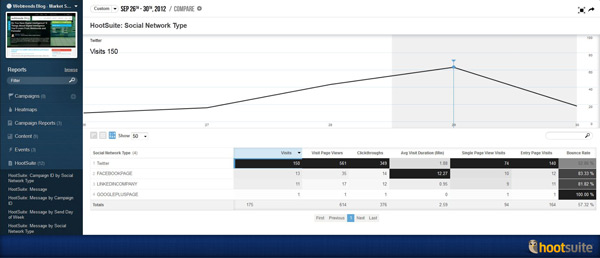 HootSuite Enterprise clients with Webtrends Analytics On-Demand can now access closed loop reporting for social media and answer questions such as:
Messages: Which message types result in the highest number of conversions? What are the best practices for increasing specific on-site actions? Which words drive the most conversions?
Social accounts: Which Twitter account or Facebook Page is the source of the most valuable traffic? Is there a business case to invest more resources in organic online engagement? Should more or less social accounts be managed?
Social networks: Which platform is providing the greatest return on the brand page: Facebook, Google+, LinkedIn, Twitter? Where is engagement strong, and where is it weak?
Time of day: Which time of day is most effective to drive high-quality traffic to the website? When is the target audience on social and looking to buy?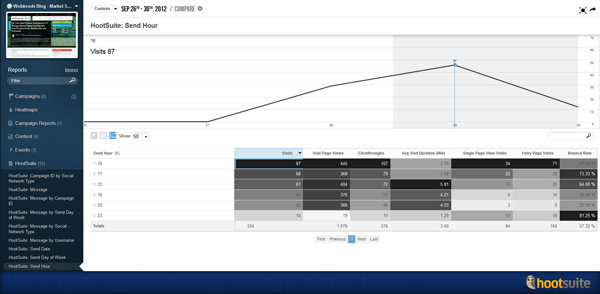 The partnership with Webtrends will further enable an Enterprise user to optimize their social strategy based on ROI information made available through Webtrends reporting:
Granular metrics: Measure the efficacy of social networks, social accounts, and social messages as well as optimize your posting schedule.
Actionable data: HootSuite Enterprise's social publishing capabilities combined with Webtrend's advanced analytics provide businesses with actionable data that connects social tactics to direct revenue generation.
Automated reporting: Social metrics for messages posted using HootSuite Enterprise are seamlessly rendered through Webtrends.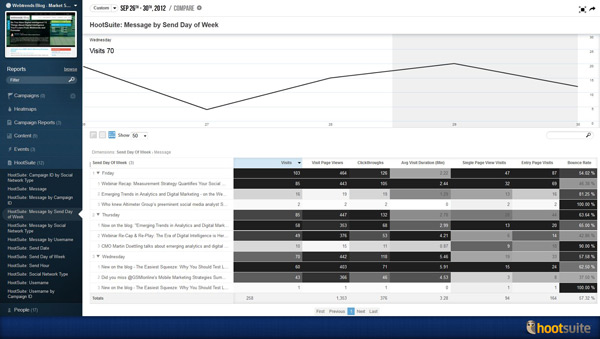 Gogo, a leading in-flight internet provider, uses the HootSuite – Webtrends integration to measure the success of their customer service and social engagement efforts. Linda Ramsey, Vice President of Integrated Marketing at Gogo, had this to say about the integration:
"HootSuite's integration with Webtrends allows Gogo to automatically track the ROI on our social media engagement across Twitter, Facebook, and Google+. By pulling key social data from HootSuite into Webtrends, we now know when to reach out to our followers, which social network works best, and what types of posts get the best response."
Webtrends CEO, Alex Yoder, on the integration:
"At Webtrends, we believe that analytics drive insight and insight drives more effective digital marketing. Our new partnership with HootSuite will provide marketers with unprecedented insights into social media engagement and effectiveness leading to valuable, quantifiable, and repeatable social media marketing optimization for organizations of all types."
Webinar: Actionable Data For Every Department
How many departments in your company measure social metrics daily? Marketing and sales are on board, sure, but does HR have a number that they're trying to push up-and-to-the -right? How about customer service, or logistics?
Learn how to use revenue-based metrics to inform best practices for every department in your company. Join us for a Webtrends and HootSuite webinar on October 16th, 2012 at 2PM EDT to learn some tactics of how to measure meaningful data in all departments:

Enterprise Solutions
A barrier to enterprise-wide adoption can often be found in a lack of ROI reporting for each department's social media efforts.  By accurately measuring efficiency of social strategies, enterprises can optimize their social tactics and execute on their organizational and departmental objectives.
To learn more about the HootSuite – Webtrends integration click below: