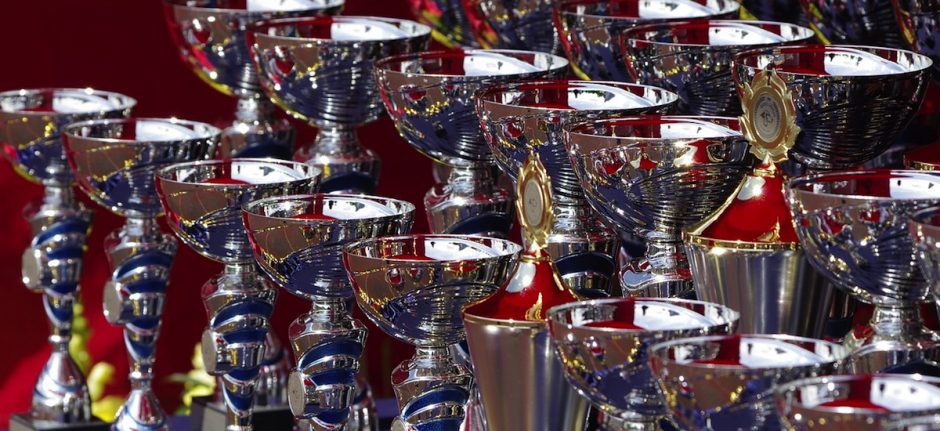 What You Can Learn from Award-Winning Social Media Campaigns
Social marketing campaigns earn brands leads, user-generated content, and a deeper engagement between the organization and its fans. A campaign that drives these results is already a winner—but what makes an actual award-winning campaign?
There are several big awards specific to the social media industry, including the Facebook Awards, the Webbys, the Shortys, and the Mashies. The Facebooks and the Mashies, as you might expect, are given by Facebook and Mashable every year to the best campaigns that involve social marketing, while the Webbys and the Shortys are independently run by the International Academy of Digital Arts and Sciences and Sawhorse Media, respectively.
These awards are usually given to campaigns with agencies behind them, and the winning campaigns also often win Clios (the Oscars of advertising). But that doesn't mean that all of these social marketing campaigns require huge budgets. The Webby for Best Digital Campaign, for example, requires that nominees have at least three different components, all of which must have been done online. This includes email, banners, websites, online guerrilla marketing, online commercials, and mobile advertising—marketing tools you're probably implementing every day where you work. These campaigns aren't winning awards because of the money in their accounts. Behind every award-winning social marketing campaign is both a creative idea and a positive philosophy.
Here are the winners of a Best Social Campaign award last year from each of the four major social media awards, and techniques from each that you can use in your own campaigns.
The Webby for Best Digital Campaign went to…
HBO Go had a unique challenge: how do we inspire people to pay for content? Entertainment piracy has been normalized, and even HBO itself knows to include the download numbers off of sites like The Pirate Bay when they're tallying viewers.
HBO Go's Stop Awkward Family Viewing campaign revolved around 7 TV spots, all highlighting the unique discomfort viewers enjoy when their family members sit down around them while they watch the racy content HBO provides. If you're side-eyeing the Webbys for choosing a TV-centered campaign for their Digital Campaign winner, no one would blame you. But there's a lot that marketers can learn from this campaign's success.
Marketers love quoting Field of Dreams: "If you build it, they will come." And that's sometimes true. But HBO Go decided to go where their audience was. They partnered with BuzzFeed, infotainment site of choice for Millennials, and propelled the campaign with their college ambassador teams. Their college ambassadors throw viewing parties, appear at campus events, and distribute more irreverent promotional materials. The campaign had the promotional hashtag of #HBOGoplease, but this was not a campaign built around engagement.
So without the means to deploy an army of cool kids across the country, how can you tap into what's great about this campaign?
1. It's a funny truth
There are probably a lot of reasons why someone could choose to use HBO Go rather than pirate a show. The stream will be more reliable and in higher-definition than your average torrent, and consumers might take pride in being an honest customer, supporting the shows that they love.
Those reasons are true, but they aren't entertaining. Making them the funnybone/spine of their campaign would have been difficult and potentially antagonistic. The cringing sensation of parents attempting light conversation over a passionate love scene? That's not only funny, it's endearing. The offending family members aren't trying to be painful to their kids and siblings. They're just trying to make the best out of an awkward situation. And that's what HBO is working to do as well.
2. The concept is universal
Regardless of race, creed, gender or orientation, everyone knows what it's like to be embarrassed by their parents. What makes this campaign Millennial-specific is its strategic deployment. Nothing about the content would be unfunny to a Gen Xer or a Boomer. They might be laughing for different reasons (being relieved to be past sharing a house with their parents, feeling sympathy for the parents that are cringing just as hard as their kids are) but everyone is in on the joke.
3. The audience is specific (so is the campaign)
When you're designing your own social marketing campaign, odds are you're doing so with a specific audience in mind. And if you're not, you should. Even if the campaign's audience is as wide as 'Facebook users' or 'women who shave their legs', take time to think about your goal, and how potential customers in the target demographic may be more inclined to help you reach it.
HBO Go targeted millennials as specifically as they possibly could. Millennials do read major news sites, but BuzzFeed is as Millennial as a website can get. They do shop at malls, but they live on college campuses, so HBO met them where they were.

Study where your target demographic lives on social, and deploy your campaign there. What problem does your product solve for your target demographic? How can your social campaigns convey an essential truth about your products or services?
The Mashie for Best Social Media Campaign went to…
Burger King has always differentiated itself from the competition with its branding. The Big Mac might be a beloved burger, but the Whopper has a cult of personality. And it was indeed that cult of personality that Burger King had to circumnavigate in order to promote sales of its new chicken burger in New Zealand.
Burger King's Motel King campaign involved the temporary rebranding of an Auckland motel into a Burger King loveshack for illicit chicken patty liaisons. Motel beds were removed and replaced with Burger King booths, and all the small items you'll find in a motel room (hand towels, miniature soaps, notepad and matches) were branded with the Burger King logo. Kiwi celebrities were tapped to be 'papped' coming out of the Motel in advance of the campaign's launch on Facebook, where users could comment and tag the three people that they'd like to take with them into a motel booth. At the time of their reservation, guests 'checked in' on social media, and were encouraged to use the motel's hashtag, which was helpfully displayed everywhere in the motel room, across all social networks.
The campaign made an impression on 2 million New Zealanders, and increased Facebook engagement on Burger King NZ by 589 percent. And it drove sales of their chicken burgers past the sales of the Whopper. This campaign was clearly a win for the brand—but what makes this campaign a Mashie winner?
1. Campaign before the campaign
Burger King invested in the campaign's promotion long before launch. By connecting with local celebrities, even Kiwis who wouldn't normally think of Burger King had the brand cross their radar. Everyone eats, so there's a fair amount of competition in this vertical. By tapping into New Zealand culture, Burger King extended its reach far beyond its regular customer base.
2. Use all the property
Campaigns aren't cattle—brand them all over the place! Burger King never let entrants forget for a moment that this was their campaign. From the keycard to the towels to the bathrobes to the wall decor, the motel was festooned in brand imagery. This wasn't because entrants were likely to forget they were eating Burger King food–this was all about Burger King's pride in a job well done. That kind of branding is contagious, and inspires entrants to engage on a deeper level.
3. Respect your history
This campaign was extremely well-executed, but it also exists as part of Burger King's marketing history. A TV campaign involving a man eating a Burger King chicken burger in a seedy motel room aired in the UK in 2010, after it had already aired in the U.S. Burger King integrated its brand's history into postmodern advertising by making Motel King a social marketing campaign.
Amp up your audience in advance of your social marketing campaign. No matter what kind of campaign you run, make sure you make the most of all of its features—can you promote your products on the Thank You page with a link or an offer? Treat your campaign like your brand's hottest product, and link to it from every location you possibly can, from your Instagram bio to your landing page to your brand's newsletter. If a campaign or advertisement has already connected with your audience, give them more of what they want! Or as Burger King would say, do it their way.
The Shorty for Best Contest or Promotion Goes to…
Every six months, Havas Worldwide Chicago runs its intern draft. This particular iteration used a bold hashtag: #iamheretotakeyourjob. Specifically, the hashtag gave potential interns the chance to challenge 12 Havas Worldwide employees, and explain how they would be better at their jobs than they are. For their part, the 12 defending employees gave back as good as they got on social media. The campaign only ran for 10 days, but still won Havas Worldwide Chicago 800 Instagram applications and a 133 percent follower increase on the network. The playing field was not entirely level: all applicants that had over 50,000 Instagram followers were drafted instantly.  All in all, Havas Worldwide Chicago got 14 top-tier applicants, and seven of them were hired on after their internship.
But how did this campaign manage to tie for first at the Shortys?
1. It doesn't sell anything
Investing time and energy into external social campaigns is essential if you want to accomplish your marketing goals. But it's the organizations that make social media a way of life that invest the same energy into their internal campaigns. Technically, you can't call a campaign that reaches out to the general public internal, but the energy of the campaign flows towards the company. Fans enter sweepstakes in the hopes that they'll walk away with a prize; #iamheretotakeyourjob entrants made a strong case for why they should be taken into the organization.
An internship at Havas Worldwide Chicago is an amazing opportunity, but the opportunity to show how great your workplace is to a few hundred thousand people is even bigger. Compare this campaign to the winners of the Mashie and the Webby in the same category. They campaigned for the product. #iamheretotakeyourjob campaigns for the company.
2. The hashtag is perfect
The hashtag was not #OccupyHavasWorldwideChicago, or #MillennialRevolution. Choosing #iamheretotakeyourjob didn't just play to the confidence of the ideal Havas intern, it winked at the unspoken tension that always exists between the generations in the workplace. Any intern that hoped to succeed in the high energy environment of Havas International would have to be completely certain that they could handle it. If they could convincingly argue that they were able to take an executive's job, then they deserved a chance to prove it.
The hashtag doesn't say that the potential interns will succeed at taking the executives' jobs. It just let the applicants declare in no uncertain terms that they believed they could.
Going deeper into just how well-designed this hashtag is, notice that it's a full sentence. This means that when entrants made their arguments in the Tweets or the captions of their Instagram posts, they had a lot of flexibility in what they could write as to how and why they could claim those jobs.
3. Make everything exciting
Summer intern season is not typically a thrill for anyone. Students and fresh graduates are hungry for opportunities to earn credits and stipends, but it's safe to say that one of the biggest feelings they go through is anxiety. On the other side, many organizations see interns as a hindrance, if not a burden. This campaign cuts through the negative feeling on either side and focuses on the thrill of seeing the best that the young have to offer, their excitement of getting a chance to prove themselves.
Not many organizations would think that they could make their intern hiring process interesting and fun, let alone entertaining to the general public. Havas Worldwide Chicago bet that they could, and the bet paid off.
Don't overlook an opportunity to differentiate your brand from the competition. Social marketing campaigns can be built around anything, as long as the messaging is true to the brand. Marketing campaigns work for more than just product launches. Invest time in the design of a perfect campaign hashtag, easy to use and impactful in writing.
And the Facebook Award for Integrated Campaign goes to…
A burger can make your day, and an internship can make your summer—maybe even kickstart your career. But Vodafone and Ghita Ciobanul changed the way life is lived by millions of Romanians.
In the country's major cities, smartphones have made their mark. Vodafone was having a hard time convincing rural Romanians to bother with the Internet, let alone social media. So it put a smartphone in the hands of Ghita, a shepherd who would soon be known as Ghita the Social Shepherd. His social media usage led to Vodafone making a documentary series, and Ghita soon became the third most popular Romanian celebrity on Facebook. The Mayor of Bucharest invited him to open a cheese store, and Romanian pop stars quite literally sang his praises.
Ghita became a symbol of the effect that technology can have on people's lives, was cited by the European Commissioner and drove 173 million media impressions for Vodafone. For the first time, they sold more smartphones than traditional cellphones in Romania.
You might not aspire to run a campaign that changes the face of a nation, but no matter how grand your ambition, you can learn from the Tale of Ghita.
1. The customer is the campaign
HBO used hypothetical scenarios to convince Millennials to invest in their mobile platform; Vodafone used a real one for their own campaign, and changed the perception of an entire country. This is not a new technique; fashion designers employ this strategy when they give style bloggers clothes and accessories. Ghita the Social Shepard just happens to have succeeded on a much larger scale.
Vodafone could have pushed this concept further, paid Ghita to star in a fish out of water story where he would have to use smartphone technology to solve his problems. Instead, Vodafone kept Ghita in his element, and made the case for how Facebook and fleece can go together. The documentary series showed how smartphones can make shepherding easier, and only once he'd become a breakout star did he get his cheese shop in the city.
2. Experiment when you have the freedom
Romania is a country with 20 million people, and the majority of them live in the countryside. This would be a huge number to most companies, but not Vodafone, the second largest telecommunications company in the world. As of March 2014, they had 434 million subscribers.
Vodafone could afford to experiment to see whether this would work. Very few organizations are as profitable as Vodafone, but no matter the size of your business, there's a demographic that you'd like to reach, but probably don't need to. This social marketing campaign could have bombed and it wouldn't have hurt their core business. If you ever have that freedom, make the most of it. Striving for low-risk, high-gain opportunities is what business is all about.
3. Let them take the reigns
Ghita the Social Shepherd, as a campaign, took on a life of its own. When you have such a high level of fan engagement with one of your marketing campaigns, let them do the work. Retweet their Tweets, Like or regram their Facebook and Instagram posts. When your customers are the focus of your campaign, it's important that you don't get in their way. If your campaign has gained momentum, let it propel itself forward. Let the media talk, let the fans be excited. Pop stars give their fans time to scream and cheer between songs. Receive your applause, and move on to the next one.
Any time you can let a customer demonstrate how a product can work, let them. This usually involves user-generated content. Thank entrants for each piece, and let them be the stars of your promotional plan. If you get a chance to experiment with a disconnected demographic, go big with your concept. Going big doesn't always involve a lot of money; Ghita was just one man. And when it takes off, let the campaign and its entrants have the spotlight. You get the credit and the rewards—your social campaigns are for your fans, past present and future.